19 Out of the Box Gift Ideas For Funeral Directors

Article by: Jessica Fowler, ASD-  Answering Service for Directors
As the leading funeral home answering service, we know firsthand how much funeral directors appreciate lighthearted and offbeat humor. To kickoff the Christmas season, we've compiled this list of unique and distinctive gifts we think most directors would appreciate. While some of these products are meant to bring laughter, others are thoughtful items you can give to show a director how much you appreciate them. Whether you're shopping for your spouse, parent, sibling, or a co-worker, we have no doubt you'll find something special on this list for the funeral director in your life. And if you're secretly shopping for yourself, don't worry, we'll take it to the grave 😉
1. Tombstone Ornaments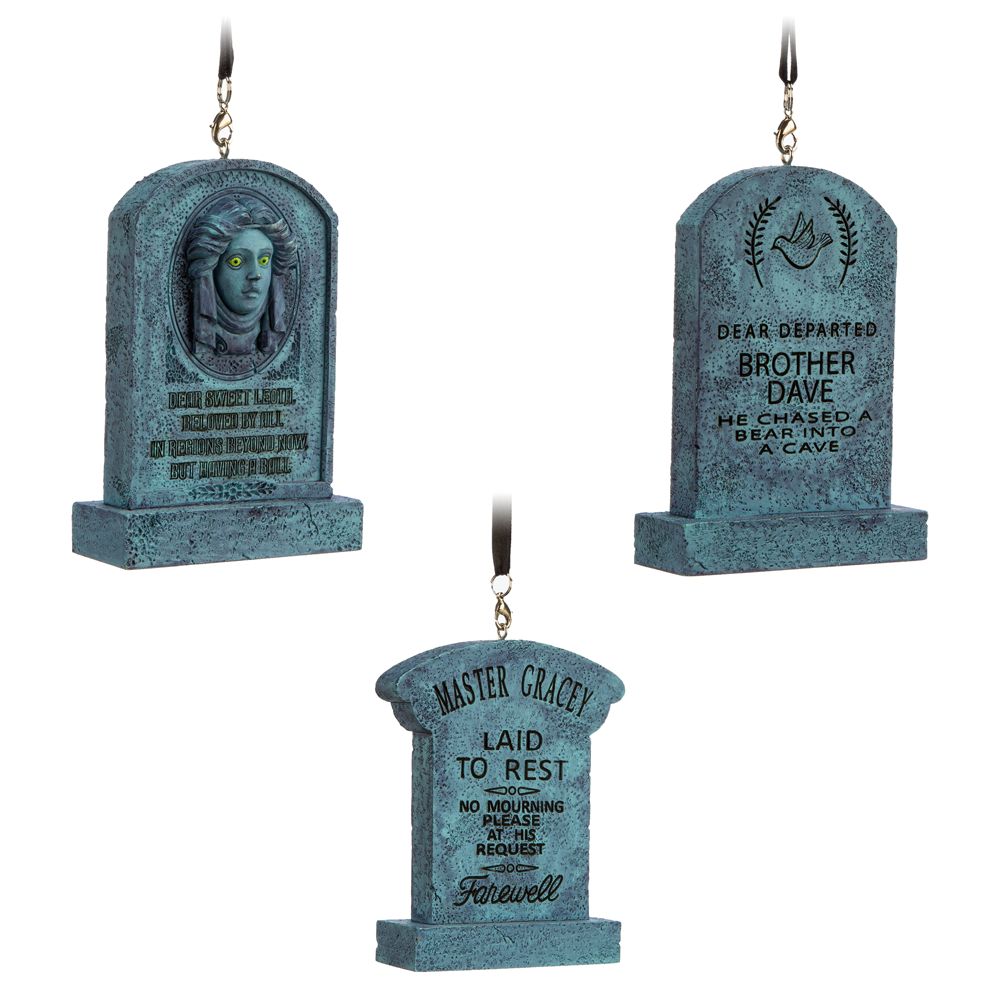 A Christmas tree just isn't complete without these spooky headstones dangling next to the garland. Funny inscriptions like, "laid to rest, no mourning please at his request" will also bring a good laugh to holiday parties.
2. Casket Business Card Holder
Help a funeral director bring some style and organization to his or her desk with this nifty Casket Business Card Holder. PushinDaisies.com, which offers a wide range of funeral home novelty items, also sells a jet-black version of the casket business card holder.
---
3. "Live Your Dash" Necklace
Linda Ellis' inspiring poem, "The Dash" is a beautiful poem that reminds readers that it is not the dates on your tombstone that matter, but how you lived all of the time in between. The concept of "living your dash" has grown into a movement and this stunning necklace is one of several unique jewelry pieces engraved with this inspiring message.
---
4. Hearse Flip Flops
These off the wall flip flops are perfect for the next time the funeral director in your life is leading a procession down to the beach.
---
5. Funeral Director Antique Tools Wrist Watch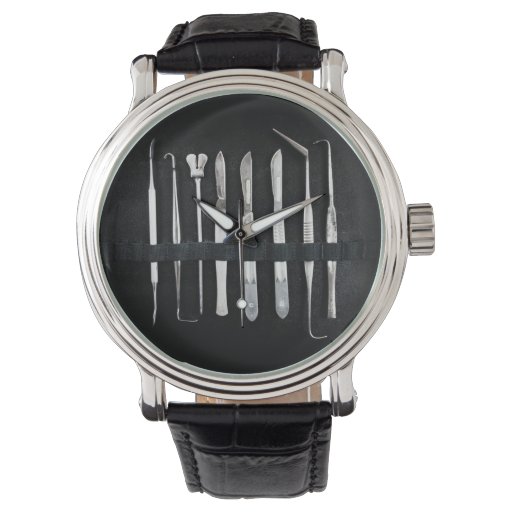 For directors who are fascinated by the history and progression of funeral service, this distinctive wristwatch makes the perfect gift. The old embalming instruments on the watch face invite you to reflect upon a much different time in funeral service.
---
6. Casket USB Drives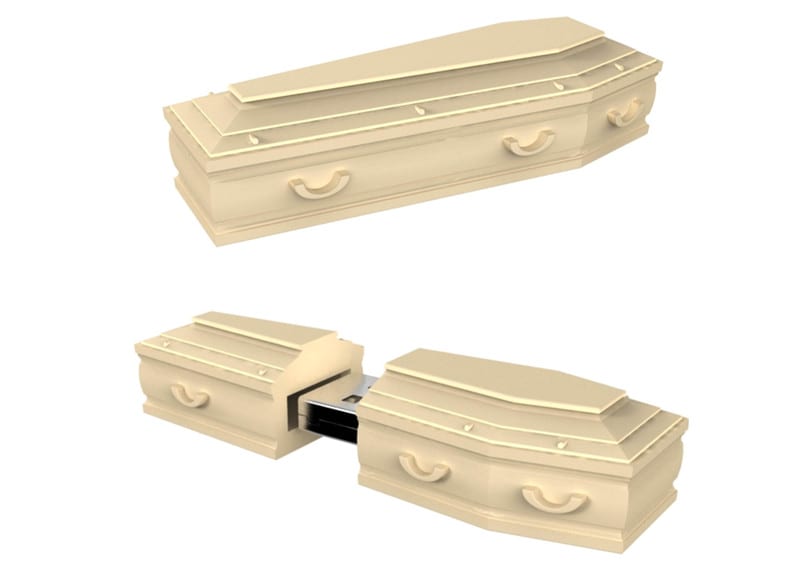 Both cemeteries and desktop computers often have storage space problems overtime. Fortunately, funeral directors can bury at least one of those problems with these clever casket-shaped USB drives. Available in many different styles and colors on Alibaba.com.
---
7. Human Organ Cooler

The perfect gag gift for a funeral director who doesn't like to share. Just imagine the looks and conversation this hilarious lunch tote might prompt. The bag is insulated so it can keep your food and beverages cool while scaring off any unwanted moochers.
---
8. Skull Rolling Pin
"Death by Chocolate" cookies will never be the same again. This fun skull-embossed rolling pin allows funeral directors to add their signature touch to baked goods.
---
9. Grey Victorian Hearse T-Shirt
The vintage hearse design on this T-shirt is sure to make a funeral director stand out in any crowd. The image captures the enduring refinement and solemnity of funeral service through the image of an antique funeral hearse. A fitting gift for a director who appreciates the history and evolution of funeral service work.
---
10. Embalming Fluid Flask
Directors can take both alcoholic beverages and their sense of humor on the go with this great tongue-in-cheek embalming fluid flask.
---
11. The Greatest People I Never Knew by Eric M. Daniels
This 5-star rated memoir by a funeral director recounts how the author was profoundly affected by the lives of many of the people served by his funeral home. The essays found within this novel are sure to inspire the director in your life to ponder and share about their own experiences in funeral service.
---
12. Coffin-shaped Cooler

Funeral directors can bring some coolness to any party, Halloween-themed or otherwise, with this funky coffin-shaped cooler.
---
13. Trocar Cocktail Picks
While it is true that alcoholic beverages and embalming don't usually mix, these trocar cocktail picks are a delightful exception to that rule and are sure to "urn" some laughs at any party.
---
14. Antique Funeral Home Dip Pen Set Stand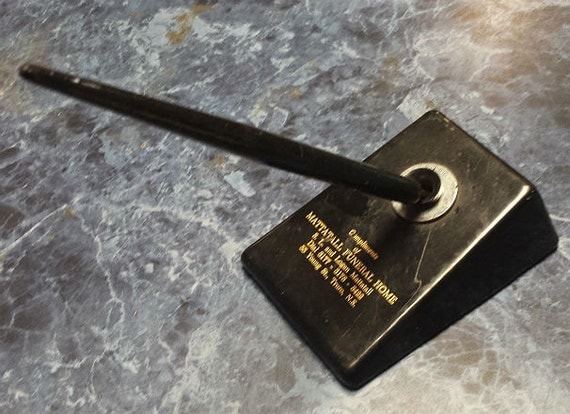 Many funeral directors appreciate antiques and objects that remind one of a bygone era. This rare antique dip pen was once displayed at a funeral home for signing the guest book and would make a great gift for any funeral home antique collector.
---
15. Cufflinks

Adorn your suit while paying tribute to funeral service with these stylish cufflinks featuring the image of Anubis, the Egyptian God of embalming. Pushin' Daisies also sells a variety of other funeral director inspired cufflinks and tie bars, including caskets, hearses and skulls.
---
16. 'Six Feet Under' Cell Phone Case
This iPhone case is the ultimate gift for the funeral director that loved the HBO TV show, "Six Feet Under." The design features a hand-drawn image of the Fisher & Sons Funeral Home and can be ordered for any iPhone model.
---
17. Funeral Home Drinking Glass
Drink away your problems with the "12 Days of Funeral Home" glass. The glass design includes a list of common woes only funeral directors understand.
---
18. "This is What an Awesome Funeral Director Looks Like" Mug
We can think of quite a few funeral directors who deserve to sip their coffee from this awesome mug. What a fantastic way to remind the director in your life how much you value them and appreciate their work.
---
19. Embalmer's Candle Holder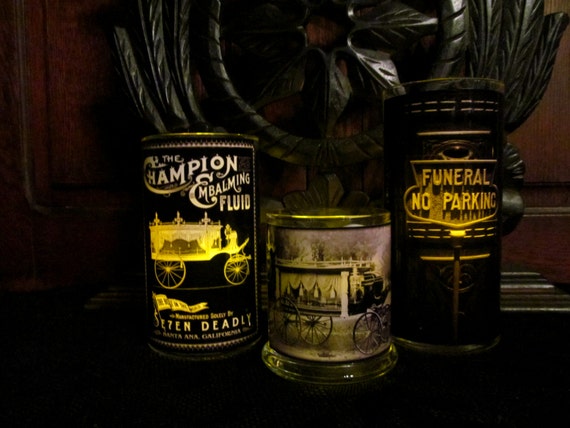 These vintage-looking candle holders will make funeral directors muse about what embalming practices may have looked like before the advent of electricity. A terrific conversation piece for any room.
---
Great Gift Idea Suggested by a Director: The Heated Circulation Enhancing Lower Leg Massager.
"This funeral directors favorite gift ever was a leg/foot massage stool that I could use after endless hours on my feet attending to the door or embalming."-Kurt Eschbach, Funeral Director.
---
What are some other great gift ideas for funeral professionals? Leave us a comment and share what other items you think directors would appreciate.

ConnectingDirectors.com is the leading online daily publication for funeral professionals with a reader base of over 45,000 of the most elite and forward-thinking professionals in the profession. With ConnectingDirectors.com we have created a global community through an online platform allowing funeral professionals to Stay Current. Stay Informed and Stay Elite.

Latest posts by CDFuneralNews (see all)
You may be interested
Funeral Industry News
420 views
Funeral Industry News
420 views
Mean Internet Comments – Funeral Edition
CDFuneralNews
-
June 20, 2018
We shine a light on some of the harsh words posted on social media towards DISRUPT Media's CEO, Ryan Thogmartin.…
Funeral Industry News
1155 views
Funeral Industry News
295 views
Funeral Industry News
295 views
RELEASE THE FN CRAKN! | FUNERAL nation 114
CDFuneralNews
-
June 18, 2018
It's a barn burner... The Commander is moving his Command Post!!! Besides the Commander on the move, the boys speak…
Comments