Two Cases Studies That Forecast 'Digital Divide' In Era Of Digital Economy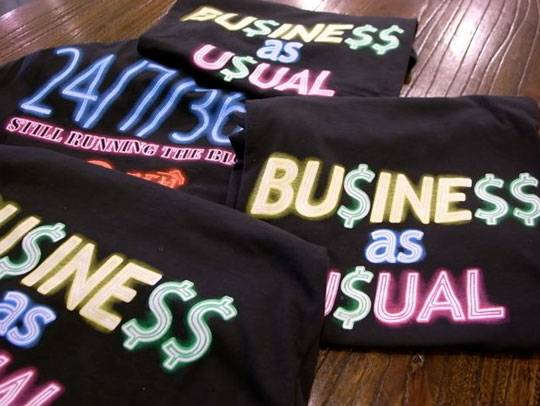 Significant gaps are expected to open up between major enterprises that actively transform their operations for the coming digital economy and those that stick to business as usual, according to a new study released today.

The study, released by IBM as part of its Smarter Planet initiative, is based on research by the National Institute of Economic and Industry Research (NIEIR) designed to provide evidence that Australian enterprises will need to adapt, change and take advantage of key technologies to lead in the digital economy and compete in what IBM terms the era of "smart".
IBM's so-called era of "smart" is a time when "success will be driven by how effectively enterprises can harness the power of new technologies to deliver unique value to customers and citizens with the speed, efficiency and ubiquity they demand." Technologies include high-speed broadband, mobile devices, cloud computing, Big Data, robotics, sensors and intelligent systems, and social media and collaboration tools.
Andrew Stevens, Managing Director, IBM Australia and New Zealand, cites one example in the study which describes two banks that start in a similar position today but follow different business strategies. By 2025, their paths have diverged dramatically. One has a market capitalisation of $69 billion and the other $22 billion – a 'digital divide' of $47 billion.
And, he says the story is similar in other commercial sectors analysed:
• Two mining companies diverge so that by 2025 one is worth $130 billion and the other $38 billion (a $92 billion divide)
• Two major retailers diverge so one becomes worth $78 billion and the other $1.5 billion (a $76.5 billion divide)
• Two large Telco's diverge so that one becomes worth $102 billion and the other $48 billion (a $54 billion divide).
According to the study, adding the value of those gaps across the eight stylised companies in four sectors produces a total difference in market capitalisation of $269.5 billion. The calculation uses real company data as a starting point then bases the forecasts on hypothetical strategies to illustrate the importance of making the right strategic decisions in the digital age.
In the government sector, the research maps the future for universities, health providers and public administration agencies, finding that those that pursue an 'accelerated' route by taking advantage of digital technologies will deliver better outcomes at a comparable or lower cost than if they stay on their current paths.
The study also shows that the cost of public administration, for example, could be contained or reduced (as a share of GDP). In health, Australians could live longer on average and be 5.5 per cent more satisfied with the healthcare system as a result of digital transformation. In higher education, an accelerated digital strategy would see leading institutions able to increase the quality of teaching without increasing costs to the nation.
"This report follows on from research we completed last year looking at how digital technology would change the Australian economy from now until 2050," Stevens says.
"This year, we wanted to explore what these trends mean for individual enterprises in the next decade, and the way in which technology can dramatically shape where they stand in 2025.
"For example, the powerful combination of cloud and Big Data has the potential to radically improve the quality and accessibility of healthcare across urban and rural communities in Australia. While the use of sensors and robotics can completely revolutionise out-dated methods of exploration and extraction within the mining sector.
"Where some people see digital technologies disrupting business, we see unparalleled opportunity for the nation's future productivity and prosperity, even in a more competitive global market. However, this is not just about adding an online store to existing capabilities; this is about transforming your business model to compete in the digital economy.
"We found there will be huge differences in the performance of organisations that lead and transform their business models for the digital age and those that don't. NIEIR's modeling clearly shows that success can compound rapidly and deliver strong gains to leaders by 2025.
"At the same time, organisations that slip behind will find it even harder to catch up and often won't survive as stand-alone entities."
Dr Peter Brain, Founder and Executive Director of NIEIR, said the study had revealed significant gaps between leaders and followers and showed that the "biggest risk for enterprises is failing to develop and implement strategies that transform their operations for the digital era."
"Our research has highlighted how much the world is going to change over the next decade – in a number of sectors we are at a tipping point between an analog world and the coming digital one."
[via: ITwire.com]

ConnectingDirectors.com is the leading online daily publication for funeral professionals with a reader base of over 45,000 of the most elite and forward-thinking professionals in the profession. With ConnectingDirectors.com we have created a global community through an online platform allowing funeral professionals to Stay Current. Stay Informed and Stay Elite.

Latest posts by CDFuneralNews (see all)
You may be interested
Funeral Industry News
414 views
Funeral Industry News
414 views
Mean Internet Comments – Funeral Edition
CDFuneralNews
-
June 20, 2018
We shine a light on some of the harsh words posted on social media towards DISRUPT Media's CEO, Ryan Thogmartin.…
Funeral Industry News
1153 views
Funeral Industry News
295 views
Funeral Industry News
295 views
RELEASE THE FN CRAKN! | FUNERAL nation 114
CDFuneralNews
-
June 18, 2018
It's a barn burner... The Commander is moving his Command Post!!! Besides the Commander on the move, the boys speak…
Comments