What Funeral Directors Can (And Should) Learn From Wedding Planners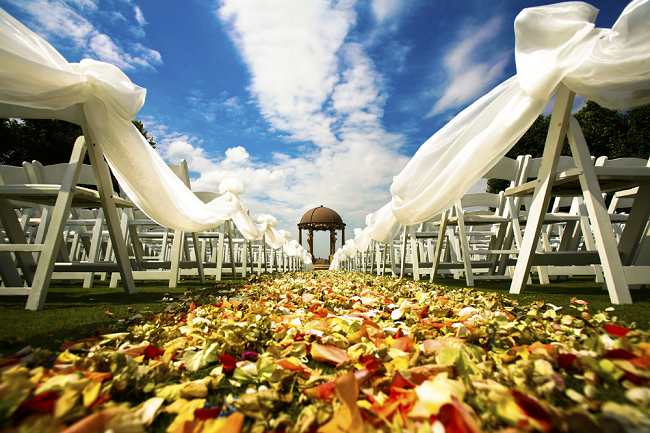 Article by: Joe Joachim, FuneralOne
It's not an easy time to be a funeral director.
We've found ourselves in a snowball effect. The consumers of today aren't interested in a traditional funeral anymore.
And unfortunately, if we aren't leveraging the Internet to educate our value to consumers, we make it easy for them to choose a direct cremation. In turn, we see less merchandise being purchased, and revenues declining faster than we can keep up with.
So what's the catch? How do we become valuable?
Fortunately, there is an opportunity for us to transform the way families see us, and increase our value as an industry as a whole. How? Start thinking like a wedding planner, rather than a traditional funeral director!
Before you dismiss the idea, take a look at the facts. It's true that a funeral is a once in a lifetime affair, while people can and do have multiple weddings, but apart from that the two occasions have many similarities. Both occasions celebrate the lives of people –  and, both feature music, photos, videos, guest books and lots of tears.
And the similarities don't end there. Weddings are the ultimate in personalized events – shouldn't funeral services be the same? We all know that Baby boomers want more personalized funeral services that celebrate a life lived. To deliver that, maybe funeral professionals need to think less about funerals and more about event planning, like wedding planners do.
So without further ado, here are a few lessons we can learn from the wedding industry:
1. Wedding planners aren't afraid to try new things
When it comes to wedding planning, being open to trying new things and thinking outside-the-box is key to impress clients. The same is true for funeral directors. Latimore-Schiavone Funeral Home thinks outside-the-box by offering their community the chance to host weddings in its chapel at a very reasonable rental rate. It's a win for everyone. The funeral home is able to generate a new source of revenue, while the community gets a venue that combines a small budget with big style. The funeral directors even coordinate catering and the wedding cake.
Sure, some people will think it's creepy to have weddings and funerals in the same place, but isn't that exactly what happens in churches and chapels? Instead of having your viewing room sitting empty, offer your funeral home to the community to help them save money on their wedding or entertainment venue and they will remember the celebration you created for them for the rest of their life.
2. Wedding planners help their customers SAVE money
Hiring a wedding planner isn't cheap, but anyone who hires one knows that wedding planners are worth their weight in gold. It's all about their contact book and their industry knowledge, both of which guarantee that what seems an unnecessary expense can end up saving their clients money. Simply put, they get discounts for their clients – and their clients appreciate it.
Instead of keeping our unfortunate reputation as a profession who rips off our families, position yourself as the transparent go-to in your community. You can do that by putting together a package of services that meets both the needs and the budget of client families, rather than trying to sell them the most expensive items on your GPL. This will help you build trusted relationship with families and guarantees they will think of you again.
3. Wedding planners listen
The lifeblood of the wedding planning business, in my opinion, is the wedding planner's ability to listen. Wedding planners take the time to understand what the bride and groom want through asking questions, then they use their knowledge to make it happen. Any funeral home that still wants to be in business in the next five years must do the same. Just as wedding planners bend over backwards to deliver new and exciting weddings to their clients, funeral homes must be similarly agile in finding new ways to do business.
The funeral directors at Cress Funeral Home & Cremation take pride in their ability to listen, and it shows.
The Vice President, Dan Fose, says "our funeral directors are wonderful listeners. A casual comment from a family member can spark some great ideas."
They started by focusing more and more on personalization, and now they help families plan any event, especially weddings. This funeral home has learned the art of listening to find out what client families want, and now they're known in their community for their ability to listen. Check out this testimonial from one of their families:
"Thank you for all your ideas and making our wants come true for George's memorial service. I will be sure and let others know of the kindness of you & Cress Funeral Home."
4. Wedding planners prove their value
Have you ever tried to show families the value of a funeral? Not that easy, is it? With personal budgets under strain because of the economy and Boomers looking for more from funeral services, it can be difficult. While consumers are having trouble finding value in the average cost of a funeral ($6,650), most couples spend an average of $25,656 on their wedding.
So why do client families balk at paying the price of a funeral service? Because unlike wedding planners, funeral directors aren't great at showing the value of splashing out on a big occasion. Yet client families get exactly the same experience from well designed funeral services: they celebrate the life of someone special,they create shared memories and they reflect on the past and look to the future.
As funeral professionals your expertise is in celebrating life and overcoming grief – you need to show it. Your funeral home website is a key part of making this happen. Wedding planners show images of successful weddings and testimonials from happy customers – funeral directors can do exactly the same. And if your website is also a source of useful information for people thinking ahead to plan their funeral, then it's another way to underline that value.
5. Wedding planners make planning enjoyable
Like planning a wedding, planning a funeral can be fraught with decision making – should client families choose burial or cremation, have a service or not, allow viewing, have flowers — the list goes on. And then there's the cost – many people worry about it. People often go for cremation because they see it as simple and quick, with no difficult decisions.
But experienced funeral directors can take away the fear and make client families feel safe – all they have to do is listen and deliver. Just as wedding planners set out to make the wedding day a joy and are firmly in the bride's corner, funeral directors can help families to celebrate a life lived and take the strain out of the planning process.
Here are some techniques for achieving this:
· Focus on celebration – it's an emotional time for the family, but you can make it better by helping them think of the funeral service as a celebration to be enjoyed and not endured.
· Find out what families need before you bring out the GPL – you can say, "Let's talk about some of the details of the funeral and go over the cost considerations." This keeps the pressure off pricing.
· Ask open ended questions to find out what families want and listen to the answers.
· Provide creative ideas and a calming presence.
· Adopt a can-do approach to even the most unusual requests.
Just like wedding planners, you need to focus on client families' needs – that's how you'll outshine your competition.

ConnectingDirectors.com is the leading online daily publication for funeral professionals with a reader base of over 45,000 of the most elite and forward-thinking professionals in the profession. With ConnectingDirectors.com we have created a global community through an online platform allowing funeral professionals to Stay Current. Stay Informed and Stay Elite.

Latest posts by CDFuneralNews (see all)
You may be interested
Funeral Industry News
875 views
Funeral Industry News
274 views
Funeral Industry News
274 views
RELEASE THE FN CRAKN! | FUNERAL nation 114
CDFuneralNews
-
June 18, 2018
It's a barn burner... The Commander is moving his Command Post!!! Besides the Commander on the move, the boys speak…
Frontrunner Professional
3 views
Comments