Appeals Court Rules for Louisiana Monks in Casket Fight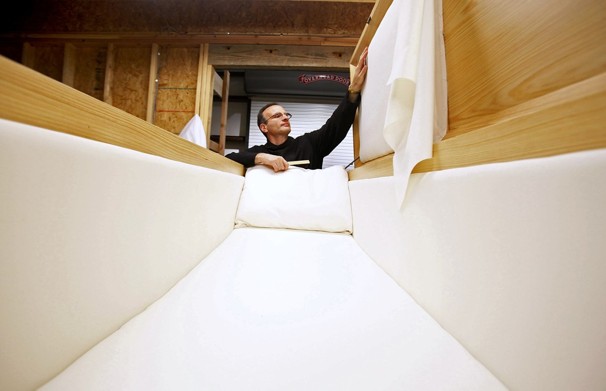 Benedictine monks may keep selling plain, low-cost caskets from their monastery outside New Orleans, a federal appeals court ruled Wednesday, finding that a regulation that only state-licensed funeral directors may sell coffins in Louisiana had no reasonable grounds.
The 5th U.S. Circuit Court of Appeals upheld a ruling in favor of St. Joseph Abbey and against the state board of funeral directors.
"The funeral directors have offered no rational basis for their challenged rule and, try as we are required to do, we can suppose none," Judge Patrick Higginbotham wrote for a unanimous three-judge panel.
It's a landmark constitutional ruling, said attorney Jeff Rowes of the Arlington, Va.-based Institute for Justice, which represented the monastery in Covington, about 30 miles northwest of New Orleans.
"This is one of only a handful of decisions since the New Deal in which a federal court of appeals has struck down economic regulations as unconstitutional," he said.
The Louisiana State Board of Embalmers and Funeral Directors referred a call for comment to its attorneys, who did not immediately respond.
The three dozen Catholic monks had long made plain wood caskets for themselves, and set up St. Joseph Woodworks to sell coffins to outsiders in 2007, two years after Hurricane Katrina flattened 60 percent of the forests they had been leasing to timber companies, Abbot Justin Brown said Wednesday.
Their flat-topped "monastic" model sells for $1,500, their "traditional" model, with a raised top and hand-carved wooden handles, for $2,000.
The monks sold 50 to 60 caskets in 2007 before the funeral board ordered them to stop that December. They went to court in 2010 after trying unsuccessfully to get an exemption for coffins made by nonprofit charitable groups.
"Louisiana does not even require a casket for burial, does not impose requirements for their construction or design, does not require a casket to be sealed before burial, and does not require funeral directors to have any special expertise in caskets," Higginbotham wrote in an opinion joined by Judges Catharina Haynes and Stephen Higginson.
"That … leads us to conclude that no rational relationship exists between public health and safety and limiting intrastate sales of caskets to funeral establishments," he wrote.
Rowes said he thinks the funeral directors will likely appeal to the U.S. Supreme Court because there is now a strong split among appeals courts about whether laws or regulations that only protect specific private interests are constitutional.
"The Supreme Court exists to resolve exactly those types of disagreement," he said.
The 5th Circuit had asked the Louisiana Supreme Court to decide whether the board's regulatory power extends beyond funeral homes. It said Louisiana's highest court declined to hear the case and did not say why.
The nation's highest court declined to consider a similar lawsuit won by Oklahoma's funeral directors in 2005. That decision conflicted with another appeals court's ruling three years earlier that struck down a Tennessee law as unconstitutional.
Judges cannot second-guess economic restrictions passed by state legislatures because those laws have a stated purpose of protecting consumers, the 10th U.S. Circuit Court of Appeals ruled in the Oklahoma case.
Read rest of article via: ABC News
Image via: Washington Post
ConnectingDirectors.com is the leading online daily publication for funeral professionals with a reader base of over 45,000 of the most elite and forward-thinking professionals in the profession. With ConnectingDirectors.com we have created a global community through an online platform allowing funeral professionals to Stay Current. Stay Informed and Stay Elite.
Latest posts by CDFuneralNews (see all)
You may be interested
Marketing
2 views
4 Social Media Mistakes Death Care Companies Are Making (and How to Fix Them)
Ryan Thogmartin
-
August 22, 2017
On one hand, there's always something new to learn and try. However, not everything makes sense when it comes to marketing death care companies. We've watched many funeral organizations lose focus on strategy due to the bright and shiny nature of the new tactics that pop up. Tactics come in all shapes, sizes and value levels. Some are new features that are useful and others can be 'shortcuts' that ultimately lead us in the wrong direction. Recent conversations got us thinking, so we wanted to talk about some social media marketing mistakes we see death care companies make, and how they can fix them.
Death Discussions
3 views
August 31 is International Overdose Awareness Day (IOAD)
Ryan Thogmartin
-
August 21, 2017
Unfortunately, the opioid epidemic isn't much of a headline anymore. With over 100 overdose-related deaths everyday, we, as a country, have become desensitized to death and drugs. Funeral homes are charged with taking care of the final arrangements for those who have been taken from this earth too soon.
Jobs
5 views
Director of Support – Western US
CDFuneralNews
-
August 21, 2017
At Carriage Services, we believe in the concept of "First Who, Then What." We have learned that leaders, who attract and surround…
Comments