2011 Cremations Surpass the 1 Million Mark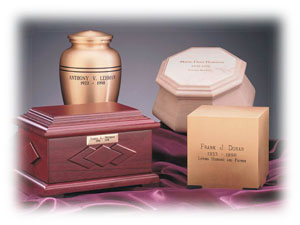 Article Provided by: Ed Defort, Memorial Business Journal
Vancouver, British Columbia – According to last year's preliminary figures, the Cremation Association of North America reported that the U.S. cremation rate topped the 40 percent mark for the first time in history. Now, to go along with a 42 percent cremation rate, another benchmark number was topped as the association's preliminary numbers put the number of cremations in the United States as exceeding the 1 million mark in 2011.
While the fact that the cremation figures have topped these levels is hardly surprising, CANA's projections, which have been predicted with remarkable accuracy for decades, is forecasting that nearly half of all deaths in the United States in five years (49 percent) will result in cremation.
Final 2010 statistics put the actual number of cremations at 998,799 as the cremation rate reached 40.6 percent. The total number of cremations represents a 7.3 percent increase over the 930,429 cremations reported in 2009.
CANA's preliminary 2011 figures found that the number of deaths increased 0.14 percent to 2.464 million, from 2.460 million in 2010.
CANA noted that the annual growth rate of cremation from 1996-2011 was 1.6 percent each year. The annual growth rate is the difference between the percentage of deaths cremated in 2011 and 1996, averaged over the 15-year period. Between 1996 and 2011, the percent increase in cremations was 6.9 percent.
To no one's surprise, CANA predicts that the numbers will increase steadily. In 2016, the association projects a cremation rate of 49.0 percent based on 2.5 million deaths and 1.242 million cremations, which is an increase of nearly 197,000 cremation cases, while the number of actual deaths increases by just over 27,000. The number of non-cremations is expected to decrease about 11.9 percent – from the 1,426,526 estimated for 2011 to 1,256,724 in 2016.
CANA had always forecasted that the 50 percent barrier would be broken in 2018 or perhaps 2017.
Regional Breakdown
Every U.S. geographic region posted at least a 23 percent cremation rate in 2011, according to CANA's 2011 preliminary numbers. Four regions outpaced the national cremation average: Pacific states (Alaska, California, Hawaii, Oregon and Washington) led with a rate of 61 percent, followed by Mountain states (Arizona, Colorado, Idaho, Montana, Nevada, New Mexico, Utah and Wyoming) at 60 percent, then New England states (Connecticut, Maine, Massachusetts, New Hampshire, Rhode Island and Vermont) at 49.3 percent and South Atlantic states (Delaware, District of Columbia, Florida, Georgia, Maryland, North Carolina, South Carolina, Virginia and West Virginia) at 42.6 percent. Falling below the national average were the East North Central states (Illinois, Indiana, Michigan, Ohio and Wisconsin) at 39.5 percent, the West North Central states (Iowa, Kansas, Minnesota, Missouri, Nebraska, North Dakota and South Dakota) at 38.4 percent, the Middle Atlantic states (New Jersey, New York and Pennsylvania) at 37 percent, the West South Central states (Arkansas, Louisiana, Oklahoma and Texas) at 31.3 percent and the East South Central states (Alabama, Kentucky, Mississippi and Tennessee) at 23 percent.
All nine geographic regions projected higher cremation rates for 2011 than confirmed for 2010.
The Mountain region topped CANA's 2010 final statistics at 58.84 percent, followed by Pacific states at 52.84 percent. The remaining regions were in lockstep with the 2011 preliminary results. New England states were third at 44.6 percent, followed by South Atlantic states at 41.3 percent, East North Central states at 38.7 percent, West North Central states at 37 percent, Middle Atlantic states at 35.2 percent, West South Central states at 29.8 percent and East South Central states at 21 percent.
In the year-to-year comparison, the East South Central region was up 2.67 percentage points, followed by West North Central at 2.64 percent, Middle Atlantic at 2.15 percent, West South Central at 2.05 percentage, East North Central at 1.79 percent, South Atlantic at 1.37 percent, New England at 0.80 percent and Mountain at 0.29 percent.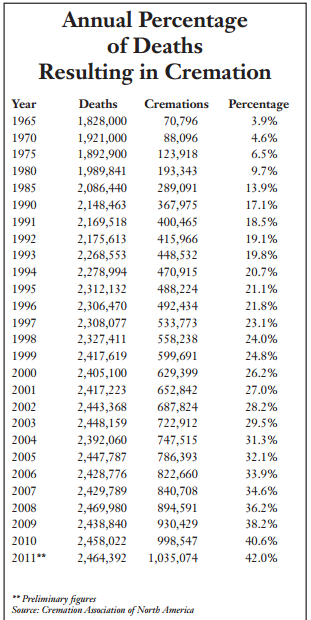 The State Breakdown
According to CANA's final 2010 data, California and Florida continue to lead the United States in cremation volume by a wide margin, with 131,140 and 101,697 cremations, respectively. They are followed by Texas with 53,245, New York with 50,333, Pennsylvania with 44,513, Michigan with 41,678, Ohio with 38,404, Illinois with 35,274 ,Washington with 34,019 and Arizona with 28,654. North Dakota, with 1,872, recorded the fewest cremations in 2010, followed by South Dakota with 2,089, the District of Columbia with 2,133, Alaska with 2,224 and Wyoming with 2,362.
Based on percentage of deaths cremated, Nevada leads with a rate of 72.2 percent, followed by Washington with 70.9 percent, Oregon with 69.4 percent, Hawaii with 69.1 percent, Montana with 65.7 percent, Maine with 63.9 percent, Colorado with 63.3 percent, Arizona with 62.5 percent, New Hampshire with 61.6 percent and Alaska with 61.1 percent. Most states in this category are working from a comparatively smaller statistical base, which accounts for the higher percentages.
The bottom five states by percentage of deaths cremated, based on CANA's final 2010 statistics, include Mississippi at 13.8 percent, Alabama at 17.2 percent, Kentucky at 20.8 percent, Louisiana at 21.2 percent and West Virginia at 23.2 percent.
CANA broke down the leading states in terms of the highest average growth in terms of numbers and percentage between 2006 and 2010. Texas registered an average increase of 3,740 cremations per year over the five-year period. The state's cremation rate jumped from 24 percent in 2006 to 32.1 percent in 2011. It was followed by Florida, which registered 3,404 additional cremations per year, California with 2,630, Michigan with 2,112, Ohio with 2,038, Pennsylvania with 1,999, New York with 1,995, North Carolina with 1,842, Tennessee with 1,818 and Georgia with 1,736.

According to CANA, the top 10 states with the highest average growth in percentages per year from 2006-10 were Wyoming, up 3.5 percent; Tennessee, up 2.9 percent; Rhode Island, up 2.5 percent; Minnesota, Georgia and Missouri, all up 2.3 percent; Wisconsin, Kansas and Michigan, up 2.2 percent; and South Dakota, up 2.1 percent.
Switching attention to north of the border, CANA put the preliminary 2011 cremation rate for Canada at 59.2 percent based on estimated figures of 189,077 deaths and 111,953 cremations. CANA projects that the Canadian cremation rate will reach 63.9 percent by 2016.
CANA also cited the five major trends affecting cremation: cost, range of options, environmental impact, geography and religious acceptance.
Editor's note: Data included in this article used with permission from the "Annual Statistics Report 2011" © 2012 held by the Cremation Association of North America (CANA). CANA's full report will be published in the November 2012 issue of The Cremationist. CANA provides additional projections, maps and graphs to its members upon request.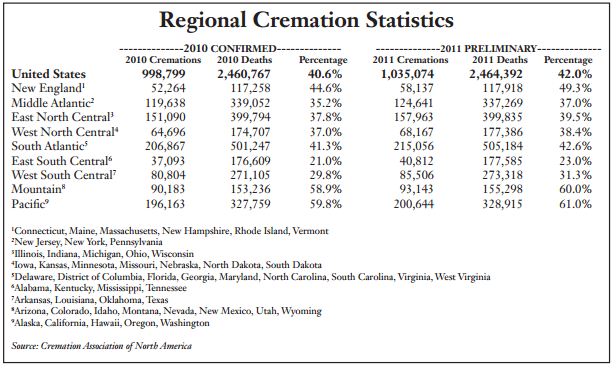 ConnectingDirectors.com is the leading online daily publication for funeral professionals with a reader base of over 45,000 of the most elite and forward-thinking professionals in the profession. With ConnectingDirectors.com we have created a global community through an online platform allowing funeral professionals to Stay Current. Stay Informed and Stay Elite.

Latest posts by CDFuneralNews (see all)
You may be interested
Funeral Industry News
968 views
Funeral Industry News
276 views
Funeral Industry News
276 views
RELEASE THE FN CRAKN! | FUNERAL nation 114
CDFuneralNews
-
June 18, 2018
It's a barn burner... The Commander is moving his Command Post!!! Besides the Commander on the move, the boys speak…
Frontrunner Professional
3 views
Comments