19 Funeral Home Owners and Managers Complete Grueling Week Long Foresight Financial Boot Camp
Phoenix, AZ August 3, 2012:  Nineteen funeral home owners, managers, and future owners completed a 40 hour long workshop sponsored by The Foresight Companies, LLC entitled, "FUNERAL BUSINESS BOOT CAMP".  These 19 people represented 15 businesses and came from all around the United States.  The group owned or managed more than 24 funeral home business locations and five cemeteries and served about 7,000 families a year.  "These 19 people spent about 40 hours of time to get organized and complete a detailed Excel spreadsheet with their financial and operating data before they got here, spent 40 hours in workshops here and will spend the next six months implementing the business plan they have written based upon their knowledge gained from this session.  That is a huge commitment to improving their businesses!" said Daniel Isard, the President of Foresight.  "This group studied all aspects of their operating business, marketing, merchandising, business succession, tax, cash flow, HR, technology and preneed. They did so in Phoenix, during a hot August, where the temperature didn't drop below 100 degrees for a minute," Isard added.
The attendees worked through a process to analyze their business and ultimately write a business plan that they can take home with them.  Tyler Pray of the Pray Funeral Home in Michigan said, "Boot Camp brings your whole world into question and in one week starts your entire business plan moving forward."  The process of implementing the business plan of attendees is a six month follow-up being headed by Dan Heaman, Marketing Associate of Foresight.  "Many seminars educate you but this one gives you a tangible roadmap to take home and my job is to help you implement your business plan for the next six months."  Heaman, a licensed funeral director who started working for Foresight this year added, "It is amazing how the attendees went from having a limited knowledge to a thorough understanding of what they need to create or fix in just one week, with our supervision."
The style of presentation was unique to anything you would find in the funeral or cemetery educational world.  Attendees filled out a massive Excel spreadsheet with their operational and financial data.  Then this was sent to the Foresight offices where it was reviewed by Kevin Kruger, the lead Client Service person for the company.  "Each presentation topic included a lecture and then examples of the point were demonstrated from the data of the attendees.  Then attendees were broken down into three groups.  Dan
Isard, Dan Heaman and I would work with a group to personalize the lessons and highlight the corrective actions that were needed," Kruger said.  "In many cases the data presented the solution so clearly and you could see the seminar registrant's eyes light up when they realized how clear the problem and solution were," he added.  Joel Swisher of Hixson Brothers, Inc. in Louisiana said, "At the end of the week you have a better knowledge of what you need to do to get you where you want to be!"
Attendees were made of different types of roles in their businesses.  There were five cemetery or combination operations present and ten funeral home businesses, most of which had multiple roof tops to service.  Some were current owners like Roger Richie of Ziegenhein & Sons Funeral Home in St. Louis.  Roger said, "This was the best seminar investment I've made in over a decade!"  Two attendees were managers that were not owners.  About half of those attending were the next generation of owners of their family business. Reggie Fielding of EJ Fielding Funeral Home in Louisiana said, "Everyone should attend Boot Camp, except my competitors!"   "I was surprised how many people have allowed us to educate their children/successors.  That is a great responsibility and we accepted that trust of their parents with pride," Isard said.
At the end of the week, there was a surprise.  Each attendee was presented with a tee shirt recognizing their graduation.  "You can't buy this tee shirt!  You have to earn it!" Isard reminded everyone.  Each funeral home, cemetery and combination operation owner and manager left with a smile, a bit of exhaustion, a business plan, and a Boot Camp tee shirt.
The next Boot Camp will be offered in Phoenix in February.  Early registration is encouraged as no two businesses from the same market area are allowed to attend the same session.  Also, early registration allows Foresight to attempt to secure state continuing education in addition to the 40 hours awarded by the Academy.  For more information on the next session please contact Susan at The Foresight Companies by phone 800-426-0165.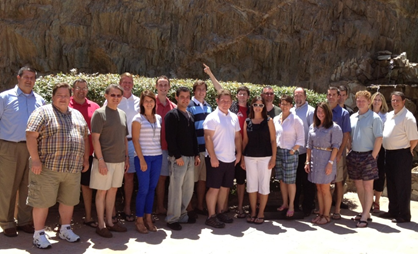 Back Row: Dan Heaman, Joel Swisher, Todd Ansberg, Matt, Schichtel, Tyler Pray, Keith Brown, Steve Harkins, Gary Strand, Clay Higgins, Kevin Kruger, Debbie Griffin   Front Row: Steve Wickens, Roger Richie, Erin Whitaker, Nick Farenga, Ben Fielding, Ruth Harkins, Sharon Brody, Marla Meeks, Reggie Fielding, Dan Isard

ConnectingDirectors.com is the leading online daily publication for funeral professionals with a reader base of over 45,000 of the most elite and forward-thinking professionals in the profession. With ConnectingDirectors.com we have created a global community through an online platform allowing funeral professionals to Stay Current. Stay Informed and Stay Elite.

Latest posts by CDFuneralNews (see all)
You may be interested
Funeral Industry News
6 views
Funeral Industry News
508 views
Funeral Industry News
508 views
Mean Internet Comments – Funeral Edition
CDFuneralNews
-
June 20, 2018
We shine a light on some of the harsh words posted on social media towards DISRUPT Media's CEO, Ryan Thogmartin.…
Funeral Industry News
1180 views
Comments