Providence Equity is on a Death-tech Investment Spree… Here are the 3 Companies They Now Control.
Whispers at NFDA 2018 were centered around rumors about the mystery investment firm sending inquiries to what seems like every company functioning in death-tech. People were asking, "Who was offered? Who was acquired? Who declined? What is each company worth? Why is a major investment firm even interested in death-tech?" No one had solid answers.
So far, the private equity firm has been silent and has made no public announcement about their dabbling in the death care space. We spoke with a representative from the mystery investment company, Providence Equity, who gave us a firm but polite "no comment" on all of our inquiries.
I prefer to write articles in which I can report on facts directly from the source but, in this case, we've had to rely on anonymous sources and clues to confirm facts, alleged offers, inquiries, and acquisitions. I believe it's better to get this story out of the shadows (as much as we can) and explore some possible motives and scenarios for the future of a death-tech conglomerate corporation. Please pay close attention to what we have "confirmed" and what is "a rumor" in the following article.
What Do We Know?
For about the past 8 months, Providence Equity Partners, a major player in the global private equity industry, has been making aggressive moves in the death care space. According to emails and anonymous sources, the firm is interested in investing in and acquiring companies for between $10 million and $300 million with 2 funds – one for investments under $100M and one for over $100M. In the case of an investment, they prefer to own at least 51% of the company – controlling ownership. In the past, Providence Equity has invested over $1 billion in individual companies.
Providence Equity has been making inquiries into death-tech companies sending them variations of the email below.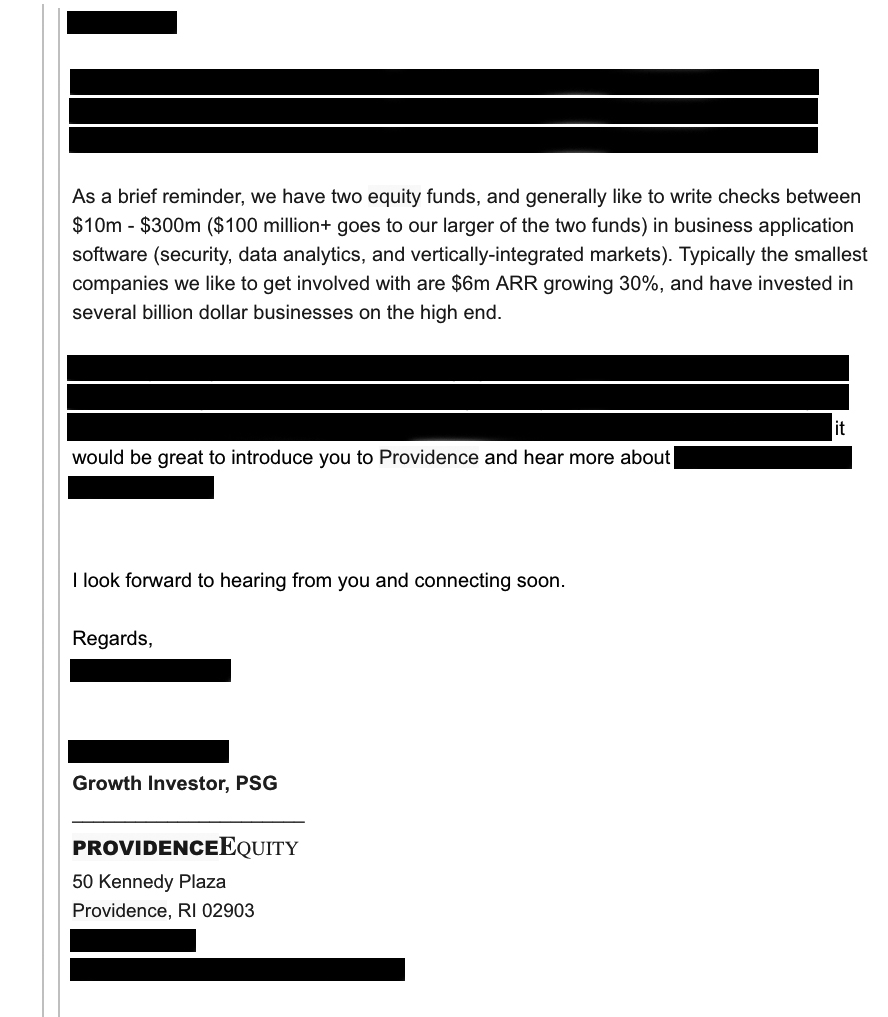 So far, we have confirmed that Providence Equity has taken a controlling stake in 3 death-tech companies. They now control SRS Computing, Frazer Consulting, and FrontRunner Professional.  Additionally, we have confirmed through anonymous sources that Providence Equity has made inquiries into DISRUPT Media, Aftercare.com, Johnson Consulting, PartingPro, and it's rumored that they have contacted pretty much every death technology company you can think of. There were multiple other investment rumors that we could not confirm. It is also rumored that Providence Equity will bring on Matt Frazer to be CEO of the new death-tech conglomerate.
Who is Providence Equity?
Providence Equity Partners LLC is an American global private equity investment firm specializing in media, communications, education, and information investments. The company has investments in over 180 companies worldwide and maintains $60 billion in managed assets. Providence Equity pioneered a sector-focused approach to investing.
Providence Equity is lead by Jonathan Nelson who founded the private equity firm in 1989. According to Forbes Nelson is the richest person in Rhode Island and The New York Times once called him "the stealth mogul." Providence Equity is headquartered in Providence, Rhode Island with five additional offices in New York, London, Hong Kong, Beijing and New Delhi.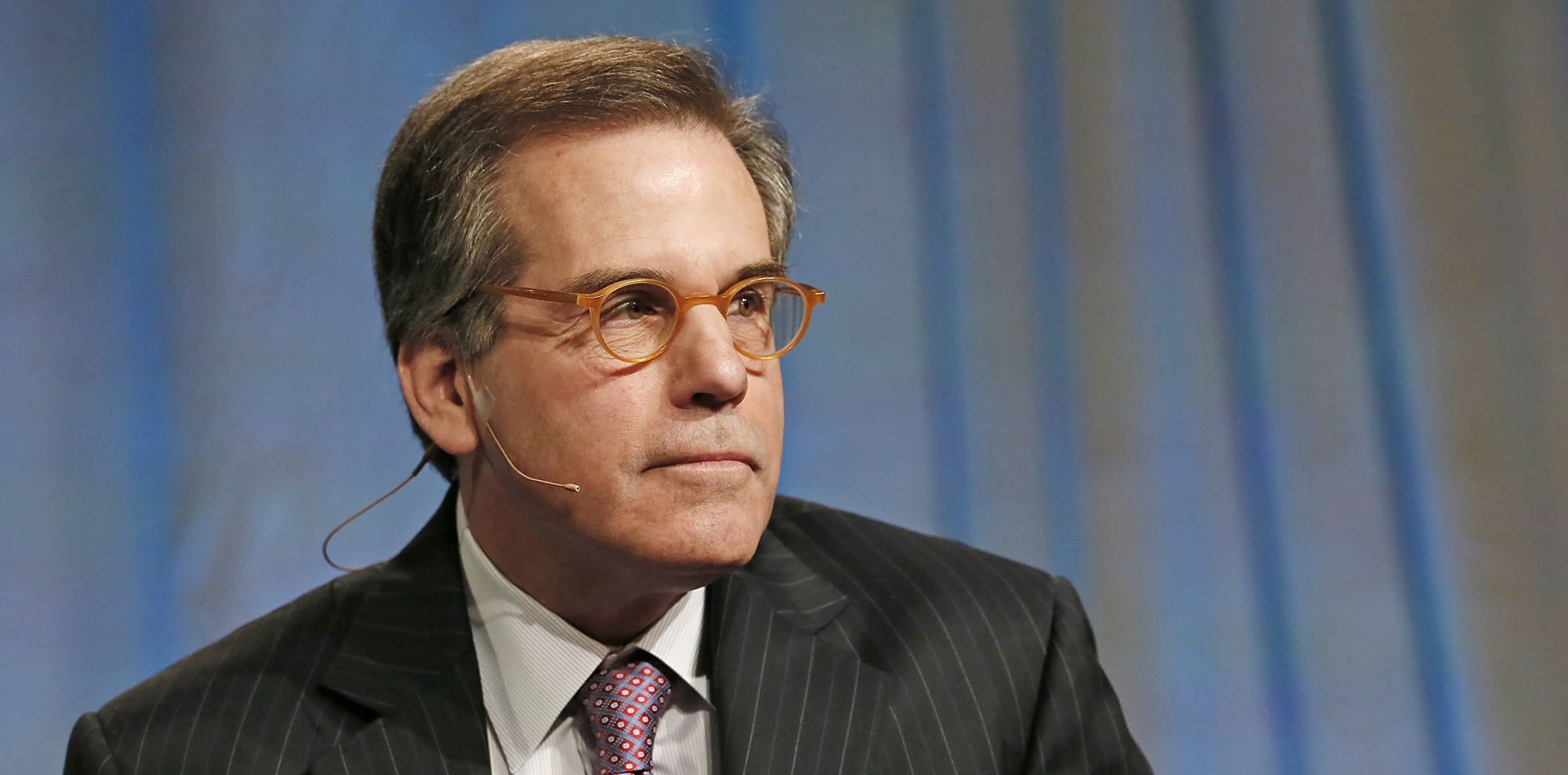 The New York Times reported, "In 2000, Providence oversaw just $3.6 billion. A single fund raised in 2005 amassed $4.26 billion. Two years later, it raised $12 billion more — in just three months. By 2007, the firm had nearly $21 billion in private equity assets under management. It also started a credit arm, which quickly attracted billions to invest in fixed-income securities."
This past June, Providence Equity closed another funding round for $1.3 billion bringing the firm to a total of $60 billion in managed assets across complementary private equity and credit businesses – some of that money is now focused towards death care.
"PSG has a unique playbook on how to build profitable and high-growth software businesses," said chairman of PSG Peter Wilde in a statement. "PSG Fund III's size of $1.3 billion provides enough resources to invest in a best-of-breed proprietary deal sourcing engine, but is small enough to avoid competitive deal auctions."
Over the last few decades, Providence equity has focused their investments on a number of sectors including ad-tech, education, and media. Some of their more well-known investments include Hulu, NexTag, The Yankees Entertainment and Sports Network, BlackBoard, the World Triathalon, and AutoTrader.com.
Providence Equity has had a mostly successful 30-year investing history. The New York Times reported 3 examples of their past wins:
"A $724 million investment in the German cable company Kabel Deutschland netted more than $3 billion. A stake in the AutoTrader Group, an advertising website, returned three times its money. The same holds true for a small education deal, Archipelago Learning."
But the firm has also had some disastrous investments. Again, The New York Times:
"…One of the firm's biggest investments, the security screener Altegrity, filed for bankruptcy in the face of fraud accusations. Providence had its entire $800 million stake wiped out, the largest loss in the firm's 26-year history.

Altegrity was the latest in a string of bad bets for the firm. Last summer, it lost its entire $460 million investment in a for-profit college company after that company faced multiple investigations. Hundreds of millions of dollars were erased when the film studio Metro-Goldwyn-Mayer went bankrupt in 2010. A $675 million stake in an Internet retailer has been written down to zero, as has the $400 million it spent on a Dutch child-care group. The spate of poor investments caused Providence to deliver dismal returns in back-to-back funds."

What is the long-term Plan?
There are 2 typical paths for this type of sector-specific acquisition strategy. First, Providence Equity could be taking a controlling stake in death-tech companies to merge them together into an integrated death-tech superpower. By merging the right companies they can leverage economies of scale and increase profit margins. Alternatively, Providence Equity could be collecting the companies under an umbrella organization but keeping them separate with the intention of selling the package to another firm. The latter strategy is far more likely because it aligns with Providence Equity's recent-past investment strategies, specifically in the Church technology space.
In another article, we will explore Providence Equity's past deals in Church technology and what they might be able to tell us about their strategy in the death care space.
The Business
Looking at the 3 companies Providence Equity has acquired so far, they have achieved a number of significant unique opportunities. First, they have packaged up companies that specialize in each step of funeral home management setting them up to offer an all-inclusive technology solution. They will have a robust funeral home/cemetery/crematory management technology (SRS Computing + FrontRunner Pro), website development (FrontRunner Pro + Frazer), digital memorials (FrontRunner Pro) client communication management (SRS Computing), video + stationary production software (FrontRunner Pro + Frazer), funeral home marketing and advertising services (FrontRunner Pro) , and a line of physical customized products (Frazer). This inclusive funeral home management suite looks similar to the technology services offer by Batesville who will be Providence Equity's closest competitor.
The Leadership
The rumor that Matt Frazer will lead the company is most likely false. Appointing Frazer to lead the company would be a shocking choice for a company like Providence Equity considering their unlimited resources and Frazer's poor reputation in the death care space. Typically, in the situation of acquiring and combining companies, the controlling investment firm will bring on a seasoned CEO who they trust and have worked with in the past – this scenario is far more likely for Providence Equity's death-tech leadership positions. Although Matt Frazer may be retained as a consultant, the CEO will likely come from outside the death care space, have worked with Providence Equity previously, and have a strong and successful background in growing technology companies.
What does this mean for the Death Care Industry?
Providence Equity's death-tech investments will likely have no impact or a positive impact on funeral home clients. Combining the products together will result in an improved product, streamlined services, and widely integrated tools. It could also save funeral professionals time by offering a one-stop-shop experience rather than dealing with a separate company for each technology need. Additionally, because the Providence Equity death-tech suite will have competition, the pricing for the services will likely either stay the same or maybe even decrease.
If Providence Equity keeps the companies separate but under an umbrella company there will likely be no major changes to the services unless they decide to lower prices to compete with other industry players.
The merger is bad news for competing smaller death-tech companies who will have to work harder to create superior products and compete on pricing. If Providence Equity needs to fill a niche with a technology that they can't purchase, they certainly have the financial resources to build the missing pieces of their death-tech empire from the ground up. We are expecting to report more death-tech investments by Providence Equity in the coming months and explore their strategy in more detail.
What do you know about Providence Equity's death-tech investments? Send us an anonymous tip to justin@connectingdirectors.com.