ClearPoint Names Walt Dixon Vice President, Legal Counsel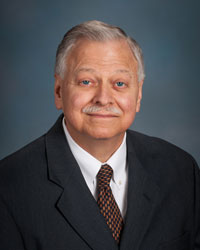 BATESVILLE, IN – March 11, 2015 – ClearPoint Federal Bank & Trust recently named Walt Dixon as Vice President, Legal Counsel. Dixon previously served as Vice President/Assistant General Counsel for Forethought Life Insurance Company.
"We are delighted to be working with Walt," notes ClearPoint President George Junker. "He brings a breadth of knowledge to all issues due to his over 40-year career in the preneed industry, which includes leadership in state and federal preneed-related court decisions and legislation."
Dixon's experience also includes the position of Vice President/Corporate Counsel for Service Corporation International and a 14-year career as a private practitioner, representing funeral homes, cemeteries and life insurance companies throughout North America.
"Walt has worked with clients from large corporations to family-owned funeral homes and cemeteries and offers a broad understanding of the different needs within these unique markets," Junker states. "This will be of great benefit to ClearPoint as we continue to grow in reach and in service."
Dixon graduated from Kansas State University in 1969 with a bachelor's degree in political science/pre-law. He was awarded his Juris Doctor degree from the University of Iowa, College of Law in 1973. Dixon was licensed to practice law by the Supreme Court of the State of Texas on Dec. 4, 1973, and was granted a Business Counsel License by the Supreme Court of the State of Indiana on March 6, 2009.
About ClearPoint Federal Bank & Trust
ClearPoint Federal Bank & Trust is a federally chartered savings bank based in Batesville, Ind., and is dedicated solely to the funeral home and cemetery industry. Independently owned and operated, ClearPoint has provided customized funeral home and cemetery trust services since 1998, now serving clients in 43 states and the District of Columbia. Trust services include investment management, contract recordkeeping and reporting, and regulatory compliance for more than $600 million in trusted assets.