Batesville's New Professional Websites Allow Funeral Homes to Stand Out from the Competition
Sleek design, easy-to-use platform, social media, and mobile features create a superior customer experience.
Batesville, the leading provider of technology solutions to the death care industry, announced the introduction of its new Professional websites, a revolutionary offering that combines the latest technical innovations with a sleek, contemporary design that is affordable and easy to use. Professional websites offer a transformative change in visual style, features and functionality, underpinned by an exceptional consumer experience that will help funeral homes grow their business, stand out from the competition and stay ahead of consumer trends.
A trusted technology partner to more than 5,000 funeral homes and cemeteries across North America, Batesville is stepping forward with innovative online solutions that provide powerful new ways for death care professionals to use technology to their advantage.
"We've done extensive research to understand current gaps with technology and have applied that data, plus consumer insights, to deliver a powerful, highly configurable new website offering that meets the specific needs of death care professionals," said Mike Bryan, general manager of Technology Solutions for Batesville.
The Professional website offering is the product of more than 12 months and thousands of hours of usability studies, creative testing, customer and consumer research, and input from funeral professionals, including a formal Beta test. The result is a solution that is clean, sophisticated and can be configured by the funeral home to meet its brand and local market goals. For example, funeral homes pick their colors, layout, background, people, and content to align with their brand and target audience. The modern design helps project a more contemporary image that appeals to today's consumers. Intuitive navigation paths allow visitors to quickly and easily find what they want, while also giving funeral homes the ability to create 'call to action' messages within the site to direct visitors to key areas of focus and generate leads for their business.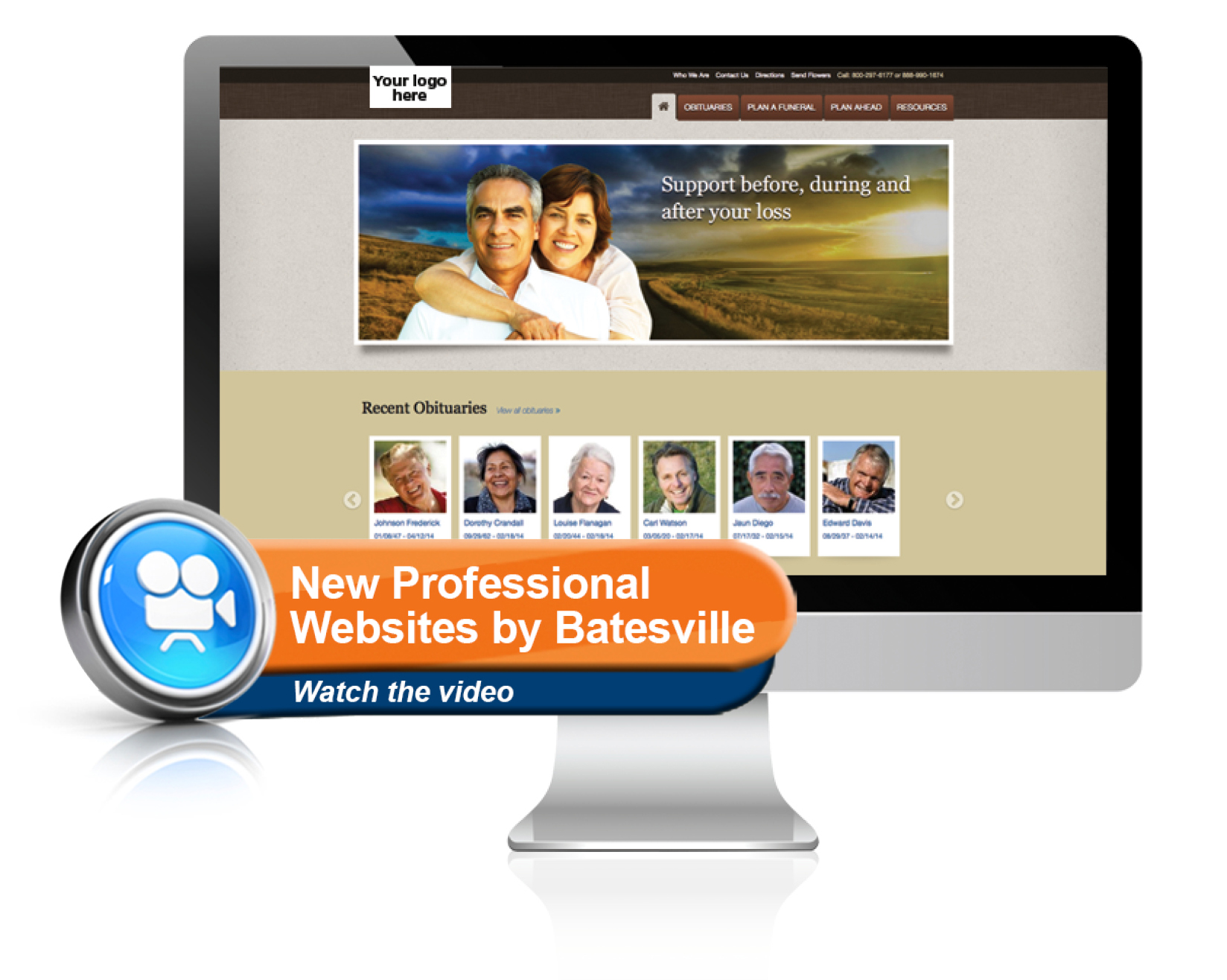 Professional websites are designed to help funeral homes grow their business and expand their reach. Key features include:
Modern, diverse imagery and a consumer-friendly layout
Customizable page layouts with a configurable home page banner
Interactive obituary treatments
Simplified navigation with prominent calls to action
Location slide show to highlight a funeral home's facility and services
Strong search engine optimization
Enhanced mobile-optimized experience
Meeting consumers where they are
With more than 180 million visitors to its funeral home website network each year, Batesville has an inside view of what it takes to deliver an exceptional online experience.
"Consumer engagement with your website is critical today," explains Bryan. "It's not enough to just be online. Consumers are connecting with their smart phones, tablets and other devices. You need to meet consumers where they are with the best possible user experience, and Batesville is addressing those needs."
An estimated 1 in 3 Americans are using Facebook to find and share information about a loved one who has passed, making social media integration a 'must have' for funeral homes. A complete social media package is built into the Professional website platform, along with a brand new mobile experience that takes advantage of contemporary features, such as click-to-call, and a responsive design that ensures the website is 'thumb-friendly' across all mobile devices. Website content is automatically organized in a manner that allows mobile users to quickly find information.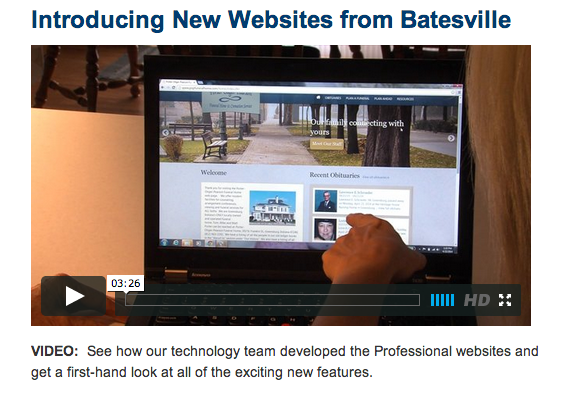 Built to deliver results
As an early adopter and Beta user, Matt Porter, co-owner of Porter-Oliger-Pearson Funeral Home in Greensburg, Indiana, can attest to how the Batesville Professional website has helped his business. "The three biggest improvements I've seen are the increased traffic to our site, a steady rise in calls and emails from new site visitors, and the increased revenue we've experienced as a result," he said, adding that the new revenue has more than paid for the upgrade from his existing Batesville website.
Feedback from all Beta users helped Batesville refine the Professional product and create a roadmap for the Professional website offering as well as its Basic and Enterprise websites. The company offers a complete portfolio of website solutions to meet the needs of different funeral homes. No matter what level of expertise or configuration desired, there is an offering to fit that need.
Batesville's new Professional websites are a mid-tier solution, designed for funeral homes looking to market their business and more actively engage with customers. Funeral homes can also select Batesville's entry-level Basic website, an affordable, fully-functional offering, or an Enterprise website that provides a unique design and complete control of content, brand and navigation.
This is the first of many technology enhancements and innovations Batesville will be introducing this year as part of its growing portfolio of integrated solutions designed to address the evolving needs of death care professionals and consumers. Look for additional advancements later in 2014, including a comprehensive back-office account management system.
For more information on Batesville Professional websites or other technology solutions, death care professionals can call 877.287.8661 to speak with a technology consultant or visit batesvilletechnology.com/web-preview to learn more or watch a video on this new offering. 
ABOUT BATESVILLE
Batesville (www.Batesville.com), a wholly owned subsidiary of Hillenbrand, Inc. (NYSE:HI), is the leader in the North American death care industry, offering a comprehensive portfolio of Burial Solutions, Cremation Options, Memorial Solutions and Technology Solutions. For more than 125 years, Batesville has been dedicated to helping families honor the lives of those they love®. Batesville's innovation has changed the face of funeral service, from advancements in manufacturing and quality to patented features and memorialization offerings, technology and web-based solutions, and profit-enhancing merchandising systems. Our history of manufacturing excellence, product innovation, superior customer service and reliable delivery has helped Batesville become – and remain – a market leader.
FOR ADDITIONAL INFORMATION CONTACT:
Teresa M. Gyulafia
Director – Brand & Marketing Communications
[email protected]
Phone: 812.931.5084
©2014 Batesville Services, Inc.