FrontRunner Hires Webcasting Specialist
FrontRunner Professional is pleased to announce that Callum Winsor will lead and develop One Room's North American Division. One Room is a revolutionary service for the funeral sector that simplifies web streaming and delivers a private, reliable and high quality experience for family members and friends.
One Room offers high-definition, cloud-based streaming that is accessible from any device. The system requires no software downloads and is fully automated, requiring no staff to operate cameras; they can remotely control the system from a smart phone.
Callum has been interested in technology since building his first computer at the age of 8! He brings extensive technology sales experience to this new position, which involves coordinating sales and customer service and working with local distributors.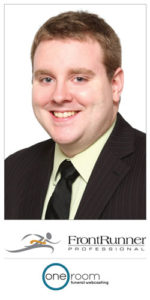 "I'm very excited about the opportunity to work with funeral homes to develop One Room services for their families," says Callum. "What really drew me to this position was the memory of how hard it was to miss my great grandmother's funeral several years ago because the plane ticket across the country was just too expensive. This new role allows me to provide a system that will keep others from suffering that pain from not properly mourning a loss."
One Room allows an unlimited number of family members and friends who are unable to be at the funeral to share the experience on the day of the service or view it at a time of their choice using a private access code. Funeral professionals simply enter the email addresses, which then receive e-invites with login details. A recorded archive, to view online or download later, creates a permanent memento for the family.
"This partnership allows us to offer our clients a high-definition webcasting solution," explains Kevin Montroy, FrontRunner CEO and Founder. "The advanced integration into the Book of Memories means you work in one system to produce videos that families will appreciate and treasure forever. This is in keeping with FrontRunner's commitment to delivering access to leading-edge functionality without changing the simple and familiar customer experience."
To learn more about One Room, please contact Callum Winsor at 1-866-748-3625 ext. 541 or via email at [email protected]