American Coach Sales Hosts New Model Reception
Columbus, OH, June 14, 2013: American Coach Sales, in conjunction with Cadillac and the Eagle Coach Company, proudly introduced three new 2013 professional funeral vehicles at a reception hosted at Germain Cadillac of Easton.  The event, which drew more than 200 attendees to the festivities, was held on Tuesday evening, May 28, the night before the opening of the Ohio Funeral Directors Convention.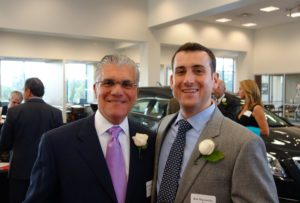 "With the limited exhibit space at this year's OFDA convention, it only made sense to hold this event at Germain Cadillac," stated Bob Mazzarella, President of American Coach Sales.  "We were able to host a nice event which allowed funeral directors to visit and casually mingle among the new 2013 professional vehicles."
At the event, American Coach Sales showcased the three new Cadillac models:
XTS Echelon Coach – the flagship of the Cadillac line, this coach represents the next evolution in innovative design and styling.
XTS Regency Limousine – the all-new Regency six-door limo is based on the all new XTS heavy-duty coachbuilder's chassis and boasts a center door and seat.
XTS-L Executive Sedan – this new Livery Sedan features a seven inch rear passenger compartment extension and full rear carpet.
Ray Bush, Commercial Product Sales Manager at GM Fleet and Commercial observed, "Funeral directors in attendance were enthusiastic about the new XTS vehicles that build on Cadillac's legacy in funeral service.  It is apparent that our customers are excited that the Cadillac XTS professional vehicles are now in full production."
To help set the stage for the evening, guests entered on a red carpet and were entertained by a steel drum band.  Ice sculptures could be found throughout the reception area and guests left the catered event with a parting memento to remember the event.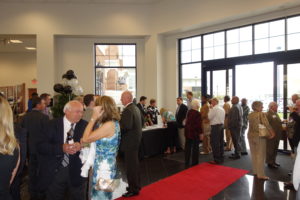 "This occasion was by far the best private reception combining Cadillac, Eagle Coach, American Coach and Germaine Cadillac's retail dealership", stated Tim Lautermilch, President of Specialty Vehicle Group, Eagle Coach.  "It was a truly world class introduction of the Cadillac XTS Eagle professional vehicle line to our home base here in Ohio.  Our entire team at Eagle Coach was pleased to be a part of it."
"We want to thank Bob for letting us host this event.  It really put us in the spotlight to showcase Cadillac," observed Don Meyncke, Sales Manager at Germain Cadillac.  "Several folks I chatted with commented that this event put the prestige back to the Cadillac brand."
American Coach Sales continues to serve funeral directors and livery professionals as the Midwest dealer for Eagle Coach Company and Federal Coach Company.  In addition to new models, American Coach Sales also has a vast inventory of pre-owned limousines, hearses and first call cars.
About American Coach Sales:
Located in Northeastern Ohio, American Coach Sales has specialized in the worldwide sale of new and pre-owned limousines, hearses, and first call cars for over 40 years.  For more information, please call Bob Mazzarella at 1-888-321-6613 or visit our website at www.americancoachsales.com.