Woman Plans Mom's Memorial…on Pinterest
Article by Jennifer Windrum
I wish this blog post would reach billions of eyes in shock, sadness and horror, but it won't. Nothing new or earth-shattering for the masses. It's just another post that joins too many others with the same story line: Cancer taking over a loved one's life (literally & figuratively). That loved one in my world? My Mom.
Last week, my Mom (Leslie Lehrman) called me crying. "I want to make sure my little guys are with me…you know…you know what I mean?"
I said, "You're talking about "NoMo" and "Phoenix"…and your service, right?"
"Yes," she said.
"Your (SMAC!) monkeys wouldn't miss it for the world, Mom," I said. "They have been part of the plan since the beginning and they are going to hike up Squaw Peak (Piestewa Peak) with me. Your quilt will be part of it too."
"I should have known you would have already thought of all of that," she said.
Then, she said, "I just think you should make sure all of my plans are taken care of."
Wait….what? My Mom has NEVER said this to me before. Never.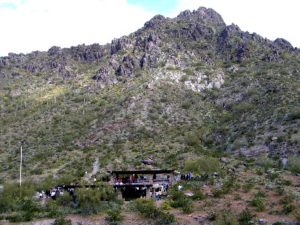 We have talked off and on over the years about her wishes: Her ashes to be spread over Squaw Peak (we still call it that out of habit); and for two specific songs to be played:Taken Care Of by Winfield's Locket and Somewhere Over the Rainbow by Israel Kamakawiwo'ole.
I have asked her many times if she wanted a service at her church in Phoenix and/or in Gothenburg, Nebraska (where my brothers and I were raised). She never really ever gave me a straight answer. It was usually, "Oh, whatever you think is best or want to do." However, this time my Mom was direct.
"I would like a service at my church here. It's called Palo Cristi Presbyterian Church. We have an interim pastor right now."
Whoa! What does all of this mean…this, this urgency? Is this a sign my Mom is coming to terms with the whole "terminal" part of her cancer? It's been seven long years of lung cancer mercilessly trying to take her down (No, she never smoked. You don't have to smoke to get lung cancer). She has consistently fought back with the same viciousness, but with unbelievable grace and dignity. Try that for an oxymoron.