The Davis Whitehall Co. Reintroduces Salute™ Urn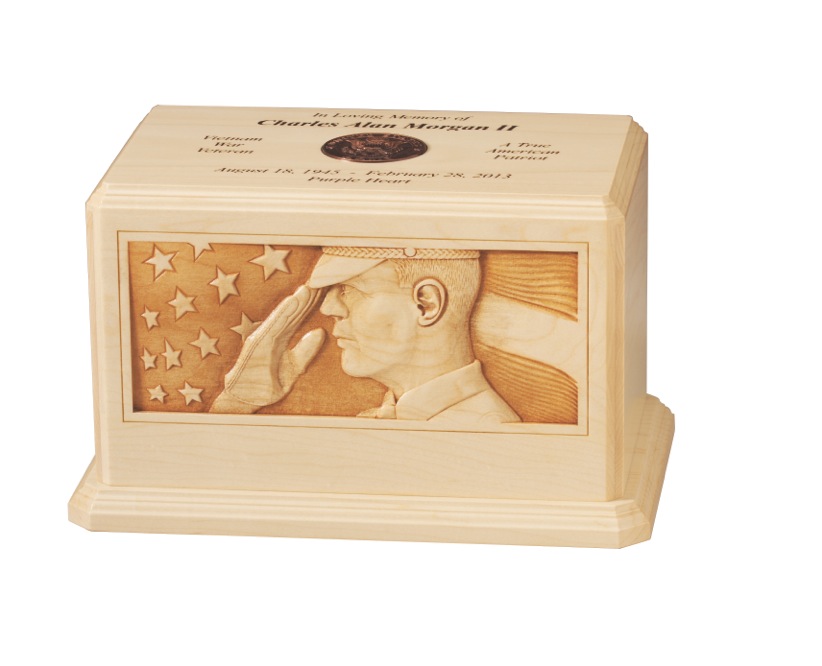 Colorado Springs, CO, April 16, 2013: Davis Whitehall™ reintroduced the Salute™ cremation urn at the ICCFA 2013 Convention and Exposition held April 10 – 13 in Tampa, FL.  First introduced more than a decade ago, this one-of-a-kind hardwood urn has been absent from the market since 2011.  Davis Whitehall has licensed the right to manufacture the Salute urn through an agreement with Wilbert Funeral Services, Inc.
The Salute is a light-colored hardwood urn hand crafted from domestically sourced solid maple.  The front of the urn features a 3-D sculpted laser carving of a soldier saluting which serves as a tribute to a loved one's service to their country. The top of the urn can be easily customized with a military branch of service bronze-toned service emblem.
Additionally, the urn can be personalized with noteworthy information about the loved one including name, dates of birth and death.  Other significant military service details may also be engraved on the top.
"I am delighted that once again families will have access to the Salute urn," commented Terry School, president of The Davis Whitehall Co.  "The Salute was the first cremation urn to feature a true 3-D sculpted laser carved image."
Since its inception, Davis Whitehall has specialized in customizing urns that allow families to create a one-of-a-kind memorial of their loved one using photos, drawings, sketches and other personal images that are laser engraved on the urn.  The reintroduction of the Salute urn reinforces this commitment.
About Davis Whitehall™:
Headquartered in Colorado Springs, CO, The Davis Whitehall Co. is a small family-owned business founded in 1991 and has become recognized as one of the premier sources for handcrafted laser engraved hardwood cremation urns.  For more information, visit www.davis-whitehall.com or call 1-800-818-8414.