Need Help With Social Media?
Interested in discussing a strategic social media plan for your funeral home?
Join 18,000 Other Funeral Directors in the Know! Sign up for our Daily Funeral News Updates email!
Like Us On Facebook
Recent Tweets
Who is in Control of Your Obituaries? Legacy.com Sold Two Weeks Ago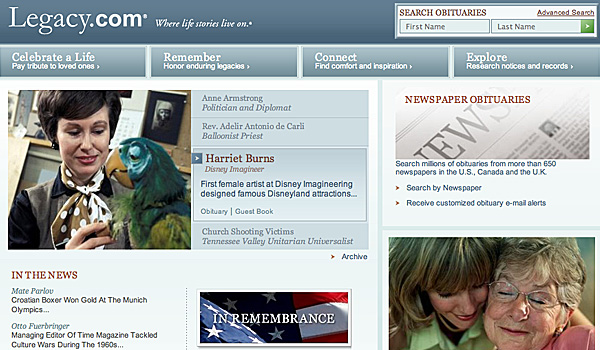 I am not sure how we missed this, but we did and I apologize. On April 10th Legacy.com Inc was sold to Great Hill Partners in a deal reportedly valued between $50 million and $100 million. Legacy.com claims to cover 75% of all deaths in the U.S. through partnerships with nearly 800 newspapers. I have never really been a fan of Legacy.com and frankly don't see where they provided any value to the funeral industry or funeral homes they partnered with. Oh, and that partnership Batesville formed with them in 2009, I really never saw the value in that.
I could be catastrophically off base by saying they (Legacy) provided "zero" value to the funeral profession, but I really struggle to see the plus side to the service they offered.

From my understanding it goes something like this; funeral home/director spends multiple hours crafting an obituary with family – family pays $400 to have obituary published in newspaper – Legacy.com grabs the obituary from the newspaper or serves the obituary to the newspaper depending on arrangement with funeral home – obituary now lives on Legacy.com where they are cashing in on visits to the obituary by displaying distasteful belly fat ads (among other crap) – someone in local community searches Google for the obituary – instead of the local community member visiting the funeral home website to read the obituary, they end up at Legacy.com because Legacy.com has 5 links that appear for the obituary ahead of the funeral home website in Google search results.
Am I wrong? Funeral homes have been sending their website traffic to Legacy.com for years and it makes no sense to me why funeral homes would want to do that. Web traffic for an obituary of a deceased that your funeral home is serving should come to your funeral home's website.
One more thing before I am stop ranting like a lunatic; the distasteful belly fat ads that display next to obituaries hosted on Legacy.com are only going to get worse. Why, because the new owners of Legacy.com, Great Hill Partners, are also heavily invested in an online ad services business.
If you disagree or agree please share in the comments below.
Here is a link announcing the Great Hill Partners' purchase of Legacy.com:
http://pevc.dowjones.com/Article?an=DJFLBO0020120410e84aqxs8d&pid=15&ReturnUrl=http://pevc.dowjones.com:80/Article%3Fan=DJFLBO0020120410e84aqxs8d%26pid=15
Ryan Thogmartin is founder and CEO of two innovative companies. Connecting Directors LLC (www.connectingdirectors.com) and Disrupt Media Group, LLC (www.disruptmg.com). ConnectingDirectors.com is the premier progressive online publication for funeral professionals. ConnectingDirectors.com is a thriving global publication with a reader base of over 15,000 of the most elite and forward-thinking professionals in the industry.

Disrupt Media Group, LLC is a social media marketing solutions firm. Disrupt MG focuses on proficiently assisting small businesses in creating engaging social media marketing strategies. Without a social media marketing strategy companies and brands are just aimlessly posting without any coherent direction. Social media marketing is more than just having a Facebook, Twitter, and Youtube page; businesses have to have a strategy to telling their story, one that opens the door and starts the conversation.
Latest posts by Ryan Thogmartin (see all)

---