The Undertaker – Poem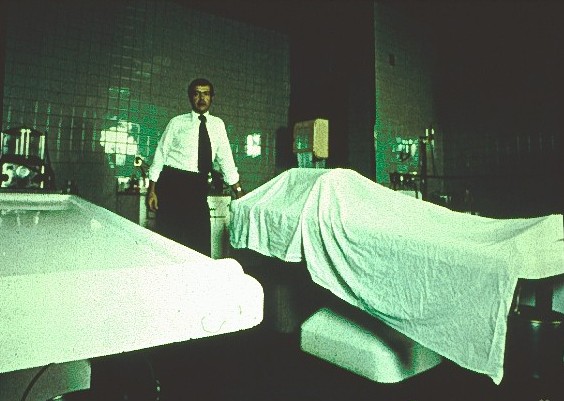 Originally posted on CalebWilde.com
(The gender pronouns are slightly outdated in this poem, but it's easy enough to substitute she for he.)
Written by Darlene Rush
This is for the undertaker,
Whose story is sad to tell,
For what he does is never mentioned,
and often overlooked as well.
He's not at all what you might picture,
He's not wrinkled, old and gray.
His face is not the pasty white,
Like storybooks portray.
Some people laugh and make their jokes,
And some turn up their nose,
And many think that he is strange,
For the life that he has chose.
But there are many things that they don't see,
And even more that they don't know.
Like all the nights he gets no rest,
But never lets it show.
I have seen him work both day and night,
With no time to eat or sleep.
To care for those in mourning,
And comfort those who weep.
The load he carries on his shoulders,
Is more than you or I could bear.
But he always seems to find the time,
To show you that he cares.
So when you see the undertaker,
Make sure you see the man,
That does the job that no one wants
And that no one understands.
Take the time to shake his hand,
And a moment to just say "hi."
I think you'll find the undertaker,
Is just an ordinary guy.

Ryan Thogmartin is founder and CEO of two innovative companies. Connecting Directors LLC (www.connectingdirectors.com) and Disrupt Media Group, LLC (www.disruptmg.com). ConnectingDirectors.com is the premier progressive online publication for funeral professionals. ConnectingDirectors.com is a thriving global publication with a reader base of over 15,000 of the most elite and forward-thinking professionals in the industry.

Disrupt Media Group, LLC is a social media marketing solutions firm. Disrupt MG focuses on proficiently assisting small businesses in creating engaging social media marketing strategies. Without a social media marketing strategy companies and brands are just aimlessly posting without any coherent direction. Social media marketing is more than just having a Facebook, Twitter, and Youtube page; businesses have to have a strategy to telling their story, one that opens the door and starts the conversation.
Latest posts by Ryan Thogmartin (see all)

---