Offer to Die For: Free Funeral in Exchange for URL on Tombstone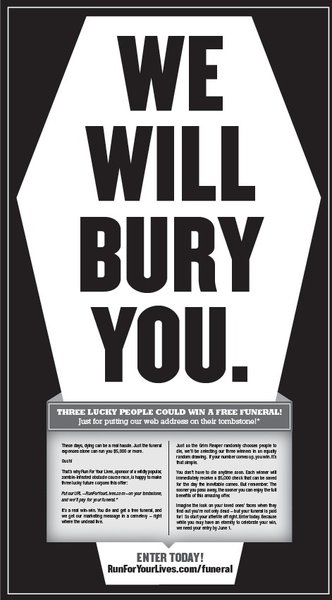 A Baltimore company is making an offer to die for — or at least they think so.
Reed Street Productions, known up to now for creating a zombie-themed 5K race,has thrown down something that will probably bring them even more attention: the chance for people to win a free funeral if they agree to put the race's URL on their tombstone.
"Everyone else markets to the living, so we thought why not market to the undead through deadvertising," Derrick Smith of Reed Street Productions said in a statement. "We're always looking for new and creative ways to market to our target audiences."
The company announced the sweepstakes with an ad today in the Wall Street Journal. The headline on the ad: We Will Bury You.
Three people will win the funeral expenses in a random drawing on June 1. The URL they'd be asked to put on their tombstone is: RunForYourLives.com.
"It's a real win-win," the ad says. "You die and get a free funeral, and we get our marketing message in a cemetery – right where the undead live."
The prize money is $5,000 and also includes free registration for all future zombie races — a regular 5K except they throw in zombies to chase the runners (and perhaps give them an incentive to improve their time.)
And don't worry if you're healthy. To win, the contest says, "you don't have to die any time soon." However, it also points out, "The sooner you pass away, the sooner you can enjoy the full benefits of this amazing offer."
ConnectingDirectors.com is the leading online daily publication for funeral professionals with a reader base of over 45,000 of the most elite and forward-thinking professionals in the profession. With ConnectingDirectors.com we have created a global community through an online platform allowing funeral professionals to Stay Current. Stay Informed and Stay Elite.
Latest posts by CDFuneralNews (see all)
You may be interested
Jobs
2 views
Preneed Funeral Sales Advisor
CDFuneralNews
-
August 11, 2017
Premier Funeral Solutions is currently seeking a Preneed Funeral Sales Advisor . Premier Funeral Solutions offers tools and methodologies developed to help…
Marketing
3 views
12 Benefits of Social Media Every Funeral Home Needs to Know
Ryan Thogmartin
-
August 10, 2017
Social media is 'marketing.' It's not the new marketing, it's the current state of marketing, and funeral homes and death care companies can no longer afford to ignore it. There are so many reasons why death care companies need to get their heads out of the sand and start engaging on the platforms used by over 68% of all Americans.
Humor
40 views
Six Times Twitter Reminded Us Funerals Don't Have to be Boring
Madison Ashby
-
August 9, 2017
These six people had funerals on their mind for one reason or another and decided to share with the Twitter world what they were thinking, and I'm pretty glad they did. People can come up with some pretty crazy things if you let them ramble.
Comments