Ohio Close to Allowing Alkaline Hydrolysis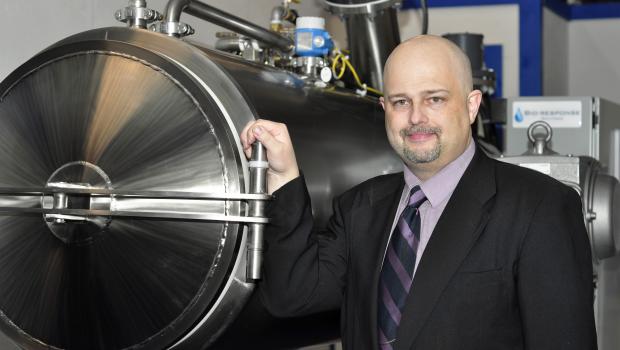 An Ohio funeral home that was blocked from dissolving bodies using lye and heat has joined a funeral directors' group in pushing for the state to legalize the process.
Under a bill in the Ohio House, the state would recognize alkaline hydrolysis as a separate legal, regulated form of disposition, rather than lumping it in with traditional cremation, as some states have done. The bill was introduced in March after a judge's ruling blocked Edwards Funeral Service in Columbus from using the process, which involves the corrosive chemical lye, heat and sometimes extra pressure in a large metal cylinder. The method turn remains into a liquid that could be poured down a drain and a dry bone residue that can be given to relatives or buried.
Edwards was the first U.S. funeral business known to publicly offer alkaline hydrolysis and used the method in 19 cases before the state Board of Embalmers and Funeral Directors and the Ohio Department of Health stepped in with permit restrictions. They didn't believe the method was legal under state law.
Edwards filed a lawsuit asking the court to block enforcement of the restrictions, alleging the groups didn't have the authority to keep the funeral home from using the procedure. A Franklin County judge disagreed, saying in March that the board and the department have the authority to determine which disposition methods are allowed but that officials might want to consider whether to change existing rules to allow for the use of alkaline hydrolysis.
Funeral home owner Jeff Edwards said he doesn't plan to appeal the decision but instead will join efforts to get the new bill approved.
"I guess it's easier to work together," he said.
Proponents say alkaline hydrolysis has lower operating costs and is more environmentally friendly than traditional cremation because it doesn't cause the emissions that incineration does, such as carbon dioxide and mercury from dental fillings. But skeptics question whether it's safe for the environment and public health, along with the social implications of disposing of someone's remains down a drain.
The Ohio Department of Health hasn't taken a position on the bill and is still in the early stages of discussing alkaline hydrolysis, spokeswoman Tessie Pollock said. The head of the embalmers board did not respond to a message seeking comment.
The bill's sponsor, Republican Rep. Bob Hackett of London, said it's clear that the Ohio Funeral Directors Association wanted to make sure the method would be properly used and regulated if it's included in state law. He said the information he's reviewed indicates the method is safe but that lawmakers would welcome environmental concerns or other testimony from opponents when a committee of lawmakers considers the bill.
Jeff Edwards is also optimistic about the measure becoming law and said he's looking forward to offering alkaline hydrolysis again. While his legal case played out, more than a dozen people pre-planning arrangements with his funeral home selected the method, even though it wasn't currently available, Edwards said.
"It's kind of silly for Ohio to keep bucking a solution that is consumer-preferred and good for the environment as compared to a fire-based cremation," he said.
Half a dozen states in recent years have opened the door for the use of alkaline hydrolysis, in some cases by changing how they define cremation and removing references to flame or direct heat. The Anderson-McQueen Funeral Home in St. Petersburg, Fla., has started offering the method, and the Maine Coast Crematory in Searsport, Maine, got its alkaline hydrolysis machine last month.
The Mayo Clinic in Minnesota and the University of Florida have used the process, also known as resomation, for human cadavers. It's been used for two decades on animal carcasses.

ConnectingDirectors.com is the leading online daily publication for funeral professionals with a reader base of over 45,000 of the most elite and forward-thinking professionals in the profession. With ConnectingDirectors.com we have created a global community through an online platform allowing funeral professionals to Stay Current. Stay Informed and Stay Elite.

Latest posts by CDFuneralNews (see all)
You may be interested
Funeral Industry Press Releases
79 views
News
189 views
We are Building Something Exciting for You… and We Need Your Help!
Justin Crowe
-
January 31, 2018
We want to make your deathcare job easier. Tell us what you want in this 2-minute survey and get entered to win $100! The Connecting Directors and Disrupt Media teams are excited to be planning some new free funeral home marketing content and products for you in 2018 and we want to know what you need most! We want to know your biggest business wins of 2017, the tasks in your day that you hate, and what you feel is holding you back!
Comments