Batesville Survey Shows Funeral Professionals Want Technology That Makes Their Job Easier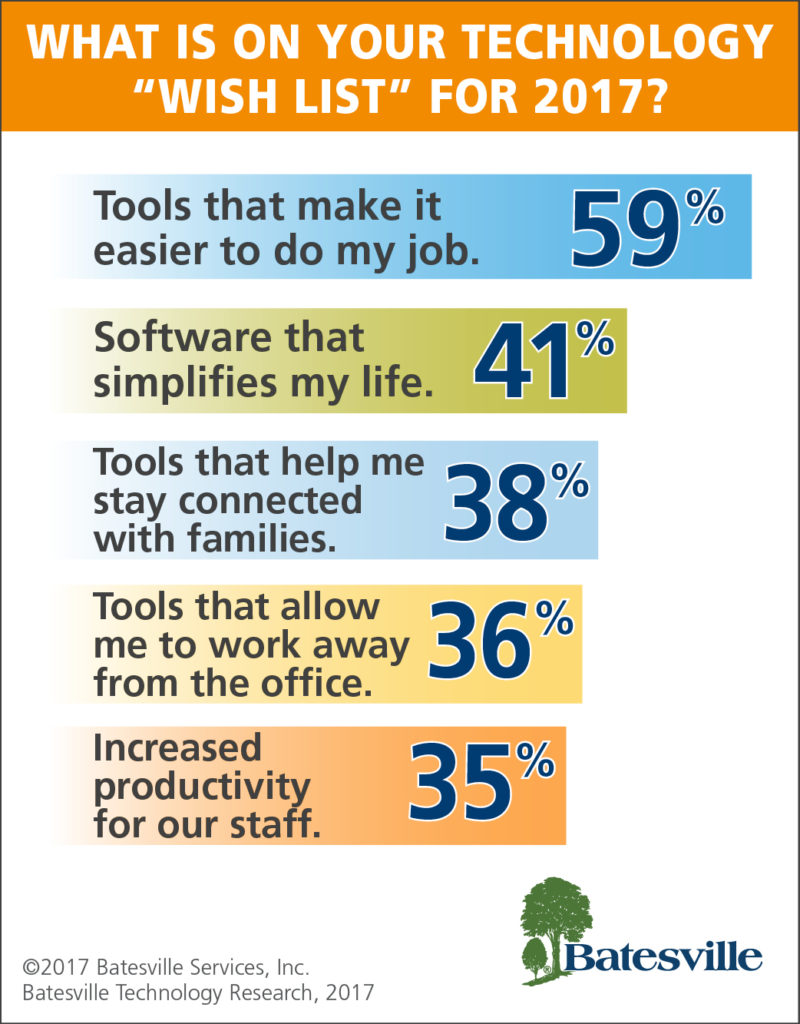 Whenever a new app or technology offering comes out, you'll often hear people say, "Why would anyone need that? I just want to be able to do (fill in the blank)." The truth is, new technology is great, but not if it doesn't help with your most pressing needs.
A few weeks ago, Batesville asked funeral professionals one simple question: What's on your technology wish list for 2017?  The online survey sparked immediate interest, with more than 400 people responding.
Participants were given a list of more than a dozen different options – from additional revenue through e-commerce to software that simplifies my life. Not surprisingly, the number one vote-getter was "Tools that make it easier to do my job." Almost 60% of respondents put that on their wish list.
Rounding out the top 5:
41%        Software that simplifies my life.
                  37%        Tools that help me stay connected with my families.
                  36%        Tools that allow me to work away from the office.
                  35%        Increased productivity for our staff.
These are all things that matter to funeral professionals, but is there something more to the data?
We believe there is. First, and most exciting, it shows just how far our industry has come. People are no longer afraid of technology. Today's funeral directors recognize that technology is an enabler of success, a multi-dimensional toolkit that can help make their business better – not only within the funeral home, but when they are away and in how they connect with their community.
And it's pretty easy to see that the top wish – to have tools that make life easier – is truly the sum of the other four parts. There is no question if you have tools that let you stay connected to your office, your staff and families in your community, productivity rises and your life will be simpler. It will be easier to do your job!
The best news of all is that all of these things are possible – and easy to execute.
What's on your wish list? Batesville has a full range of technology solutions to simplify your life and make it easier to manage your business. Talk to a Batesville representative today and make the most of 2017!
For a full list of results, click here.
ConnectingDirectors.com is the leading online daily publication for funeral professionals with a reader base of over 45,000 of the most elite and forward-thinking professionals in the profession. With ConnectingDirectors.com we have created a global community through an online platform allowing funeral professionals to Stay Current. Stay Informed and Stay Elite.
Latest posts by CDFuneralNews (see all)
You may be interested
Marketing
170 views
4 Social Media Mistakes Death Care Companies Are Making (and How to Fix Them)
Ryan Thogmartin
-
August 22, 2017
On one hand, there's always something new to learn and try. However, not everything makes sense when it comes to marketing death care companies. We've watched many funeral organizations lose focus on strategy due to the bright and shiny nature of the new tactics that pop up. Tactics come in all shapes, sizes and value levels. Some are new features that are useful and others can be 'shortcuts' that ultimately lead us in the wrong direction. Recent conversations got us thinking, so we wanted to talk about some social media marketing mistakes we see death care companies make, and how they can fix them.
Death Discussions
28 views
Death Discussions
28 views
August 31 is International Overdose Awareness Day (IOAD)
Ryan Thogmartin
-
August 21, 2017
Unfortunately, the opioid epidemic isn't much of a headline anymore. With over 100 overdose-related deaths everyday, we, as a country, have become desensitized to death and drugs. Funeral homes are charged with taking care of the final arrangements for those who have been taken from this earth too soon.
Jobs
9 views
Director of Support – Western US
CDFuneralNews
-
August 21, 2017
At Carriage Services, we believe in the concept of "First Who, Then What." We have learned that leaders, who attract and surround…
Comments