The Impact of Donald Trump on your Funeral Business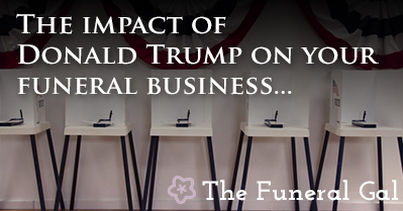 Guest article provided by: The Funeral Gal
Self-confessed, I fell asleep watching the election coverage last night. I woke up this morning, checked my phone with my bleary eyes and found out that Donald Trump won the Presidential Election.
Before you start thinking that this is just another written statement of whether the results infuriate me or make me gleefully happy, IT'S NOT. This post is meant to be an honest reflection of my thoughts and how it specifically relates to my professional life.
Over my bowl of Honey Nut Cheerios, I digested the results of the election, while also tried to compose my thoughts. From the standpoint of a small business owner, who we elect to not only run this country as President, but also those we elect to Congress will impact our professional lives. My thought process went down the same path as when Barack Obama got elected…
Regardless of who the POTUS is, what will make the biggest difference in my life are the decisions I make over the next four years.
The decisions that are made and the laws that are created/amended during the next four years will certainly impact our business. HOWEVER, it is the decisions that we make to adjust and adapt our business to these changes are the ones that will have the MOST IMPACT.
Think about your business. There are both "controllable" and "uncontrollable" conditions within your business. Example: uncontrollable = a family that decides to cremate instead of bury; controllable = what vendors we choose to do business with. Example #2: uncontrollable = what the tax rate is for small businesses; controllable = looking around our business to create additional earnings/profits to recoup in the case that the tax rate increases (not as expected now that Trump has won).
When a small business owner takes the bull by the horns and makes lemonade out of an unfavorable, uncontrollable condition, he/she is a successful business owner. Even better is when he/she makes decisions that result in success that align with the business' long-term core competencies and mission.
On the other hand – think Wall Street, think Corporate America. When pressed with an unfavorable and uncontrollable condition they are forced to prioritize short term success over anything else – EVEN THEIR CUSTOMERS.
Just relate this back to Friday's news that Batesville is closing its doors at their Panola manufacturing facility. "On Thursday, 200 employees at Batesville Casket Company found out that come 2017 they won't have a job. That's because the well-known casket company plant is shutting its doors in Batesville and continuing production in Mexico." Connecting Directors quotes CEO, Chris Trainor, attributing the closing to the fact that "Every year there are fewer burials, requiring fewer caskets…"
Batesville in this circumstance was faced with an uncontrollable, unfavorable circumstance – fewer burial unit sales resulting in less caskets being sold. They decided to shift production to Mexico, dramatically dropping the labor expense involved in the production of a casket, thus making caskets more profitable.  Okay, so they were faced with declining sales due to an uncontrollable condition, and they decide to change their business practices.
ConnectingDirectors.com is the leading online daily publication for funeral professionals with a reader base of over 45,000 of the most elite and forward-thinking professionals in the profession. With ConnectingDirectors.com we have created a global community through an online platform allowing funeral professionals to Stay Current. Stay Informed and Stay Elite.
Latest posts by CDFuneralNews (see all)
You may be interested
Jobs
2 views
Preneed Funeral Sales Advisor
CDFuneralNews
-
August 11, 2017
Premier Funeral Solutions is currently seeking a Preneed Funeral Sales Advisor . Premier Funeral Solutions offers tools and methodologies developed to help…
Marketing
3 views
12 Benefits of Social Media Every Funeral Home Needs to Know
Ryan Thogmartin
-
August 10, 2017
Social media is 'marketing.' It's not the new marketing, it's the current state of marketing, and funeral homes and death care companies can no longer afford to ignore it. There are so many reasons why death care companies need to get their heads out of the sand and start engaging on the platforms used by over 68% of all Americans.
Humor
57 views
Six Times Twitter Reminded Us Funerals Don't Have to be Boring
Madison Ashby
-
August 9, 2017
These six people had funerals on their mind for one reason or another and decided to share with the Twitter world what they were thinking, and I'm pretty glad they did. People can come up with some pretty crazy things if you let them ramble.
Comments