Best Gifts for the Death Obsessed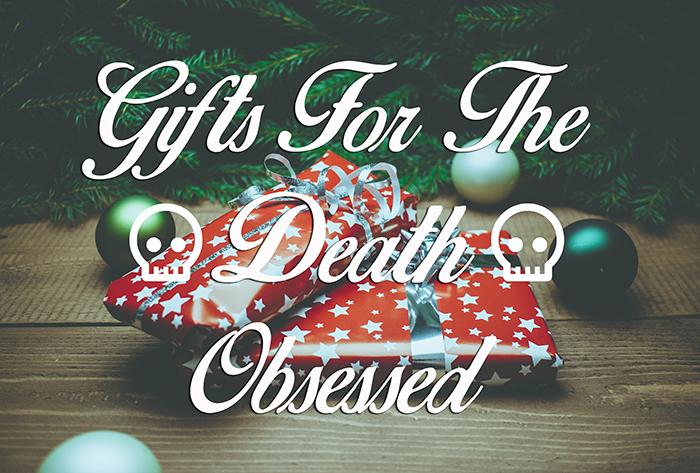 Guest article provided by: Qeepr
The Holidays are fast approaching and like it or not, it is time to open up our wallets and find the right gifts for the people we love. As joyous as this time can be, the holiday routine will leave many of us scratching our heads, wondering what the heck do we get everyone? If you have friends or family that are a little morbid, a little death obsessed, a little… dark- this list will make it all a little easier. Or, why not forward our list to your loved ones as a little hint? These are the best gifts for the death obsessed this holiday season.
Want to remind someone you love of the impermanence of life? Want to tell a friend that all that will remain of them one day will be their bones? Well then this might be the purrfect gift. This beautiful modern candle by PyroPet Candles makes a wonderful piece on its own. Unlike regular candles which melt into the ether, lighting this cat on fire reveals a beautiful metal skeleton underneath. A gift for those who like the pretty side of the macabre.
Price: 34$
Paul Koudounaris is an interesting guy. You might know him from his awesome Instagram account or his other books. Like Paul, his subjects are strange, esoteric and wonderful. For Memento Mori, Koudounaristook photographs of death rituals from around the world to highlight the cultural diversity of death. We tend to have very rigid conceptions of death and dead bodies in the West and Memento Mori is meant to challenge that. It makes a beautiful coffee table book.
Price: 38$
By now you are probably all aware of Caitlin Doughty, her book, herYouTube channel and her appearance on our #TalkDeath series. We still cannot recommend her book enough. You don't need to want to become a mortician to appreciate the mess, the hard work, the stress and the joy that went into Caitlin's first year at a crematory. It's a fun and easy read, a book which will challenge what you think you know, teach you a bunch of things you didn't think you needed to know, and it give you a lot of historical background at the same time.
Price: 9$
If you're looking for a gift for that person who has everything, and you don't mind spending a little money, Ryan Matthew Cohn's work might be for you. His collection of oddities, bones and deconstructed skulls are exquisite. Cohn painstakingly takes apart human skulls and arranges them into re-articulated patterns. Cohn also sells handmade jewelry which can be found here. His work is a labor of love and makes for a very unique gift.
Price: 200$+
A new company, Gravedigger candles is making some pretty cool stuff. Their anatomically correct candles are made to resemble human bones (vertebrae above, for example). Their candles are sold on Etsy and make a wonderful conversation piece, or an addition to any coven.
Price: 20$+
Buying a gift for the art loving goth in your life? While not specifically dealing with death, Courtney Brooke's prints are dark, mystical and macabre. Her use of props, masks, dreamy colors and mystical dreamscapes make her photographs a great addition to any home. Her prints also come on tote bags, t-shirts, scarves and more.
Price: 20$+
Sometimes the best gifts are free. This holiday season, why not collaborate with family or friends to make an online memorial celebrating the life of a loved one? You can collect photographs, write a biography, create a family tree, post your favorite memories and then share it with those you love. Qeepr memorials are customizable, easy to use and absolutely free. Sharing a lifetime of memories has never been easier.
Price: Free
If your coffee just isn't dark enough, consider adding these little skull shaped sugar cubes to your morning cup! They are handmade and come in adorable packaging. As their Etsy shop mentions, they are great for weddings, dinner parties, as cake toppers or for gothic dinner parties. Because they skulls are made with extra fine sugar, they are perfect for lovers of absinthe.
Price: 20$
Not only are the art pieces by Mechanique Macabre beautiful, dark and original, they are all cruelty free! Most of their work includes the use of animal bones, teeth and skulls but they are all sourced from found remains. Their mounted skulls on vintage picture frames make a wonderful gift as do any of their rings and necklaces. They best part: all their pieces are really affordable!
Price: 35$+
Mourning jewelry has a long history dating back to the Victorian era where mourners would don intricate and macabre pieces of jewelry to signify their grieving. These pieces would also often be sent to the family of the deceased as a way of saying "you are in our thoughts". The macabre nature of the jewelry comes from the belief that we should always meditate on death (memento mori). The person you're buying this for better be worth it!
Price: 300$+
BONUS: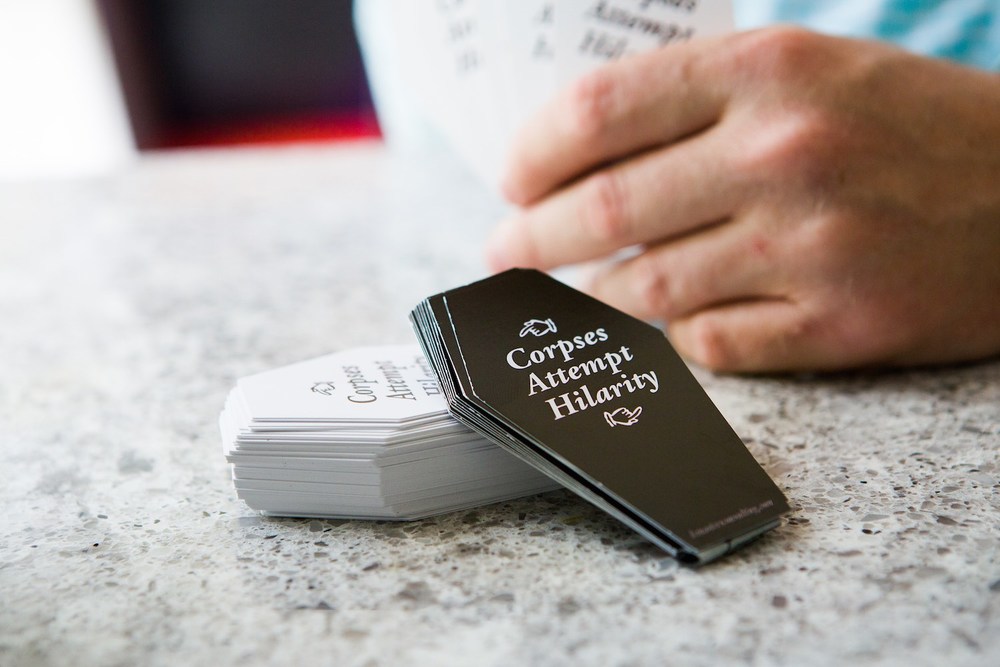 If you're a Cards Against Humanity fan—then you need the first deathcare version! Corpses Attempt Hilarity is a card game for 2 or more players. It's designed with deathcare professionals in mind. (Let's face it— sometimes you need to add a little fun to a very serious job, and this is the best way to do it.) Make sure you let us know your suggestions too—because version 2 is already in the works!
And – if that's not enough – all the profits from the sale of t-shirts and our other merchandise (like Corpses Attempt Hilarity and hats) goes towards our annual Coat Drive!
Price: $25

ConnectingDirectors.com is the leading online daily publication for funeral professionals with a reader base of over 45,000 of the most elite and forward-thinking professionals in the profession. With ConnectingDirectors.com we have created a global community through an online platform allowing funeral professionals to Stay Current. Stay Informed and Stay Elite.

Latest posts by CDFuneralNews (see all)
You may be interested
Funeral Industry News
335 views
Funeral Industry News
1169 views
Comments