5 Simple Ways to Increase Facebook Reach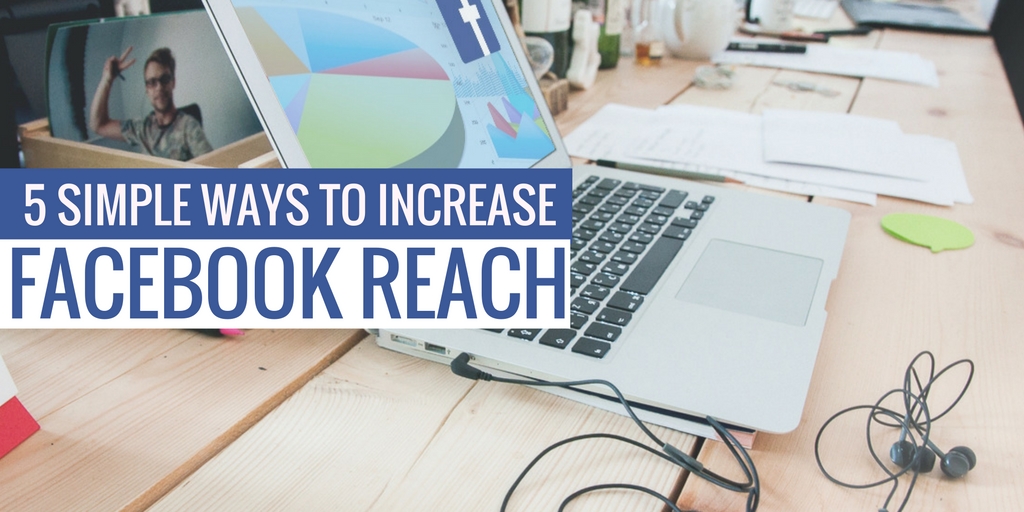 What Is Facebook Reach?
Let's assume your Facebook business page has 324 fans (people who have Liked you page). You make a post on your page, so you assume that all 324 fans will see your post. You are wrong. Less than 6% of your current fans will have the content you post actually show up in their Facebook profile news feed. Does this shock you?
Facebook reach is the number of unique people who see the content you post. Obviously, you want your content to be seen by as many eyeballs as possible! Understanding reach is critical to administrating an effective and efficient Facebook presence. Reach affects every other metric you can track: engagement, Likes, Comments, Shares, clicks, and negative feedback.
There are 5 basic kinds of reach: post, page, organic, viral and paid. Each is briefly defined below:
Post reach is the total number of people who saw a specific post in their newsfeed.
Page reach is the number of people who saw any of your post content during a given period of time (daily, weekly or monthly).
Organic reach is the reach Facebook gives you for free. It happens in the newsfeed when your fans see your updates. This is the type of reach that is seen, on average, by less than 6% of your fans. Organic reach is dramatically increased with high engagement.
Viral reach consists of the people who see your content because someone else created a story about it. For example, if a fan Likes, Comments or Shares your post, their friends will see your post even if they aren't fans of your page. The same is true if you've paid to reach larger audiences who may or may not already be your fans (see below). If one of those targeted people creates a story, their friends will see it as well.
Paid reach is the reach you get because you either boosted content or because you created and paid for a Facebook ad. Paid reach is a subset of post reach and is pretty easy to track and report. You paid for it, so you know where it came from. Obviously, if you are putting money behind content, Facebook will make sure your content is seen by far more people than just your fans. The great thing about paid reach is that you can target zip codes and demographic groups. The more money you spend, the more people see your content!
Does Paying for Facebook Reach Give a Good Return on Investment?
When you promote the right things, yes. Some content doesn't deserve to be paid for and some does. Paying to promote the right content in order to reach more people in your target audience (fans or not), can lead to a lot of conversions and a lot of good exposure for your funeral business. So, when paying for reach you should make a distinction between casual content and business-worthy content. Choose posts that impact your bottom line.
Tactics to Sustain Facebook Reach:
Post consistently. This affects the priority the Facebook algorithms places on your content.
Post a fun fact or an expert opinion or questions about the latest news in the funeral world that impacts your customers.
These are just a few ideas you can easily implement to improve reach and to draw more attention to your Facebook business page. But you might find that you simply do not have the time or knowledge to make these ideas a reality. If so, you can turn to the experts at DISRUPT Media. We are the only full-service social media agency specifically catering to the funeral profession. We implement every one of the tactics above, and more, for our clients on a daily basis. Go to http://www.disruptmedia.co to find out more about the services we offer. Our clients who are a part of our FUNERAL Social Design Process are seeing an increase in post reach and engagement of over 300%.
Schedule a live demo with DISRUPT Media: http://www.funeralsocial.com/demo
Learn more about our FUNERAL Social Design Process: http://funeralsocial.com/social/
Download our social media goals worksheet: http://funeralsocial.com/social-media-goals-worksheet/
About Author
Ryan Thogmartin is a death care entrepreneur and the CEO of DISRUPT Media and creator of ConnectingDirectors.com. | Follower of Christ | Husband | Father | Entrepreneur | Host of #DISRUPTu! and #FUNERALnationtv | Lover of Skittles
DISRUPT Media is a social media first marketing company that focuses on social storytelling for funeral companies. DISRUPT uses insights gained through analytics to build creative campaigns that achieve actual business goals.
Schedule an online 30 minute demo to learn more about DISRUPT Media and how to reverse engineer your social media success: http://www.funeralsocial.com/demo

CEO at DISRUPT Media and ConnectingDirector.com
Ryan Thogmartin is the Owner and CEO of DISRUPT Media.

DISRUPT Media is a full-service creative agency built for the now. We partner with death care companies to drive deep-rooted brand loyalty and measurable leads through social media.

More Fans. More Conversations. More Leads.

Ryan is also the founder of ConnectingDirectors.com. ConnectingDirectors.com is the leading online daily publication for funeral professionals with a reader base of over 45,000 of the most elite and forward-thinking professionals in the profession. With ConnectingDirectors.com Ryan has created a global community through an online platform allowing funeral professionals to Stay Current. Stay Informed and Stay Elite.
Latest posts by Ryan Thogmartin (see all)
You may be interested
Funeral Industry News
435 views
Funeral Industry News
1196 views
Comments