New York Lifts Ban That Prevented Funeral Homes From Serving Food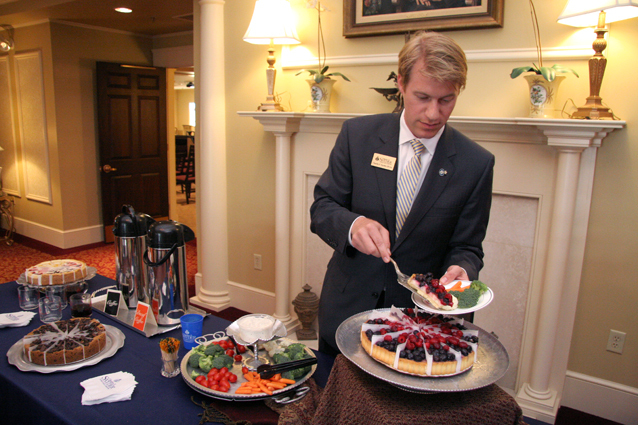 Article originally published by: Daily Gazette
By lifting its archaic ban on allowing funeral homes to serve light refreshments at viewing services, the state of New York did more than just allow mourners to enjoy comfort food during trying times.
It took another small step toward loosening the regulatory reins that hold back business in the state.
And rather than being upset with the change, both funeral homes and other businesses in New York should be rejoicing.
Gov. Andrew Cuomo has signed a bill that will allow funeral homes to either cater funeral services or to provide their own non-alcoholic refreshments. Without thinking about it too much, it's easy to see why it might be nice to have some tea or coffee and a pastry at services. Food to many of us is comforting. And those long hours for family members and friends can become trying without replenishing one's blood sugar or caffeine levels.
In addition, it will give funeral homes — some of which are struggling lately as people live longer — the opportunity to enhance their list of offerings to help the bottom line.
Some funeral home owners, however, object to the loosened restrictions, saying that people will come to expect food at services and that it will cost them more to both provide/procure the food and maintain cleanliness. Some fear it will take away from the solemnity of the services.
Somehow, they'll figure out how to find the balance. Those that don't want to offer food and beverages don't have to. Others might want to take advantage of it to bring in new business.
And that's the underlying message of this undertaking. It provides businesses with a choice.
New York has a ton of regulations that are designed to discourage competition among other businesses. The ban on funeral home food was apparently enacted, in part, so as not to take away funeral business from nearby restaurants and caterers.
That's the same justification the state uses to prohibit liquor stores from limiting the types of items they're allowed to sell. Wouldn't you love to grab some crackers and cheese at the same place you're buying your wine? You can't in New York.
Same thing goes for the ban on selling wine and liquor in supermarkets — supermarkets might take away business from liquor stores.
Recently, the state partially lifted a ban on restaurants being able to sell alcohol on-premises before noon on Sundays, wiping away yet another relic of the old Blue Laws that impeded business.
Businesses should have an equal opportunity to compete on an even playing field in the free market economy. Yet New York's law books are littered with protectionist laws that have the opposite impact. They actually restrict commerce and put some businesses at a disadvantage.
Removing the funeral home ban on refreshments won't just allow families to serve their late uncle's favorite treats at his wake or allow grandma to have a cup of tea while she accepts condolences.
It also further cracks open the door to overly-regulated New York becoming more friendly to the small businesses that give life to its economy.
This is a welcome direction for the state to be moving in. Let's hope it continues.

ConnectingDirectors.com is the leading online daily publication for funeral professionals with a reader base of over 45,000 of the most elite and forward-thinking professionals in the profession. With ConnectingDirectors.com we have created a global community through an online platform allowing funeral professionals to Stay Current. Stay Informed and Stay Elite.

Latest posts by CDFuneralNews (see all)
You may be interested
Funeral Industry News
793 views
Funeral Industry News
272 views
Funeral Industry News
272 views
RELEASE THE FN CRAKN! | FUNERAL nation 114
CDFuneralNews
-
June 18, 2018
It's a barn burner... The Commander is moving his Command Post!!! Besides the Commander on the move, the boys speak…
Frontrunner Professional
3 views
Comments