FrontRunner Set to Officially Launch Wyland TributeArt at the 2016 ICCFA Convention & Expo in New Orleans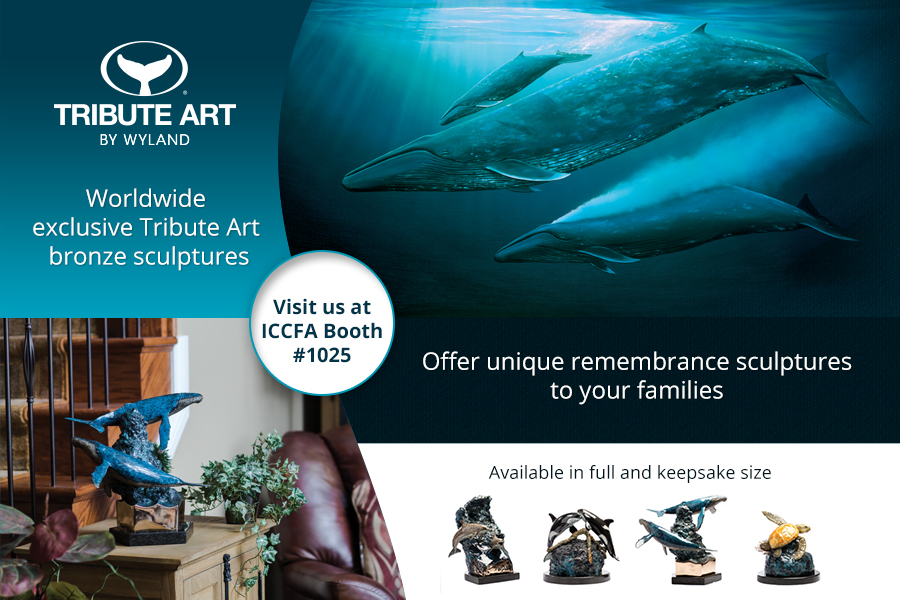 TributeArt Inc will launch an exclusive line of fine art bronze Tribute Sculptures by world-renowned marine life artist Wyland at the International Cemetery, Cremation and Funeral Association (ICCFA) annual convention, April 13-16, in New Orleans. The new line of finely crafted, individually made memorials embody the timeless spirit of Wyland's majestic marine life with the same attention to detail and soaring quality of the artist's finest gallery works.
The sculptures will align the more than 500,000 collectors of Wyland fine art with participating funeral home locations, while meeting the increasing demand for Wyland inspired high end memorials.  Four bronze sculptures have been created in two sizes — a full size at 220 ci and a keepsake at 45 ci. — allowing the tribute to be treasured among multiple family members. In keeping with the fine art theme, participating funeral homes will be able to create physical TributeArt Galleries within their facilities for the public to view and purchase the artwork. These galleries will be listed on the Wyland.com site as well as a directory on the TributeArt.com site.
"I have been working closely with Wyland and his team for the past two years to ensure that we execute the highest quality memorialization offering on the market," said TributeArt Inc., CEO and Founder Kevin Montroy, "These fine art bronze Tribute Sculptures truly embody the "Art of Remembrance" and the unmistaken quality and value of Wyland art.
According to Montroy, FrontRunner's market research has shown overwhelming consumer interest in a quality, tasteful memorial of substance and value that privately continues to be part of their everyday lives and can be passed on through generations. Promoted with a "Personal ChoiceTM", the internal containment of each sculpture provides for the option to secure cremated remains, DNA Capsule, rose peddles from the casket spray, treasured mementos or to simply enjoy the beauty and quality of these bronze sculptures before and after the time of need.
We are currently accepting pre-orders from funeral professionals allowing them to be ready for the April launch to the public at large. We are also offering a plugin that can reside on the funeral homes website, allowing them to promote these fine art memorials and receive a commission on each sale without the need for physical inventory display.
To learn more about the full TributeArt line visit our website at TributeArt.com or on Wyland.com.
These stunning pieces can also be viewed at the FrontRunner Technology Center at 6A Clarence Street in Kingston, Ontario or at the ICCFA convention in New Orleans at FrontRunner Professional booth #1025.
ConnectingDirectors.com is the leading online daily publication for funeral professionals with a reader base of over 45,000 of the most elite and forward-thinking professionals in the profession. With ConnectingDirectors.com we have created a global community through an online platform allowing funeral professionals to Stay Current. Stay Informed and Stay Elite.
Latest posts by CDFuneralNews (see all)
You may be interested
Marketing
147 views
4 Social Media Mistakes Death Care Companies Are Making (and How to Fix Them)
Ryan Thogmartin
-
August 22, 2017
On one hand, there's always something new to learn and try. However, not everything makes sense when it comes to marketing death care companies. We've watched many funeral organizations lose focus on strategy due to the bright and shiny nature of the new tactics that pop up. Tactics come in all shapes, sizes and value levels. Some are new features that are useful and others can be 'shortcuts' that ultimately lead us in the wrong direction. Recent conversations got us thinking, so we wanted to talk about some social media marketing mistakes we see death care companies make, and how they can fix them.
Death Discussions
22 views
Death Discussions
22 views
August 31 is International Overdose Awareness Day (IOAD)
Ryan Thogmartin
-
August 21, 2017
Unfortunately, the opioid epidemic isn't much of a headline anymore. With over 100 overdose-related deaths everyday, we, as a country, have become desensitized to death and drugs. Funeral homes are charged with taking care of the final arrangements for those who have been taken from this earth too soon.
Jobs
7 views
Director of Support – Western US
CDFuneralNews
-
August 21, 2017
At Carriage Services, we believe in the concept of "First Who, Then What." We have learned that leaders, who attract and surround…
Comments