Messenger Brings on New Financial Partner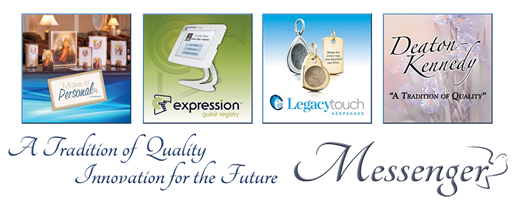 Auburn, IN: – Messenger announced today the addition of its new financial partner, Orchard Holdings Group, LLC ("Orchard") a private investment firm based in Cincinnati, Ohio.  Orchard and Messenger's management team have partnered to acquire the Company and support its growth over an extended timeframe.   Messenger's accomplished management team, culture of high integrity, distinguished brand, strategic vision and positioning for future growth align with Orchard's long-term business approach.
"With new long-term investment in place, we are pleased that we can continue to bring solutions to market that really help funeral professionals stay relevant in an ever-changing marketplace," said Kevin Keane, Messenger President.   "We know from our market research that our products make a difference to the families that receive them, and we are pleased to have the opportunity to continue to touch more and more lives in this special way," added Bob Hoaglund, Vice President of Sales and Marketing at Messenger.
The new financial partnership will allow Messenger to build on the established foundation created since 1913 and strive to continue delivering the finest solutions with a focus on best in class service.
About Messenger, LLC
Messenger LLC, headquartered in Auburn, Indiana, has been in business since 1913 and has grown to be the most innovative manufacturer of funeral stationery and memorialization products in North America. Messenger has also introduced an arsenal of technology services and partnerships in recent years including Legacy Touch Keepsakes, Make it! Personal design finishing software, Expression Guest Registry digital registry solution along with the award winning Floral Xpress application.  For more information about Messenger, visit www.messengerstationery.com or call 1-800-827-5151.
About Orchard Holdings Group, LLC
Orchard Holdings Group, LLC is a private investment firm that invests non-institutional, private, family capital in businesses with the potential to create substantial long-term value. Orchard's principal objective is to partner with exceptional management teams to build great businesses. The firm's approach is to identify situations that are well-served by an investment partner who is aligned with the goal of maximizing long-term value, without the short term considerations of institutional private equity funds. Orchard provides an important alternative to companies and executives that want the flexibility to build great companies over time and are in search of committed partners.  For more information about Orchard, visit www.orchardholdings.com.
ConnectingDirectors.com is the leading online daily publication for funeral professionals with a reader base of over 45,000 of the most elite and forward-thinking professionals in the profession. With ConnectingDirectors.com we have created a global community through an online platform allowing funeral professionals to Stay Current. Stay Informed and Stay Elite.
Latest posts by CDFuneralNews (see all)
You may be interested
Marketing
2 views
This is How Facebook Protects Your Privacy After You Die
Ryan Thogmartin
-
August 22, 2017
Facebook offers the option of a Legacy Contact. Every user has the option of choosing a trusted friend or family member to be in charge of their Facebook profile when they pass away.
Marketing
191 views
4 Social Media Mistakes Death Care Companies Are Making (and How to Fix Them)
Ryan Thogmartin
-
August 22, 2017
On one hand, there's always something new to learn and try. However, not everything makes sense when it comes to marketing death care companies. We've watched many funeral organizations lose focus on strategy due to the bright and shiny nature of the new tactics that pop up. Tactics come in all shapes, sizes and value levels. Some are new features that are useful and others can be 'shortcuts' that ultimately lead us in the wrong direction. Recent conversations got us thinking, so we wanted to talk about some social media marketing mistakes we see death care companies make, and how they can fix them.
Death Discussions
29 views
Death Discussions
29 views
August 31 is International Overdose Awareness Day (IOAD)
Ryan Thogmartin
-
August 21, 2017
Unfortunately, the opioid epidemic isn't much of a headline anymore. With over 100 overdose-related deaths everyday, we, as a country, have become desensitized to death and drugs. Funeral homes are charged with taking care of the final arrangements for those who have been taken from this earth too soon.
Comments