How to Optimize Your Facebook Page for Search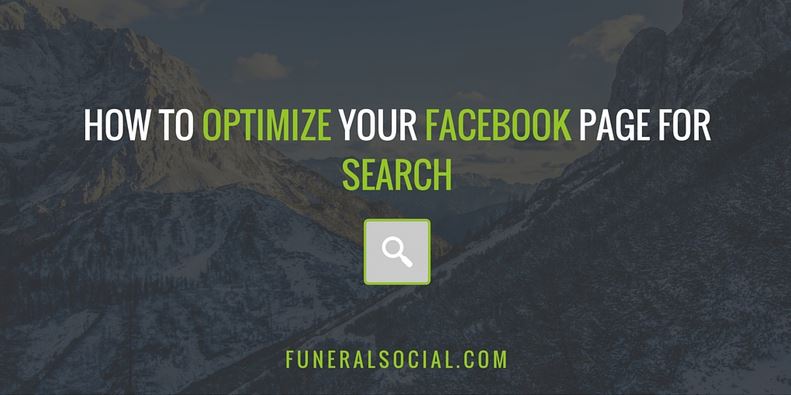 Anatomy of Google Search Results
First, take a look at the anatomy of a result in Google Search.
Example of a Google search for FUNERAL Social
There are three things you can usually (but not always) control in Google search results for your website and social profiles and pages: the title, page URL and description.
The title is shown first in a search result. This is made up of 50 to 60 characters generally found in the SEO title of a page. The SEO title for FUNERAL Social (as shown in the Google search result above) is:
Social Media for Funeral Homes | Powered by DISRUPT Media
The URL of the page is shown below the title. On social networks, your URL is usually the social network's domain name followed by your chosen username.
The description of the page is shown below the URL. This is the 155 characters generally found in the meta description of the page. The meta description for this website is:
That means no plan or goals, no idea of what they want to achieve with social media marketing. Our FUNERAL Social Design Process is the solution.
For Google search results, also note that Google can only pull information that is available on your public profile. This means you need to log out of each social network completely to see what your profile or page looks like. Anything that isn't publicly viewable won't be indexed by Google.
Here's how to use keywords in your social profiles and pages to improve your visibility in search results.
How to Optimize Your Facebook Page for Search
When it comes to Facebook pages, you'll see that most pages appear in Google search results like this.
FUNERAL Social's Facebook Page in Google Search
Google's search results use the Facebook page name, short description, number of likes and number of people talking about the page.
Elements of a Facebook page appear in Google search results.
In terms of keyword optimization, Facebook pages with keywords in the page name generally rank higher in Google search, as you can see below in a search for "Funeral Home on Facebook."
Facebook search, on the other hand, uses more than just your page name. When you start a search for "funeral," you'll see an option to click on 'funeral' search term.
When you click on Funeral Pages, you'll get pages in the Funeral subcategory, found under the main brand or product category for pages.
Brand pages in Facebook search results.
If you switch your search term to just the keyword "funeral" (without selecting Funeral Pages), you have the option to find search results for that keyword under People, Photos, Pages, Places, Groups, Apps and Events.
If you're a local business owner, note that your page will appear in Facebook search under Places based on your proximity to the searcher and the category of your page. In this case "funeral" or "funeral home" must be in the subcategory.
Key takeaway: If you want your page to come up in Google search for a keyword, that keyword needs to be in your page's name. To come up in Facebook search, that keyword needs to be in your page's subcategory.
About FUNERAL Social
We've worked with a number of funeral homes and funeral vendors to help them successfully tell their story through our exclusive four part FUNERAL Social Design Process. Our process is what enables DISRUPT Media to claim that we are the funeral profession's only full-service social media management firm. Our clients who are a part of our FUNERAL Social Design Process are seeing an increase in post reach and engagement of over 300%. Go tohttp://funeralsocial.com to find out more about the services we offer.
ConnectingDirectors.com is the leading online daily publication for funeral professionals with a reader base of over 45,000 of the most elite and forward-thinking professionals in the profession. With ConnectingDirectors.com we have created a global community through an online platform allowing funeral professionals to Stay Current. Stay Informed and Stay Elite.
Latest posts by CDFuneralNews (see all)
You may be interested
Marketing
166 views
4 Social Media Mistakes Death Care Companies Are Making (and How to Fix Them)
Ryan Thogmartin
-
August 22, 2017
On one hand, there's always something new to learn and try. However, not everything makes sense when it comes to marketing death care companies. We've watched many funeral organizations lose focus on strategy due to the bright and shiny nature of the new tactics that pop up. Tactics come in all shapes, sizes and value levels. Some are new features that are useful and others can be 'shortcuts' that ultimately lead us in the wrong direction. Recent conversations got us thinking, so we wanted to talk about some social media marketing mistakes we see death care companies make, and how they can fix them.
Death Discussions
28 views
Death Discussions
28 views
August 31 is International Overdose Awareness Day (IOAD)
Ryan Thogmartin
-
August 21, 2017
Unfortunately, the opioid epidemic isn't much of a headline anymore. With over 100 overdose-related deaths everyday, we, as a country, have become desensitized to death and drugs. Funeral homes are charged with taking care of the final arrangements for those who have been taken from this earth too soon.
Jobs
9 views
Director of Support – Western US
CDFuneralNews
-
August 21, 2017
At Carriage Services, we believe in the concept of "First Who, Then What." We have learned that leaders, who attract and surround…
Comments