Facebook: What Is the Difference Between Impressions, Reach, and Engaged Users?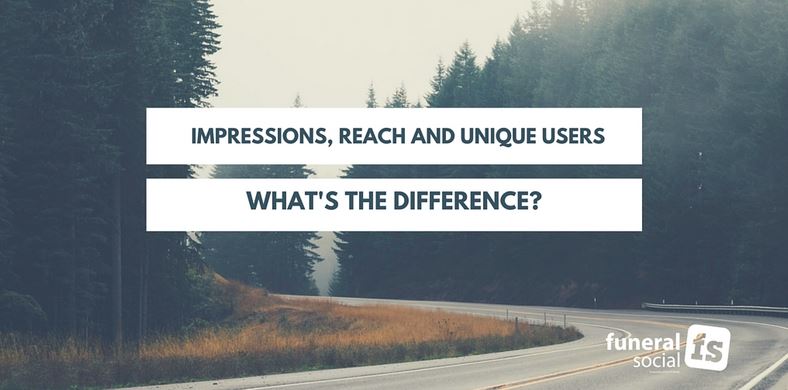 Many people who are regular users of Facebook do not really understand the terminology used when discussing the benefits of utilizing this channel in their social media outreach efforts. Knowing the difference between key terms is important as you consider the potential customers you touched with your content.
For a more detailed look at Facebook terminology, you can download our free white paper titled Understand Social Media Buzzwords. And to find out how to decipher your own numbers in regard to the posts you are making, read our blog article titled Why We Love Facebook Insights. But for a quick lesson about the three most important terms you should know, keep reading!
When talking "buckets" of people, here are the three measures listed from greater numbers of people to fewer people:
Impressions: represents the total number of times any Facebook user (fan or non fan) could have potentially seen any content associated with your Page in their News Feed or Ticker or by visits to your Page directly. Any Facebook user knows that there are times when more content has appeared in your news feed that you were able to read. But just because you didn't read it, the impression still appeared in your feed.
Reach: The number of unique people who saw any content about that post. Reach represents the posts that actually appeared in front of the eyes of Facebook readers. This will include both fans and non-fans. The reach of a post can be extended by paying Facebook to boost the post to people beyond your fan base.
Engaged Users: The number of people who clicked anywhere in your post without generating a story plus the number of unique people who created a story about your Page post. "Creating a story" means that a reader has Liked, Commented on, or Shared the post, thereby making it accessible to their friends for viewing which extends the possible reach of the post.
Obviously, the goal with any post is to increase its storytelling potential by engaging more users. We've provided many articles you can reference that explain how to create content that is interesting and enjoyable for your readers. But, sometimes, engagement is unpredictable and surprising as illustrated by this simple but elegant post that reached millions of Facebook readers.
At DISRUPT Media, we know how to create engaging content. We've worked with a number of funeral homes and funeral vendors to help them successfully tell their story through our exclusive four part FUNERAL Social Design Process. Our process is what enables DISRUPT Media to claim that we are the funeral profession's only full-service social media management firm. Our clients who are a part of our FUNERAL Social Design Process are seeing an increase in post reach and engagement of over 300%. Go to http://funeralsocial.com to find out more about the services we offer.
Mark Thogmartin, VP of Business Development at DISRUPT Media
Dr. Mark Thogmartin is a life-long educator, working with students from Kindergarten through the doctoral level. He has degrees from the University of Kentucky, the Ohio State University, and Andrews University. Mark's book, Teach a Child to Read with Children's Books, has gained wide acceptance among reading tutors and parents who are teaching their children at home. In addition to assisting his son, Ryan, at DISRUPT Media as Vice President of Business Development, he works part-time as a mentor of doctoral students at Capella University. Mark and his wife Donna live in Millersport and are the parents of three adult sons and the grandparents of two beautiful granddaughters.
ConnectingDirectors.com is the leading online daily publication for funeral professionals with a reader base of over 45,000 of the most elite and forward-thinking professionals in the profession. With ConnectingDirectors.com we have created a global community through an online platform allowing funeral professionals to Stay Current. Stay Informed and Stay Elite.
Latest posts by CDFuneralNews (see all)
You may be interested
Jobs
2 views
Preneed Funeral Sales Advisor
CDFuneralNews
-
August 11, 2017
Premier Funeral Solutions is currently seeking a Preneed Funeral Sales Advisor . Premier Funeral Solutions offers tools and methodologies developed to help…
Marketing
3 views
12 Benefits of Social Media Every Funeral Home Needs to Know
Ryan Thogmartin
-
August 10, 2017
Social media is 'marketing.' It's not the new marketing, it's the current state of marketing, and funeral homes and death care companies can no longer afford to ignore it. There are so many reasons why death care companies need to get their heads out of the sand and start engaging on the platforms used by over 68% of all Americans.
Humor
57 views
Six Times Twitter Reminded Us Funerals Don't Have to be Boring
Madison Ashby
-
August 9, 2017
These six people had funerals on their mind for one reason or another and decided to share with the Twitter world what they were thinking, and I'm pretty glad they did. People can come up with some pretty crazy things if you let them ramble.
Comments