Tips for Writing Tasteful and Memorable Obituaries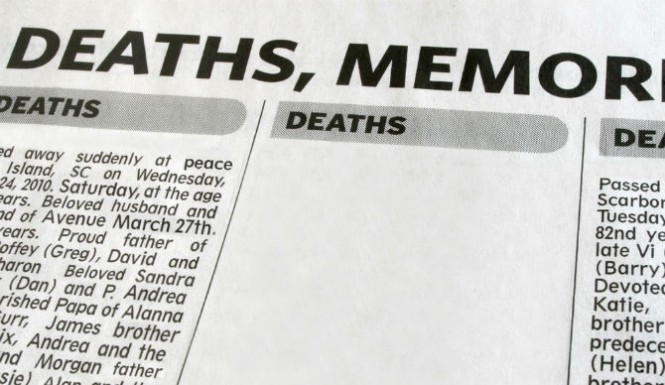 Article originally appeared on FuneralTech
Writing an obituary is an honour and one to be undertaken with reverence, but it is also a chance for the deceased to speak one last time and to be remembered forever.
If you have to write an obit, look for small details from the deceased's life. Ask their colleges, teammates, spouse, and children about what they will treasure and keep alive in their memories. Where did he/she find the most happiness? Are there any little quirks to speak of that may jog memories and help in the mourning process?
Writing an obituary that is tasteful and memorable needn't be a daunting task if you follow the checklist below. Just following this checklist though will result in a safe but dry obituary. For a more memorable obituary, add some or all of these ideas:
Make it Lively
An obituary is a notice of a death but more importantly, a story of a life lived. "Summing up a life is an awesome responsibility," says newspaper obituary writer Alana Baranick, on her website Death Beat. Focus more on the life lived than on the notice of the death.
Inspire those left behind
An obituary may be the only thing that is ever written about the deceased. It's an awesome responsibility but it is also a gift, a chance to inspire. Make it full of life and significance, try to show the joy and life shared and lived by the deceased; it will help everyone ground their emotions. If your obituary can somehow inspire the living to live more mindfully with love, you will have succeeded.
Focus on the deceased
Do not start with "the family announces." Describe the deceased as an individual, give them a name, the name they had in life is still in the hearts and minds of those left behind, so use it.
Show character
Show what the person was really like with actual examples and interesting stories. Keep it positive. Mention the person's hobbies, favourite sports, food, drink and organizations they belonged to. Be careful with quirky or risqué stories though, try to focus on universal moments of laughter and character building moments.
Checklist for a tasteful obituary
Use the tasteful "passed away" rather than the person "died."
Mention the person's hometown and where they were born and grew up.
List the names of close family members
Include the cause of death if the family is comfortable with it
Note donation or memorial fund information
Write about the person's life, profession
Include the time of the service and the name and location of the funeral home

ConnectingDirectors.com is the leading online daily publication for funeral professionals with a reader base of over 45,000 of the most elite and forward-thinking professionals in the profession. With ConnectingDirectors.com we have created a global community through an online platform allowing funeral professionals to Stay Current. Stay Informed and Stay Elite.

Latest posts by CDFuneralNews (see all)
You may be interested
Funeral Industry News
6 views
Funeral Industry News
509 views
Funeral Industry News
509 views
Mean Internet Comments – Funeral Edition
CDFuneralNews
-
June 20, 2018
We shine a light on some of the harsh words posted on social media towards DISRUPT Media's CEO, Ryan Thogmartin.…
Funeral Industry News
1180 views
Comments