IOUs for RIPs: Greece's cash crisis hurts funeral industry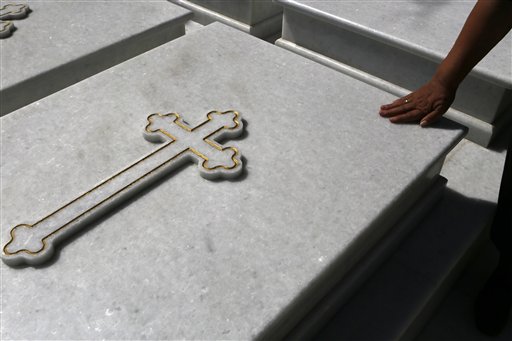 Article originally appeared on MyWay
ATHENS, Greece (AP) — Greece's cash crisis has disrupted all aspects of daily life — death included.
Greek funeral homes are struggling to cope with banking restrictions that limit customers to taking out only 60 euros ($65) a day in cash. Even a modest funeral service in Greece costs more than 15 times that, in a country that traditionally carries out funerals shortly after death and pays for them almost entirely in cash.
"Especially this week, with the capital controls at the banks, no matter who we asked money from, we couldn't even recover our costs," said Eustratios Voulamandis, who runs a funeral home in a blue-collar neighborhood west of Athens.
In a back room of the funeral home, work carries on, as employees remove shrink wrap from coffins and use a staple gun to fasten ornamental fabric around the caskets. But Voulamandis' business relies on lump sum payments made by survivors that start at 800 euros ($866) and are currently impossible to collect.
"To get started on a funeral service, we need 800-1,000 euros but people are giving us 50, 70, even 20 euros and telling us it's all they have," he said.
Funeral homes demand that much money upfront because of fears they won't get paid by cash-strapped Greeks after the ceremony. And it's almost always cash. Credit cards and especially checks are rarely used for such transactions in Greece, which remains a cash-based economy.
The difficulties in raising cash have produced some macabre consequences, Voulamandis and other funeral home operators said. Some bodies have had to spend more time than usual at the morgue, and some people have had to declare legal insolvency to be eligible for state-funded funerals for their relatives.
Greece's banks have been closed since June 29 after the country flirted with bankruptcy, defaulting on debts to the International Monetary Fund as its second bailout deal expired. The banks are scheduled to reopen Monday but still have a daily cash withdrawal limit of 60 euros and a weekly cash limit of 420 euros ($455). No one knows when those restrictions on cash withdrawals will be lifted.
Cash controls have choked the country's economy as Greece sinks back in recession, according to most major forecasts. Private services considered essential are surviving on an informal credit system.
Petros Kampitsis, a mason who makes marble headstones near an Athens cemetery, says Greeks are now opting for the most basic burial services — a move that is killing his business.
"We have a big problem, a very big problem. … People don't have money and they're trying to organize funerals at the lowest possible cost," he said. "Once a funeral has taken place, what remains is to decorate the tomb. But what happens if you have no money? That doesn't happen."
"The lack of cash means the industry is frozen," he added.
At the nearby Athens cemetery, an elderly widow was visiting her husband's grave. Embarrassed by her poverty, she asked to be identified only by her first name, Fani.
Fani said she didn't have the money to hold a memorial service and a dinner for the upcoming one-year anniversary of her husband's death, as is tradition.
"That hurts and saddens me, and makes me feel ashamed," she said.

ConnectingDirectors.com is the leading online daily publication for funeral professionals with a reader base of over 45,000 of the most elite and forward-thinking professionals in the profession. With ConnectingDirectors.com we have created a global community through an online platform allowing funeral professionals to Stay Current. Stay Informed and Stay Elite.

Latest posts by CDFuneralNews (see all)
You may be interested
Funeral Industry News
6 views
Funeral Industry News
518 views
Funeral Industry News
518 views
Mean Internet Comments – Funeral Edition
CDFuneralNews
-
June 20, 2018
We shine a light on some of the harsh words posted on social media towards DISRUPT Media's CEO, Ryan Thogmartin.…
Funeral Industry News
1184 views
Comments