Foundation Partners Group Teams Up With DISRUPT Media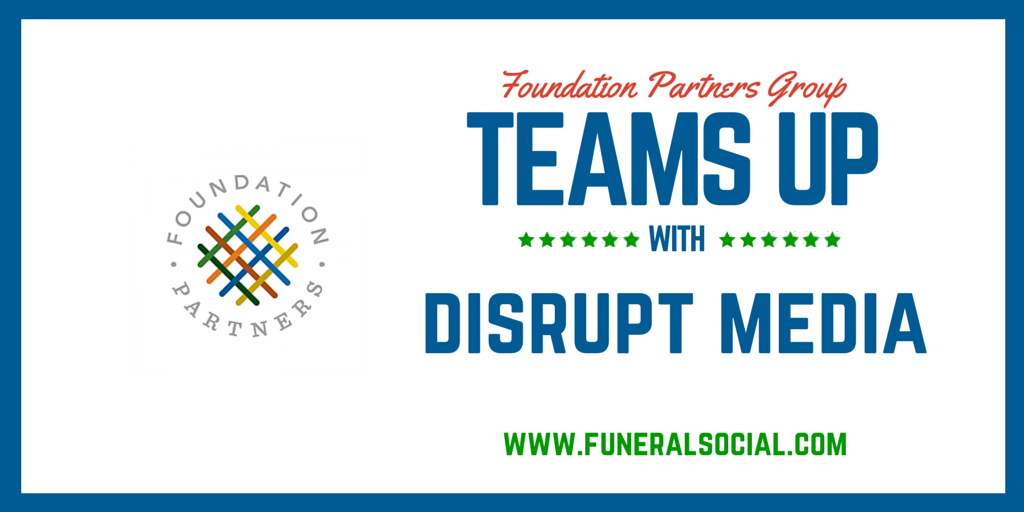 Company hires social media agency to help educate families on ShareLife®
Looking for digital marketing help to better know what's on their families' minds, Foundation Partners Group (FPG) has selected DISRUPT Media to coordinate its social media strategy and content management. Using their proprietary FUNERAL Social Design Process, DISRUPT Media is helping FPG use social media to engage more fully with families at several of its locations.
"A death and funeral is very emotional, and social media provides a community to share emotions and reflect on the life of a loved one. Additionally, social media offers an opportunity to educate families on all the options available to celebrate and share a life story," commented Brad Rex, President and CEO of Foundation Partners Group. "We want people to know about ShareLife® and social media is a great way to explain our offering."
ShareLife® is FPG's proprietary multi-sensory memorialization experience. It provides families a unique approach to planning a remembrance event that captures the story of a person's life through videos, sounds, scents, innovative technology, storytellers, and an overall experience that leaves guests celebrating the most joyful and meaningful moments of a lifetime.
"DISRUPT Media is the leading company that focuses specifically on social media for the deathcare industry. Ryan Thogmartin and his team have extensive expertise talking about a difficult subject online with compassionate, compelling posts," stated Rex. "No one else in the industry has their depth of knowledge and skill. FPG is proud to partner with DISRUPT to be leading edge in the industry."
""It's a real honor to partner with Foundation Partners Group to bring the full power of social media to one of the most profound conversations that can take place during a person's lifetime," commented Ryan Thogmartin, President and CEO of DISRUPT Media.   "This assignment presents a big opportunity for DISRUPT Media and Foundation Partners Group. If we do our best work together – we'll be able to enhance the funeral experience for families."
About Foundation Partners Group:  Foundation Partners Group is a leading provider of innovative funeral, cemetery and cremation experiences and products. As one of the largest privately-owned funeral operators in the industry, FPG owns and operates funeral homes and cemeteries in 13 states, serving more than 7,000 families annually. With headquarters in Orlando, FL, Foundation Partners is reinventing the funeral experience to help families capture, acknowledge and share life's purpose.  For more information, visit the Foundation Partners Group website at www.foundationpartners.com
About DISRUPT Media: DISRUPT Media is a full service social media management and content agency dedicated to the funeral profession. Started by Ryan Thogmartin, DISRUPT Media provides creative ideas and a simple plan to produce a social media presence that is completely unique for each client. For more information, call DISRUPT Media at 740.617.0599 or visit the website at www.FUNERALSocial.com

DISRUPT Media is a full service social media agency specializing in social media strategy, management and reporting for funeral companies. DISRUPT Media is the creator of the FUNERAL Social Design Process which is the only full service social media strategy program crafted specifically for the funeral profession.

Go to http://funeralsocial.com to find out more about the services we offer. Our clients who are apart of our FUNERAL Social Design Process are seeing an increase in post reach and engagement of over 300%.

Latest posts by DISRUPT Media (see all)
You may be interested
Funeral Industry News
601 views
Funeral Industry News
269 views
Funeral Industry News
269 views
RELEASE THE FN CRAKN! | FUNERAL nation 114
CDFuneralNews
-
June 18, 2018
It's a barn burner... The Commander is moving his Command Post!!! Besides the Commander on the move, the boys speak…
Frontrunner Professional
3 views
Comments