Sauder Funeral Products Expands Their Line With Three New Classic Casket Designs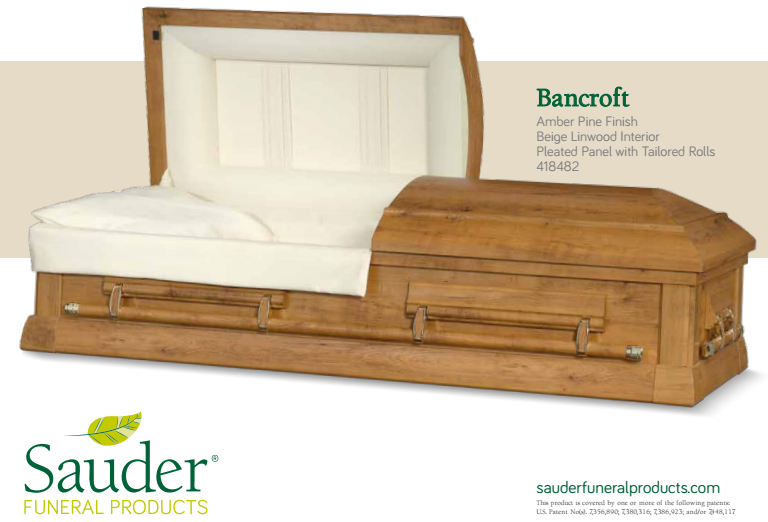 ARCHBOLD, Ohio – Sauder Funeral Products, a wholly-owned entity of Sauder Woodworking Co., has introduced a trio of new caskets in classic designs. Similar styles have been on the market for many years, but at much higher prices. Sauder now provides affordable alternatives to those traditional caskets, giving families the look and value they want.
The Bancroft casket comes in a light Amber Pine finish and has dual lugs. The Langston is a 2-button oak casket with one continuous lug in a traditional medium Carolina Oak finish. And the Windham casket comes in a new Sauder finish, a beautiful American Cherry, with individual lugs – also new for Sauder. All have a full-adjustable lift bed with tilt at the head, swing arms, and all three are also available in full couch.
"Based on our extensive research, we've learned that families want the best possible value when choosing a casket and they prefer wood over metal. These three new classic caskets give families what they want at a price they can afford," said Dan Sauder, Vice President of Engineering and New Markets for parent company Sauder Woodworking Co.
Sauder caskets are also eco-friendly, one of the many benefits to Sauder's American-made casket line. Sauder's engineered wood caskets burn more efficiently than solid wood and wood veneer caskets, and this saves time and fuel in crematories. Additionally, the caskets are built with an environmentally responsible material made from 97% recycled high quality soft and hardwood trimmings and other formerly wasted wood products that remain after the milling of lumber and plywood.
About Sauder Funeral Products
Headquartered in Archbold, Ohio since its founding in 1934, Sauder Woodworking Co. is North America's leading producer of RTA furniture and the nation's fifth largest residential furniture manufacturer.
Sauder Woodworking Co. is a privately-held, third generation, family-run business. Subsidiaries include: Progressive Furniture Inc., a designer and importer of wood bedroom, dining and accent furniture; and Sauder Manufacturing Company, a leader in church, educational and health care seating.
For additional information about Sauder, visit the company's website at www.sauder.com or the Sauder Funeral Products website at www.sauderfuneralproducts.com.
ConnectingDirectors.com is the leading online daily publication for funeral professionals with a reader base of over 45,000 of the most elite and forward-thinking professionals in the profession. With ConnectingDirectors.com we have created a global community through an online platform allowing funeral professionals to Stay Current. Stay Informed and Stay Elite.
Latest posts by CDFuneralNews (see all)
You may be interested
Marketing
2 views
This is How Facebook Protects Your Privacy After You Die
Ryan Thogmartin
-
August 22, 2017
Facebook offers the option of a Legacy Contact. Every user has the option of choosing a trusted friend or family member to be in charge of their Facebook profile when they pass away.
Marketing
187 views
4 Social Media Mistakes Death Care Companies Are Making (and How to Fix Them)
Ryan Thogmartin
-
August 22, 2017
On one hand, there's always something new to learn and try. However, not everything makes sense when it comes to marketing death care companies. We've watched many funeral organizations lose focus on strategy due to the bright and shiny nature of the new tactics that pop up. Tactics come in all shapes, sizes and value levels. Some are new features that are useful and others can be 'shortcuts' that ultimately lead us in the wrong direction. Recent conversations got us thinking, so we wanted to talk about some social media marketing mistakes we see death care companies make, and how they can fix them.
Death Discussions
28 views
Death Discussions
28 views
August 31 is International Overdose Awareness Day (IOAD)
Ryan Thogmartin
-
August 21, 2017
Unfortunately, the opioid epidemic isn't much of a headline anymore. With over 100 overdose-related deaths everyday, we, as a country, have become desensitized to death and drugs. Funeral homes are charged with taking care of the final arrangements for those who have been taken from this earth too soon.
Comments