China Says Please Stop Hiring Funeral Strippers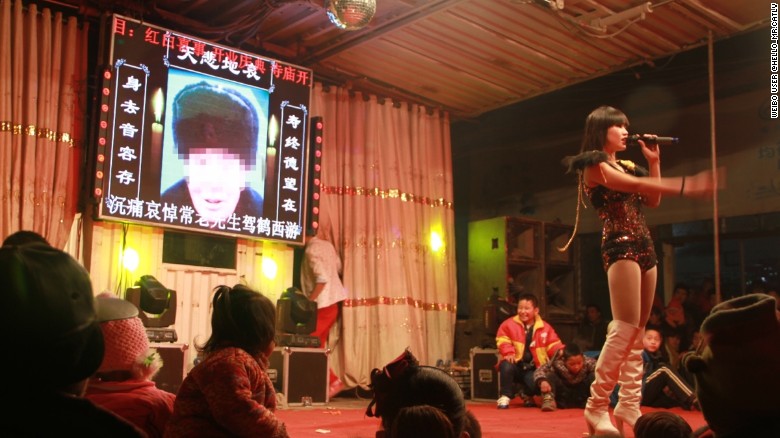 In China, friends and family of the deceased may have to do without a special form of funereal entertainment: strippers.
According to a statement from the Ministry of Culture on Thursday, the government plans to work closely with the police to eliminate such performances, which are held with the goal of drawing more mourners.
Pictures of a funeral in the city of Handan in northern Hebei province last month showed a dancer removing her bra as assembled parents and children watched. They were widely circulated online, prompting much opprobrium. In its Thursday statement, the Ministry of Culture cited "obscene" performances in the eastern Chinese province of Jiangsu, as well as in Handan, and pledged to crack down on such lascivious last rites.
In the Handan incident earlier this year, the ministry said, six performers had arrived to offer an erotic dance at the funeral of an elderly resident. Investigators were dispatched and the performance was found to have violated public security regulations, with the person responsible for the performing troupe in question detained administratively for 15 days and fined 70,000 yuan (about $11,300), the statement said.
The government condemned such performances for corrupting the social atmosphere. The government has been trying to fight the country's funereal stripper scourge for some time now. In 2006, the state-run broadcaster China Central Television's leading investigative news show Jiaodian Fangtan aired an exposé on the practice of scantily clad women making appearances at memorial services in Donghai in eastern China's Jiangsu province.
The point of inviting strippers, some of whom performed with snakes, was to attract large crowds to the deceased's funeral – seen as a harbinger of good fortune in the afterlife. "It's to give them face," one villager explained. "Otherwise no one would come.
CCTV found about a dozen funeral performance troupes offering such services in every village in the county, putting on as many as 20 shows a month at a rate of 2,000 yuan ($322) a pop. "This has severely polluted the local cultural life," CCTV intoned at the time, marveling at the sight of one women gyrating out of her clothes mere steps from a photo of the deceased. "These troupes only care about money. As for whether it's legal, or proper, or what effect it has on local customs, they don't think much about it."
The mainland isn't alone in its preference for the practice: similar ensemble performances are also popular in Taiwan – as National Geographic documented in 2012, with stilettoed, short-skirted women dancing graveside. The practice there dates back decades.
[H/T: Wall Street Journal]
ConnectingDirectors.com is the leading online daily publication for funeral professionals with a reader base of over 45,000 of the most elite and forward-thinking professionals in the profession. With ConnectingDirectors.com we have created a global community through an online platform allowing funeral professionals to Stay Current. Stay Informed and Stay Elite.
Latest posts by CDFuneralNews (see all)
You may be interested
Marketing
2 views
This is How Facebook Protects Your Privacy After You Die
Ryan Thogmartin
-
August 22, 2017
Facebook offers the option of a Legacy Contact. Every user has the option of choosing a trusted friend or family member to be in charge of their Facebook profile when they pass away.
Marketing
182 views
4 Social Media Mistakes Death Care Companies Are Making (and How to Fix Them)
Ryan Thogmartin
-
August 22, 2017
On one hand, there's always something new to learn and try. However, not everything makes sense when it comes to marketing death care companies. We've watched many funeral organizations lose focus on strategy due to the bright and shiny nature of the new tactics that pop up. Tactics come in all shapes, sizes and value levels. Some are new features that are useful and others can be 'shortcuts' that ultimately lead us in the wrong direction. Recent conversations got us thinking, so we wanted to talk about some social media marketing mistakes we see death care companies make, and how they can fix them.
Death Discussions
28 views
Death Discussions
28 views
August 31 is International Overdose Awareness Day (IOAD)
Ryan Thogmartin
-
August 21, 2017
Unfortunately, the opioid epidemic isn't much of a headline anymore. With over 100 overdose-related deaths everyday, we, as a country, have become desensitized to death and drugs. Funeral homes are charged with taking care of the final arrangements for those who have been taken from this earth too soon.
Comments