5 Things You Should Be Doing On Facebook To Make You Better Than Your Competitors [Part 1]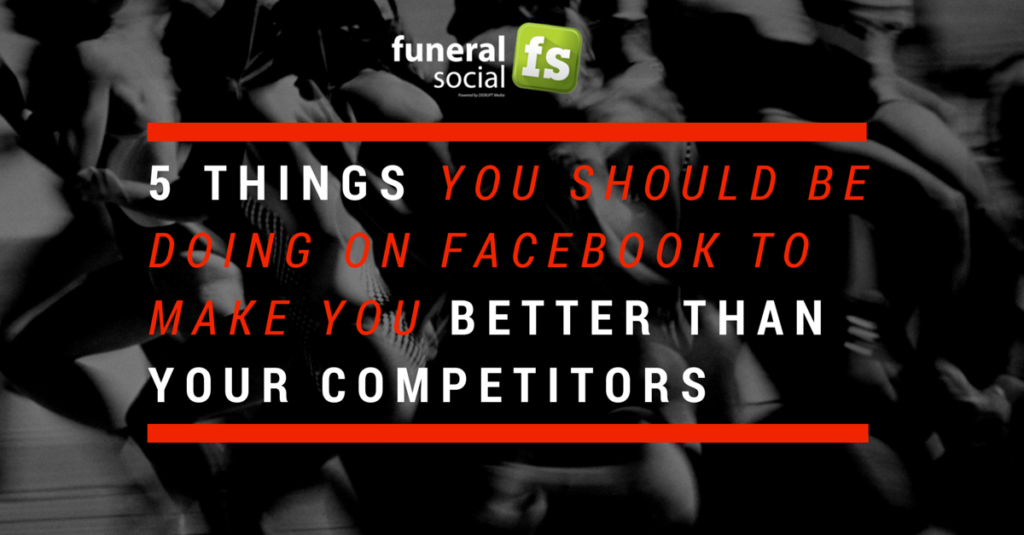 This article was originally published in the March Issue of the Director Magazine
Article by: Ryan Thogmartin, DISRUPT Media
Facebook's News Feed is where members spend a majority of their time. It's where people go to catch up on what's happening with friends and find content they value most. The actions people take in News Feed help to determine what Facebook is most likely to show them in the future.
When a user likes, comments, clicks on, or shares your post we call this 'engagement.' And that engagement is one of the most weighted variables in Facebook's News feed algorithm to determine what content that user will see next.
What you post on Facebook, and how the post is constructed, matter more than you think. When creating Facebook posts there are specific things you can do to drastically increase or, unfortunately, decrease who engages and ultimately sees the content you post on your funeral home's page. Content that has no engagement can quickly kill a valuable social media presence.
Here are a few things that most funeral directors and marketers in the funeral profession don't know about Facebook:
Facebook posts, on average, reach only 2% of your followers
The time of day you post is a huge factor in how many fans see your content
The character length of your post directly affects how fans engage with the post, which will directly affect how many fans see the post
Image posts without the correct image size get less organic reach and engagement (did you know there is a 'correct' image size Facebook wants you to use in posts?)
Link posts showing the URL link get far less organic reach (Facebook wants you to use the native link post format)
Text posts get the most organic reach but less engagement
Image posts get less organic reach but achieve 75% more engagement
Lingo Key: (Download a Social Media Buzzword Guide)
Organic Reach: The number of unique people who saw any content about that post. This will include both fans and non-fans.
Engagement: the number of unique people who have clicked, commented, liked, or shared your posts.
Some of you may already know Facebook announced a major change last year that will give valuable organic posts more visibility, and promotional, pushy, or gimmicky posts less visibility, starting in January of 2015.
Well, it's already 2015. So what should funeral homes do?
We've put together a list of tips to help you maximize your funeral home's Facebook presence and content while still conforming to Facebook's latest round of algorithm changes.
The way your client families are consuming content is rapidly evolving, and it's up to funeral homes (you) to make sure your Facebook strategy is also changing with those habits, ensuring success and growth for 2015.
Embrace Video Content
If a picture is worth a thousand words, imagine how much a video is worth. Consumers are gravitating more toward video content. This year the paradigm has changed as, for the first time, data shows that Pages are posting more native Facebook videos than YouTube videos on Facebook. Facebook is carving out its own share of the YouTube audience – a trend that will continue and grow in 2015.
Videos uploaded directly to Facebook now include views and CTA (call-to-action) link. Facebook is also giving higher priority to video in the News Feed. Videos are a great way to show transparency. They don't need to be professionally produced, but they do need to be real and transparent. Humor is also well received by the consumer.
Merry Christmas from everyone here at Pray Funeral Home!

Posted by Pray Funeral Home on Thursday, December 25, 2014
View this funny video shared by Pray Funeral Home by visiting their Facebook page: http://www.facebook.com/PrayFuneralHome
Be a Storyteller With Each Post
The main thing to keep in mind is that the continual algorithm changes Facebook is making is not a form of punishment on Facebook's part; rather, it's an extra reminder for companies to produce engaging, innovative, and valuable content for their fans and follows. Facebook rewards valuable content with dramatically more reach (exposure).
Think of a user's News Feed as a noisy NFDA convention expo hall, with hundreds of vendors and people who have something to say and wish to be heard—the vendors who get your attention are the ones who share something useful and valuable to you. There many ways to give value to your fans. Here are a few suggestions: share timely content; use media-rich messaging (lots of images and videos); and let each post tell a story. We walk each of our FUNERAL Social clients through a STORY session where we brainstorm the things that are valuable about their funeral home and how we can turn these values into storytelling Facebook posts.
————————————————————————————————————————
About DISRUPT Media:  DISRUPT Media is a full service social media management and content agency dedicated to the funeral profession.  Started by Ryan Thogmartin, DISRUPT Media provides creative ideas and a simple plan to produce a social media presence that is completely unique for each client.  For more information, call DISRUPT Media at 740.617.0599 or visit the website at www.FUNERALSocial.com.
Remember that many factors play into social media success. Image size, the time of day you post, and the length of posts all play a part in the organic reach of a post and the engagement of that post. You may be concerned about the legalities of posting non-original content, the mechanics involved, or your ability engage in online conversations. If so, you can turn to the experts at DISRUPT Media. We are the only full-service social media agency specifically catering to the funeral profession. Go to http://funeralsocial.com to find out more about the services we offer. Our clients who are a part of our FUNERAL Social Design Process are seeing an increase in post reach and engagement of over 300%

CEO at DISRUPT Media and ConnectingDirector.com
Ryan Thogmartin is the Owner and CEO of DISRUPT Media.

DISRUPT Media is a full-service creative agency built for the now. We partner with death care companies to drive deep-rooted brand loyalty and measurable leads through social media.

More Fans. More Conversations. More Leads.

Ryan is also the founder of ConnectingDirectors.com. ConnectingDirectors.com is the leading online daily publication for funeral professionals with a reader base of over 45,000 of the most elite and forward-thinking professionals in the profession. With ConnectingDirectors.com Ryan has created a global community through an online platform allowing funeral professionals to Stay Current. Stay Informed and Stay Elite.
Latest posts by Ryan Thogmartin (see all)
You may be interested
Funeral Industry News
6 views
Funeral Industry News
525 views
Funeral Industry News
525 views
Mean Internet Comments – Funeral Edition
CDFuneralNews
-
June 20, 2018
We shine a light on some of the harsh words posted on social media towards DISRUPT Media's CEO, Ryan Thogmartin.…
Funeral Industry News
1184 views
Comments