Wrestling With Death; Funeral Professions Next Big Reality Show Premieres This Week and It Will Shock You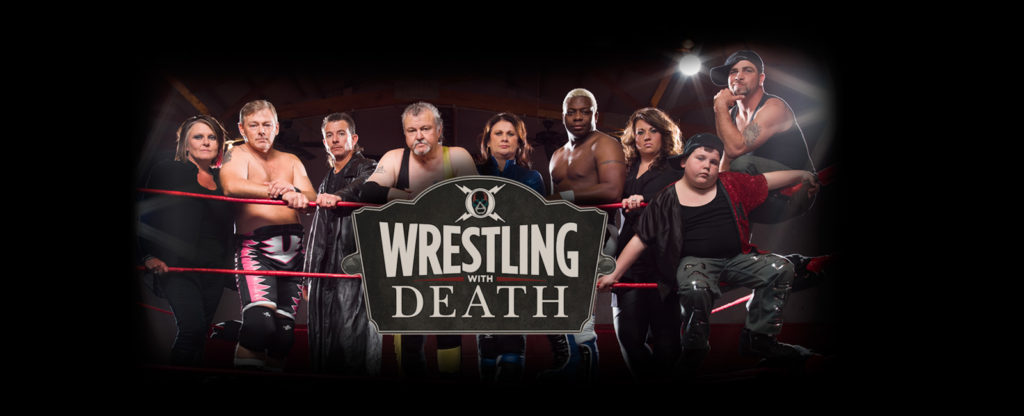 Pleased be advised: this program contains scenes of real corpses and actual mortuary preparation practices.
It's hard to stand out in the reality-television world, but a family that runs a funeral home by day and a professional wrestling federation by night may just do it. Wrestling With Death premieres Thusday, and Yahoo TV published an exclusive sneak peek at the entire first episode (watch below).
Away from the glitz and glamor of major promotions like WWE, local and independent federations are less about oiled-up musclemen and more about community. In a town like Osceola, Arkansas (population: just over 7,000), wrestling is a little like regional theater — with performers who are also friends and neighbors. In a town that small, it seems a lot less strange that wrestling and undertaking would go hand in hand.
"I think they're a very normal family," says executive producer David George. "When you're around death all day long, you kind of find an appreciation for life." The only thing that's different about the Lathams from any other family is the way they express that appreciation.
In the first episode, the family is introduced. LaFonce "Big Daddy" Latham is the patriarch, having run the Wilson Funeral Home for the past 35 years (the wrestling federation has only been around for 22). His wife, "Ms Sandra," gave up wrestling eight years ago due to breast cancer. The wrestling portion of the episode (the time is evenly split between the ring and the funeral home) revolves around LaFonce's attempts to get her back into the ring.
Derrick is a new addition to the family — having recently married LaFonce's daughter Jaime. He's a wrestler, but for LaFonce, being part of the Latham family means you wrestle and work at the funeral home. LaFonce and Jerry initiate him with the classic "jumping up from the embalming table" gag.
That also causes conflict with LaFonce's other daughter, Tonya. She's the funeral home's office manager, and she's married to Jerry "White Lightning" Smith, but she doesn't like wrestling. Similarly, LaFonce's son, Bubby, is the head mortician and embalmer but wants nothing to do with the family's extracurricular pursuits.
Then there's 9-year-old Max, grandson of LaFonce, who looks like a pint-sized King Kong Bundy. His father is Harry "Serpent" Clapp, who, if the name didn't tip you off, also wrestles. Max's stepdad is Derrick, which must make for some awkward lockups in the ring.
Wrestling With Death does a fine job of bouncing back and forth between the minutiae of embalming and the loud and wild action in the ring. The show is most engaging, though, when it draws emotional connections between the two worlds.
The premiere episode follows the funeral of Becky, a longtime fan of the Lathams' Mid-Southern Championship Wrestling. She was inspired by Ms. Sandra as they both battled cancer, coming to matches during her illness. "Even when she was sick, she was still jumping up and down," says Jerry. And when Sandra does decide to return to the ring, it's due, in part, to the sense of responsibility she feels to Becky and her family.
It looks like, in the next episode, LaFonce's desire to push people into the ring before they're ready may cause more trouble, and city boy Derrick looks into cattle ownership. What do you think? Do you like the Lathams, or is their life too bizarre? Do you prefer the wrestling side or the undertaking side? Let us know below.
Wrestling With Death premieres Tuesday, Jan. 13 at 10 p.m. with back-to-back episodes on WGN America.
ConnectingDirectors.com is the leading online daily publication for funeral professionals with a reader base of over 45,000 of the most elite and forward-thinking professionals in the profession. With ConnectingDirectors.com we have created a global community through an online platform allowing funeral professionals to Stay Current. Stay Informed and Stay Elite.
Latest posts by CDFuneralNews (see all)
You may be interested
Marketing
3 views
12 Benefits of Social Media Every Funeral Home Needs to Know
Ryan Thogmartin
-
August 10, 2017
Social media is 'marketing.' It's not the new marketing, it's the current state of marketing, and funeral homes and death care companies can no longer afford to ignore it. There are so many reasons why death care companies need to get their heads out of the sand and start engaging on the platforms used by over 68% of all Americans.
Humor
39 views
Six Times Twitter Reminded Us Funerals Don't Have to be Boring
Madison Ashby
-
August 9, 2017
These six people had funerals on their mind for one reason or another and decided to share with the Twitter world what they were thinking, and I'm pretty glad they did. People can come up with some pretty crazy things if you let them ramble.
Funeral Industry Press Releases
1 views
Comments