CNN, the World-wide leader in news, announced its Top 10 Heroes of 2014.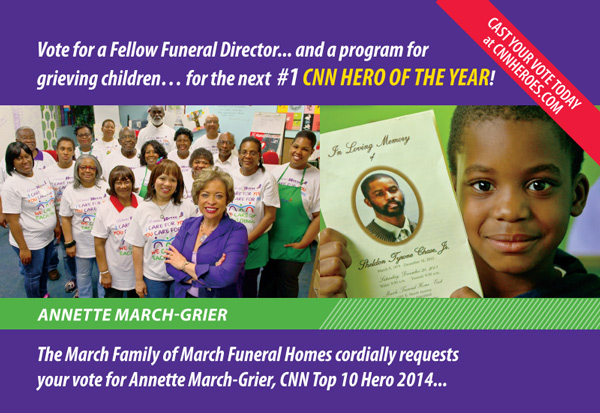 Baltimore local, Annette March-Grier, Visionary and Co-Founder of Roberta's House RISES above 10,000 nominees to be selected.
Baltimore, MD (Oct 2, 2014) — Annette March-Grier, RN, CFSP (licensed mortician) and Co-Founder and President of Roberta's House is amongst the prestigious list of 2014 top 10 'CNN Heroes. Her notable work to help grieving children, families and adults in underserved areas of Baltimore, and its surrounding counties, cope with tragedy and the loss of someone close is currently being featured on CNN world-wide as one of the people recognized for changing the world. http://cnnpressroom.blogs.cnn.com/2014/10/02/cnn-announces-top-10-heroes-of-2014/.
As a top 10 Hero, Annette March-Grier is well positioned to be voted into CNN Heroes next level, which is CNN Hero of the Year. Annette commented, " This is an opportunity to educate and heal more of our grieving communities…Our urban neighborhoods are plagued by violence and crimes that all too often have led to the unexpected death of a loved-one… Left behind have been multitudes of families, children and adults who silently grieve without any understanding on how to heal… this is not just a local issue, this is a world-wide concern."
On-line votes for "CNN Hero of the Year" can be cast today through Sunday, November 16th, at midnight PT. Voters can log on to CNNHeroes.com to select their favorite Top 10 Heroes — once a day, every day. All in Baltimore, Maryland are encouraged to vote for a local native, Annette March-Grier. Social media users are asked to share their votes on Facebook and Twitter to rally as many votes as it takes to advance Annette March-Grier to Hero of the Year.
Voting page http://heroes.cnn.com/#.gd2hi0Zfb9gh
Video— http://www.cnn.com/video/data/2.0/video/bestoftv/2014/10/02/vote.cnn.html
Article— http://newday.blogs.cnn.com/2014/10/02/anderson-cooper-announces-this-years-top-10-cnn- heroes/
Video—http://www.cnn.com/video/data/2.0/video/bestoftv/2014/10/02/cnn-heroes-top-10-of-revealed.cnn.html
Voting stations are being designated throughout Baltimore. Victor C. March Sr., President/CEO of March Funeral Homes has opened the doors to all March Funeral homes as voting stations for the community. "Annette has worked hard through Roberta's House to heal our grieving communities, there is more work to be done on a national or even world-wide level to see healing take place amongst the bereaved." commented Victor C. March, Sr., brother of Annette March-Grier.
Now in its eighth year, the CNN Heroes Award aims to honor the missions of ordinary individuals who are impacting society in the most incredible ways. Each year, 10,000 prospective CNN Heroes are nominated worldwide for their selfless, creative efforts to help others. Only a select few make it through the vetting process, Annette March Grier is one. She gave comment saying: "I feel honored to be representing the industry of bereavement caregivers and giving voice to thousands of children who suffer quietly."
The CNN Hero of the Year will be revealed during "CNN Heroes: An All-Star Tribute" this fall,hosted by Anderson Cooper. Each of the top 10 receives $25,000. The Hero of the Year receives an additional $100,000.
About Roberta's House
Roberta's House is a Family Grief Support Center, founded in 2007 by the March Family to address the high risk of children in Baltimore City who develop maladaptive and violent coping behaviors after a death. Annette March-Grier grew up in her family's funeral home, March Funeral Home. After her mother's death, she created Roberta's House, a nonprofit in Baltimore that helps children and their families cope with grief. Roberta's House offers free comprehensive bereavement support programs for all ages and types of losses. Annette has trained professional staff and over 200 volunteers to carry out more than seven different programs.Roberta's House uniquely supports the grieving process by allowing participants to acknowledge the reality of the death; experience the pain in a safe environment while being nurtured physically, emotionally and spiritually, as they learn to adjust to a new life with positive memories that lead to reinvestment in to the future. Located at 1900 North Broadway & E. North Avenue, Roberta's House has provided services to over 2300 children and adultsthrough their bereavement programs. Roberta's House is a nonprofit organization that depends on volunteers, local foundations, government grants and the generosity of the public to perform its mission. Please visit Roberta's Houses' website: www.robertashouse.org for more information.
About CNN Worldwide
CNN Worldwide is a portfolio of two dozen news and information services across cable, satellite, radio, wireless devices and the Internet in more than 200 countries and territories worldwide.Domestically, CNN reaches more individuals on television, the web and mobile devices than any other cable TV news organization in the United States; internationally, CNN is the most widely distributed news channel reaching more than 271 million households abroad; and CNN Digital is a top network for online news, mobile news and social media. Additionally, CNN News source isthe world's most extensively utilized news service partnering with hundreds of local andinternational news organizations around the world. CNN is division of Turner Broadcasting System, Inc., a Time Warner Company. Visit http://cnnpressroom.blogs.cnn.com/cnn-fact-sheet/.
ConnectingDirectors.com is the leading online daily publication for funeral professionals with a reader base of over 45,000 of the most elite and forward-thinking professionals in the profession. With ConnectingDirectors.com we have created a global community through an online platform allowing funeral professionals to Stay Current. Stay Informed and Stay Elite.
Latest posts by CDFuneralNews (see all)
You may be interested
Cremation
3 views
Funeral Homes are Struggling to Keep Their Doors Open
Ryan Thogmartin
-
August 13, 2017
This is a topic and conversation that does not get talked about or covered enough. We all want to put the blame on cremation and ignore the fact that many of the issues facing funeral homes aren't because families choose cremation but because of bad business decisions of many funeral directors who don't want to change or accept cremation.
Jobs
2 views
Preneed Funeral Sales Advisor
CDFuneralNews
-
August 11, 2017
Premier Funeral Solutions is currently seeking a Preneed Funeral Sales Advisor . Premier Funeral Solutions offers tools and methodologies developed to help…
Marketing
3 views
12 Benefits of Social Media Every Funeral Home Needs to Know
Ryan Thogmartin
-
August 10, 2017
Social media is 'marketing.' It's not the new marketing, it's the current state of marketing, and funeral homes and death care companies can no longer afford to ignore it. There are so many reasons why death care companies need to get their heads out of the sand and start engaging on the platforms used by over 68% of all Americans.
Comments