Genesis Casket Company Ceases All Operations and Shuts Down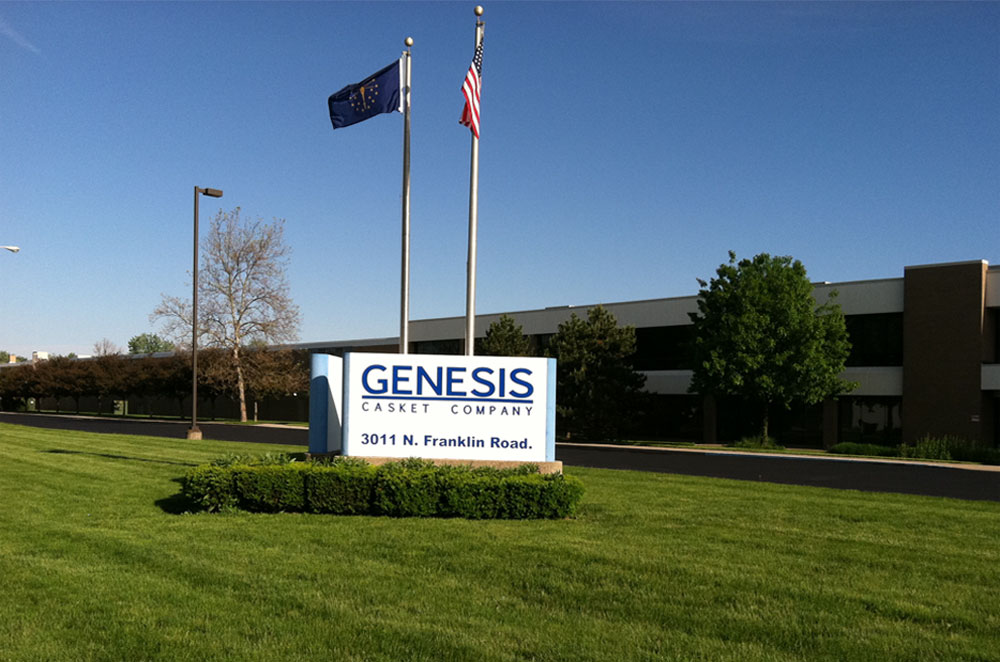 We heard early Tuesday morning from multiple funeral directors in Ohio and Indiana that their Genesis Casket reps informed them the company was ceasing all operations and shutting down effective Tuesday afternoon. They were offering remaining inventory for discounts of 70%-75%.
We have reached out to multiple contacts at Genesis Casket Company but all emails and phone messages have gone unreturned.
Reportedly, the news of the shutdown was delivered to employees on a conference call Tuesday by members of the Genesis executive team and board members from Genesis' parent company Gestamp Corporation.
Genesis Casket Company first debuted at the 2011 NFDA convention. There was a good deal of buzz about the company for the first 12 months but that quickly died after CEO Tony Colson resigned. When Tony was with Genesis he was very open with ConnectingDirectors.com and shared with us in multiple interviews the direction Genesis was taking to capture the casket market in the US.
We were able to take with Mr. Colson Tuesday afternoon about the reported shutdown of Genesis Casket Company. When asked about the shutdown Tony said, "It's not surprising given Gestamp was never able to deliver on the manufacturing process they promised."
Here is a look back at the articles we have posted over the last 3 years about Genesis Casket Company:
Genesis Casket Company Now Has 60 Independent Distributors and 14 Consecutive Months of Sales Growth – http://connectingdirectors.com/articles/43895-genesis-casket-company-now-has-60-independent-distributors-and-14-consecutive-months-of-sales-growth
Is This The End For Genesis Casket Company? – http://connectingdirectors.com/articles/43189-is-this-the-end-for-genesis-casket-company
Leadership of Genesis Casket Says Company Is in It for the Long Haul – http://connectingdirectors.com/articles/35885-leadership-of-genesis-casket-says-company-is-in-it-for-the-long-haul
[Exclusive] Genesis Casket Executive Team Gone – http://connectingdirectors.com/articles/35839-genesis-casket-executive-team-gone
GENESIS CASKET COMPANY CEO RESIGNS – http://connectingdirectors.com/articles/34630-genesis-casket-company-ceo-resigns
3 MONTHS INTO PRODUCTION: WHAT IS THE CURRENT STATE OF GENESIS CASKET COMPANY? – http://connectingdirectors.com/articles/5207-3-months-into-production-what-is-the-current-state-of-genesis-casket-company
GENESIS CASKET SEES LAYOFFS AS TEMPORARY; LOOKS TO RAMP UP PRODUCTION – http://connectingdirectors.com/articles/5066-genesis-casket-sees-layoffs-as-temporary-looks-to-ramp-up-production
GENESIS CASKET COMPANY NOW IN FULL PRODUCTION – http://connectingdirectors.com/articles/3439-genesis-casket-company-now-in-full-production
EXCLUSIVE: GENESIS CASKET COMPANY EXPLAINS SIMPLIFIED PRICING STRUCTURE, DISTRIBUTION STRATEGY AND RELATIONSHIP WITH GESTAMP NORTH AMERICA – http://connectingdirectors.com/articles/3253-exclusive-genesis-casket-company-explains-simplified-pricing-structure-distribution-strategy-and-relationship-with-gestamp-north-america
GENESIS CASKET COMPANY, AND NEW TECH INNOVATION DRIVE NFDA 2011 – http://connectingdirectors.com/articles/3204-genesis-casket-company-and-new-tech-innovation-drive-nfda-2011

ConnectingDirectors.com is the leading online daily publication for funeral professionals with a reader base of over 45,000 of the most elite and forward-thinking professionals in the profession. With ConnectingDirectors.com we have created a global community through an online platform allowing funeral professionals to Stay Current. Stay Informed and Stay Elite.

Latest posts by CDFuneralNews (see all)
You may be interested
Funeral Industry News
6 views
Funeral Industry News
515 views
Funeral Industry News
515 views
Mean Internet Comments – Funeral Edition
CDFuneralNews
-
June 20, 2018
We shine a light on some of the harsh words posted on social media towards DISRUPT Media's CEO, Ryan Thogmartin.…
Funeral Industry News
1183 views
Comments