FrontRunner Professional awarded prestigious Innovation Award at 2014 National Funeral Director's Association Convention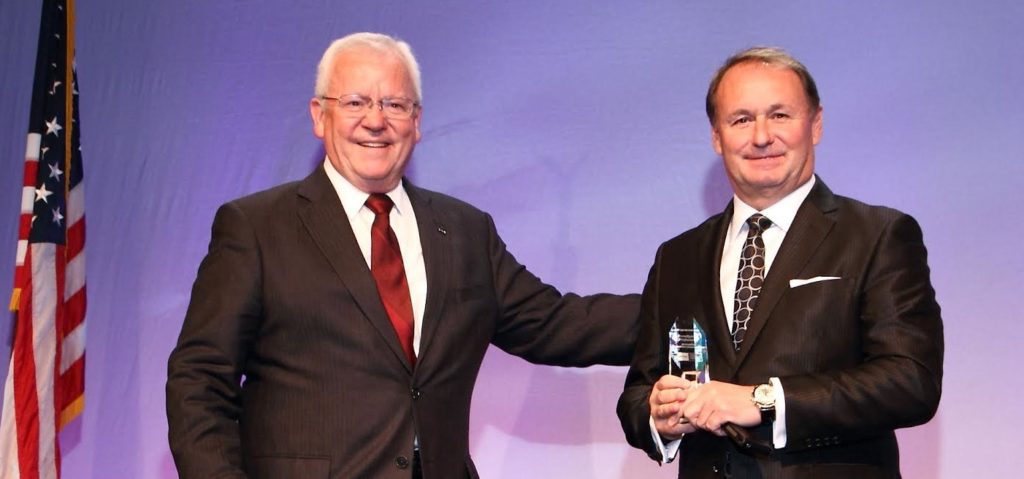 FrontRunner Professional is the proud recipient of the 2014 National Funeral Director's Association (NFDA) Convention Innovation Award. The company was recognized at the National Funeral Directors Association Conference in Nashville, Tennessee. The NFDA is the world's largest professional funeral directors organization that focuses on maintaining the high standards and betterment within funeral service through education, collaboration, and consumer advocacy.
Honored for its 'Total Business Solution', FrontRunner's new Pulse Business System is an advanced web-based business software that provides funeral professionals with an all-encompassing, integrated, single-data entry system that includes a website, Memorial DVD Generator, Print-on-Demand Stationery solution, forms and contract generation, HR performance, and full management and accounting capabilities. This complete software solution is unlike anything on the market and provides outstanding efficiency and control to any sized business.
"This is a tremendous honor to be selected by NFDA and the funeral profession at large for this award," says Kevin Montroy, FrontRunner CEO and Founder. "It makes me extremely proud to see all of the hard work and efforts of everyone on our team be acknowledged. I accepted this award on behalf of my family, our amazing staff, their supportive spouses and family, NFDA for its vision and commitment to helping to constantly improve on funeral service, and last but not least, our valued clients, who without their ongoing loyalty and support, this award would not have been possible. The recognition by NFDA through this award aligns with our own vision of creating a higher standard with technology products and solutions that help raise the bar for funeral professionals in the eyes of the families and communities they serve."
FrontRunner is a leading technology provider to funeral professionals in the USA, Canada, UK, and Australia. FrontRunner continues to lead with innovative solutions to help funeral professionals more effectively manage, market, and grow their businesses.
To learn more about FrontRunner, visit www.FrontRunner360.com.
ConnectingDirectors.com is the leading online daily publication for funeral professionals with a reader base of over 45,000 of the most elite and forward-thinking professionals in the profession. With ConnectingDirectors.com we have created a global community through an online platform allowing funeral professionals to Stay Current. Stay Informed and Stay Elite.
Latest posts by CDFuneralNews (see all)
You may be interested
Marketing
2 views
This is How Facebook Protects Your Privacy After You Die
Ryan Thogmartin
-
August 22, 2017
Facebook offers the option of a Legacy Contact. Every user has the option of choosing a trusted friend or family member to be in charge of their Facebook profile when they pass away.
Marketing
181 views
4 Social Media Mistakes Death Care Companies Are Making (and How to Fix Them)
Ryan Thogmartin
-
August 22, 2017
On one hand, there's always something new to learn and try. However, not everything makes sense when it comes to marketing death care companies. We've watched many funeral organizations lose focus on strategy due to the bright and shiny nature of the new tactics that pop up. Tactics come in all shapes, sizes and value levels. Some are new features that are useful and others can be 'shortcuts' that ultimately lead us in the wrong direction. Recent conversations got us thinking, so we wanted to talk about some social media marketing mistakes we see death care companies make, and how they can fix them.
Death Discussions
28 views
Death Discussions
28 views
August 31 is International Overdose Awareness Day (IOAD)
Ryan Thogmartin
-
August 21, 2017
Unfortunately, the opioid epidemic isn't much of a headline anymore. With over 100 overdose-related deaths everyday, we, as a country, have become desensitized to death and drugs. Funeral homes are charged with taking care of the final arrangements for those who have been taken from this earth too soon.
Comments