Hearses, puns and Dolly Parton: An afternoon at the National Funeral Directors Association Convention & Expo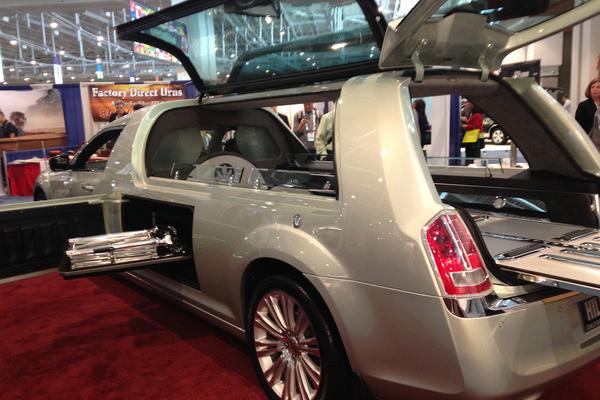 The halls of Music City Center hummed with activity Monday, as hundreds of funeral home professionals from all over the world explored the sights and sounds of the 2014 NFDA International Convention & Expo.
Convinced by a former colleague that I would see amazing things at the expo, I joined the convention-goers in the early afternoon, curious what cool gadgets and advanced technologies would be on display at what's billed as the "world's largest funeral service expo." Although I was unsuccessful in finding the fabled body dissolving machines that colleague told me to seek out, I did learn a lot about what's what in the world of funerals. Here are some observations:
Hearses come in all shapes, sizes and styles. Perhaps because they translate well to convention floor displays, I saw more options for hearses out and about on the convention hall floor than I knew existed. Ranging from limos to SUVs to mini-busses and coaches, some of the options were classic and simple, while others offered seating for the whole family — and T.V. screens inside.
Everybody loves puns, even funeral directors. BereaveMints, a company that makes individually wrapped mints for funeral directors and limo drivers to give out to families during funeral services, takes my prize for the wittiest name on the convention floor, though I'm certain there were others that I missed. Even at times of sorrow, we must have joy and laughter. And mints.
3D printing has entered the funeral market. One company exhibiting at the expo, ForeverLoved, offers 3D-printed busts of your family member or other similar mementos. The largest of their products can be used as an urn to store that loved one's remains. During the expo, though, the company was demonstrating by making mini coffin-shaped M&M holders.
You can now wear a family member's DNA around your neck. I saw at least two exhibitors offering some form of DNA-extraction technology, which can be used to make an extremely personalized memento: for example, a necklace containing a piece of grandam's genetic code. One exhibitor also extolled the valuable health impact of preserving a loved one's DNA, as it could be used to predict possible medical conditions for children and others.
Dolly Parton was there. No, not really — though I got very excited when I saw a woman who looked an awful lot like her standing in the hallway outside the expo hall as it would have been my first Nashville celebrity sighting. Turns out it was actually a Dolly impersonator posing for pictures at the Progressive Environmental Services, a company that recycles post cremation remains.
[H/T: BizJournals.com]
ConnectingDirectors.com is the leading online daily publication for funeral professionals with a reader base of over 45,000 of the most elite and forward-thinking professionals in the profession. With ConnectingDirectors.com we have created a global community through an online platform allowing funeral professionals to Stay Current. Stay Informed and Stay Elite.
Latest posts by CDFuneralNews (see all)
You may be interested
Marketing
171 views
4 Social Media Mistakes Death Care Companies Are Making (and How to Fix Them)
Ryan Thogmartin
-
August 22, 2017
On one hand, there's always something new to learn and try. However, not everything makes sense when it comes to marketing death care companies. We've watched many funeral organizations lose focus on strategy due to the bright and shiny nature of the new tactics that pop up. Tactics come in all shapes, sizes and value levels. Some are new features that are useful and others can be 'shortcuts' that ultimately lead us in the wrong direction. Recent conversations got us thinking, so we wanted to talk about some social media marketing mistakes we see death care companies make, and how they can fix them.
Death Discussions
28 views
Death Discussions
28 views
August 31 is International Overdose Awareness Day (IOAD)
Ryan Thogmartin
-
August 21, 2017
Unfortunately, the opioid epidemic isn't much of a headline anymore. With over 100 overdose-related deaths everyday, we, as a country, have become desensitized to death and drugs. Funeral homes are charged with taking care of the final arrangements for those who have been taken from this earth too soon.
Jobs
9 views
Director of Support – Western US
CDFuneralNews
-
August 21, 2017
At Carriage Services, we believe in the concept of "First Who, Then What." We have learned that leaders, who attract and surround…
Comments