Not Everyone Is Happy About Funeral Home's New Drive-Thru Option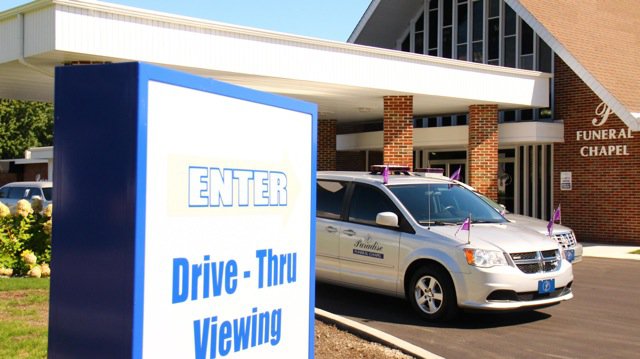 Drive-thru opportunities are commonly associated with fast food, banking and pharmacy pick ups but how bout a drive-thru funeral home. This is the new service being offered at a chapel in Saginaw, Michigan. The idea is garnering mixed reactions from the community and has resulted in the president of the funeral chapel receiving a lot of negative feedback concerning the drive-thru viewing area.
Ivan Phillips, president of Paradise Funeral Chapel, said he wants to bring something to the city that has never been there before. Paradise is offering this addition to families at no additional charge. It gives people the opportunity to pay their respects from the comfort of their vehicle even if they cannot make the traditional viewing because of work, disability or other challenges.
Paradise Funeral Chapel has spent in excess of $300,000 to add this feature. Phillips believes the cost is worth it because everyone should have this option. This is an after-hours feature that a family can choose to add, or not. It allows people the opportunity to drive up between 7:00 p.m. and 10:00 p.m. The design uses censors to open the curtains when people drive up and close when they leave.
As mourners drive up to the window they can view the deceased for a maximum of three minutes, as music plays overhead. Phillips said reaction has been mixed. There have been people in the community who have embraced the technology, while others find it to be outright disrespectful. Phillips believes the primary reason people are uneasy is they do not know how the process works. He added:
When you enter the drive thru you drop a memorial in the memorial box, sign the register book and then drive up to pay their respects to the deceased for three minutes. People need to actually experience it before they put the negativity out there.
The funeral home still offers traditional funeral services, according to Phillips but client accessibility has always been a concern and top priority. In the past he has given mourners the option of online viewing and video for disabled family members. Paradise also offers a silver, horse-drawn carriage to transport dead bodies to cemeteries that are close by. The funeral industry is changing so quickly, said Phillips, and this is just another method to ease this painful experience.
Although this concept may be unconventional it is not unheard of. There are at least three other funeral homes that offer this type of service. Last year in Farmville, Virginia, Oliver and Eggleston Funeral Establishment began offering the service. In Compton, California Robert L. Adams Funeral Home has been provided the drive-thru viewing experience since 2011. Due to the violence Compton is known for, the body of the deceased is visible behind bulletproof glass. Owner Peggy Scott Adams said:
It is a convenience thing. People can come by after work, they do not need to deal with parking, they can sign the book outside and the family knows that they paid their respects.
According to Jeanette Williams, an employee of Gaitling's Chapel in Chicago, until vandalism became a major issue Gaitling's Chapel offered an adaptation of the service. For more than 20 years the service allowed cars to pull up and view the deceased on a projector screen. Williams said:
You just pull up to the screen and push the button to the chapel that has their body in it. It was extremely popular for the young people who would come through late at night.
The Paradise Funeral Home in Saginaw, Michigan, has joined the number by constructing a drive-thru window with blinds that open and close automatically. With the addition of this new convenience visitors can drive up to the window where they will have three minutes to mourn. This option incurs no additional cost and is only available after hours.
Read more at http://guardianlv.com/2014/09/new-drive-thru-funeral-home-sparks-controversy-video/#wU2ov178AGLA1LOf.99
ConnectingDirectors.com is the leading online daily publication for funeral professionals with a reader base of over 45,000 of the most elite and forward-thinking professionals in the profession. With ConnectingDirectors.com we have created a global community through an online platform allowing funeral professionals to Stay Current. Stay Informed and Stay Elite.
Latest posts by CDFuneralNews (see all)
You may be interested
Jobs
2 views
Preneed Funeral Sales Advisor
CDFuneralNews
-
August 11, 2017
Premier Funeral Solutions is currently seeking a Preneed Funeral Sales Advisor . Premier Funeral Solutions offers tools and methodologies developed to help…
Marketing
3 views
12 Benefits of Social Media Every Funeral Home Needs to Know
Ryan Thogmartin
-
August 10, 2017
Social media is 'marketing.' It's not the new marketing, it's the current state of marketing, and funeral homes and death care companies can no longer afford to ignore it. There are so many reasons why death care companies need to get their heads out of the sand and start engaging on the platforms used by over 68% of all Americans.
Humor
57 views
Six Times Twitter Reminded Us Funerals Don't Have to be Boring
Madison Ashby
-
August 9, 2017
These six people had funerals on their mind for one reason or another and decided to share with the Twitter world what they were thinking, and I'm pretty glad they did. People can come up with some pretty crazy things if you let them ramble.
Comments