FrontRunner to Release the new "Pulse Business System" at the 2014 NFDA Convention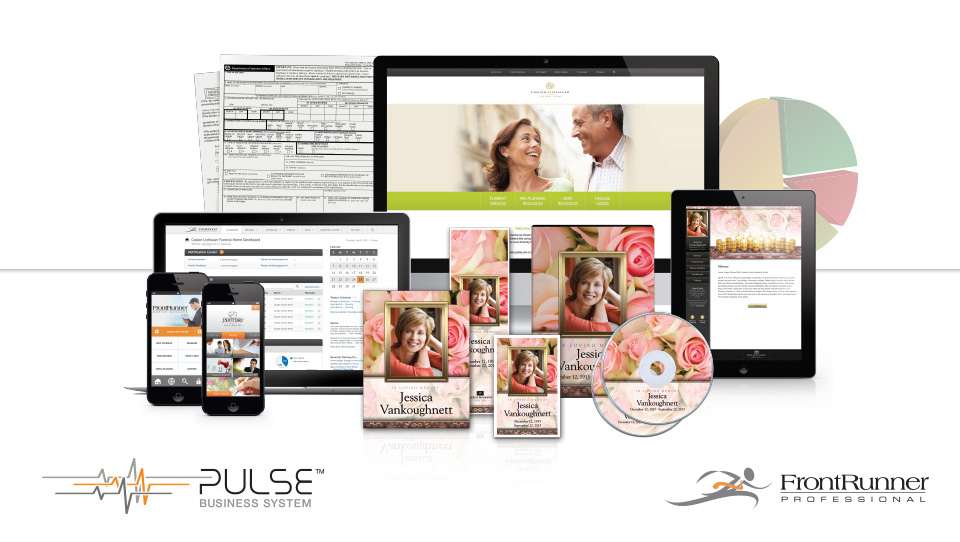 FrontRunner announced today that it will be unveiling the new "Pulse Business System" at the National Funeral Directors Association (NFDA) Convention & Expo next month in Nashville.
For many, it couldn't have come at a better time, as funeral homes throughout North America find themselves being forced by a number of technology companies to either switch to their website in order to be able to continue to use their existing print-on-demand or switch their management software that they have been using for years. These tactics are being called both unprofessional and unscrupulous and are seen by many as a blatant scam to get at funeral home's valuable data, visitor traffic and online profits.
"The new Pulse Business System will help change all of that. It will give funeral professionals all of the advanced technology they need without encumbrances or bullying tactics, and without giving up their valuable data and online profits", says FrontRunner Founder and CEO, Kevin Montroy.
The Pulse Business System represents a revolutionary single system that can change the way funeral homes manage and monitor all aspects of their business and access the technology they need to truly grow their markets.
With Pulse, you simply enable the technology components that best suit your needs today, then add additional technology components as your needs grow. No dictation. No bullying.
With its single data entry logic, Pulse captures all of your data in one central and affordable system then distributes it instantly to all other integrated components in your system. This saves you time and money while significantly reducing errors. Pulse then works in tandem with that data as it interacts with staff, families, and your expanded markets to provide you with the business decision tools to dramatically increase market share, giving you an instant pulse on the market and all aspects of your business.
Along with the Pulse Business System, FrontRunner is offering a new level of services, such as the new Managed Print Services, where our team of award winning artists can assemble your print-on-demand stationery, as well as our Managed Record Entry Program, where our team of success coaches can add all new service records to your website for you, allowing you to spend more time serving families. This all adds up to extraordinary service at an extraordinary value.
A sneak peak of the Pulse Business System can be found at www.PulseBusinessSystem.com.
Stop by booth #2403 at the NFDA Convention & Expo in Nashville and see what this exciting new technology system can do for your firm, and just how fast it can stop the bullying tactics, allowing you to find the technology that best suits your needs, on your terms.
FrontRunner Professional – Your single source Technology Partner. Visit us online at www.FrontRunner360.com or give us a call at 1-866-748-3625.
ConnectingDirectors.com is the leading online daily publication for funeral professionals with a reader base of over 45,000 of the most elite and forward-thinking professionals in the profession. With ConnectingDirectors.com we have created a global community through an online platform allowing funeral professionals to Stay Current. Stay Informed and Stay Elite.
Latest posts by CDFuneralNews (see all)
You may be interested
Marketing
170 views
4 Social Media Mistakes Death Care Companies Are Making (and How to Fix Them)
Ryan Thogmartin
-
August 22, 2017
On one hand, there's always something new to learn and try. However, not everything makes sense when it comes to marketing death care companies. We've watched many funeral organizations lose focus on strategy due to the bright and shiny nature of the new tactics that pop up. Tactics come in all shapes, sizes and value levels. Some are new features that are useful and others can be 'shortcuts' that ultimately lead us in the wrong direction. Recent conversations got us thinking, so we wanted to talk about some social media marketing mistakes we see death care companies make, and how they can fix them.
Death Discussions
28 views
Death Discussions
28 views
August 31 is International Overdose Awareness Day (IOAD)
Ryan Thogmartin
-
August 21, 2017
Unfortunately, the opioid epidemic isn't much of a headline anymore. With over 100 overdose-related deaths everyday, we, as a country, have become desensitized to death and drugs. Funeral homes are charged with taking care of the final arrangements for those who have been taken from this earth too soon.
Jobs
9 views
Director of Support – Western US
CDFuneralNews
-
August 21, 2017
At Carriage Services, we believe in the concept of "First Who, Then What." We have learned that leaders, who attract and surround…
Comments