Inside New York City's Funeral Home to The Stars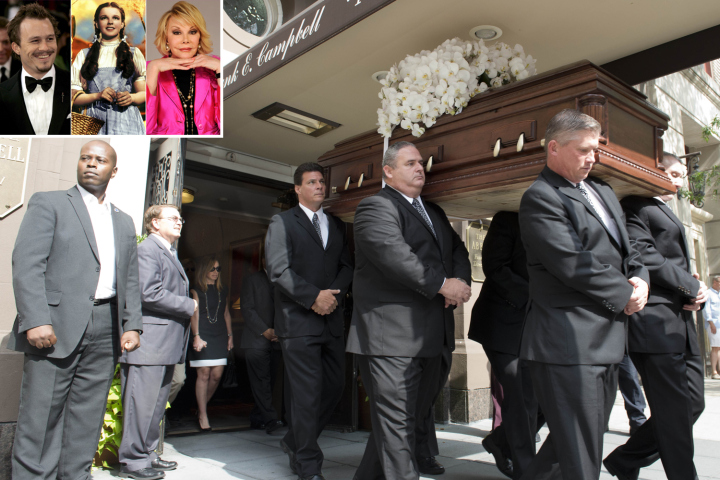 For the famous and infamous of New York City, 1076 Madison Ave., at 81st Street, is a mandatory stop.
For all of them, sadly, it's the next to last stop.
It's the headquarters of Frank E. Campbell, the ­"funeral director to the stars" whose most recent RIP VIP was comedy legend Joan Rivers, who died this month at 81.
Her daughter, Melissa, watched as Campbell's efficient men in black carried Joan's mahogany casket to the funeral home's sleek ­Cadillac hearse, where she kissed the coffin before the vehicle drove off.
A few weeks earlier, the funeral for Lauren Bacall, who died at 89 on Aug. 11, was held in the Frank E. Campbell chapel. Only close family and friends, about 50 in all, were invited for the closed-casket ceremony.
Rivers and Bacall are just two of the untold hundreds of A-listers and one-percenters — movie stars, sports heroes, politicians, media figures, ­socialites and even mobsters — to have been eulogized and prepared for burial or cremation at the exclusive undertaker establishment.
The list of clients reads like a Who's Who: Jacqueline Kennedy Onassis, Robert F. Kennedy, Ed Koch, Judy Garland, Leona Helmsley, Ed Sullivan, James Cagney, Greta Garbo, George Gershwin, William Randolph Hearst, Malcolm Forbes, Roscoe "Fatty" Arbuckle, Joan Crawford, Rita Hayworth, L'Wren Scott, Heath Ledger, gangster Frank Costello and Philip Seymour Hoffman.
Made by Valentino
Frank Campbell was born on July 4, 1872, in Illinois. He got his training making caskets in what he called "an undertaker's shop," and when he was 20, he came to New York and worked in funeral parlors owned by a minister.
He soon opened his own parlor, on 23rd Street near Eighth Avenue, becoming part-mortician, part-showman, the PT Barnum of death.
Before Campbell, funerals were usually held in the homes of the deceased. He introduced the first funeral-parlor chapel and was probably the first to advertise such a business.
Where horse-drawn wagons usually carried the deceased, Campbell began using motorized hearses and limousines.
Seemingly as a publicity stunt, he took out a $1 million policy on his 15-year-old son, Frank Jr., making him "the most heavily ­insured boy in the country."
By 1915, Campbell was the No. 1 undertaker in town to "create a service so sublimely beautiful, in an atmosphere of such complete harmony, as to alleviate the sorrow of parting."
But the funeral that changed ­everything was the sudden death, in 1926, of 31-year-old silent-film idol Rudolph Valentino.
The day he died, following surgery for a perforated ulcer, was termed by the press "the day Holly­wood wept." In New York, Valentino's body was laid out for viewing, and craziness ensued.
Read full article from the NYPost.com
Photo: Photo: EPA, Getty Images, Everett Collection, Umar Abbasi
ConnectingDirectors.com is the leading online daily publication for funeral professionals with a reader base of over 45,000 of the most elite and forward-thinking professionals in the profession. With ConnectingDirectors.com we have created a global community through an online platform allowing funeral professionals to Stay Current. Stay Informed and Stay Elite.
Latest posts by CDFuneralNews (see all)
You may be interested
Jobs
2 views
Preneed Funeral Sales Advisor
CDFuneralNews
-
August 11, 2017
Premier Funeral Solutions is currently seeking a Preneed Funeral Sales Advisor . Premier Funeral Solutions offers tools and methodologies developed to help…
Marketing
3 views
12 Benefits of Social Media Every Funeral Home Needs to Know
Ryan Thogmartin
-
August 10, 2017
Social media is 'marketing.' It's not the new marketing, it's the current state of marketing, and funeral homes and death care companies can no longer afford to ignore it. There are so many reasons why death care companies need to get their heads out of the sand and start engaging on the platforms used by over 68% of all Americans.
Humor
57 views
Six Times Twitter Reminded Us Funerals Don't Have to be Boring
Madison Ashby
-
August 9, 2017
These six people had funerals on their mind for one reason or another and decided to share with the Twitter world what they were thinking, and I'm pretty glad they did. People can come up with some pretty crazy things if you let them ramble.
Comments