Passare Publishes How-to Guide Examining Cultural Diversity and End-of-Life Traditions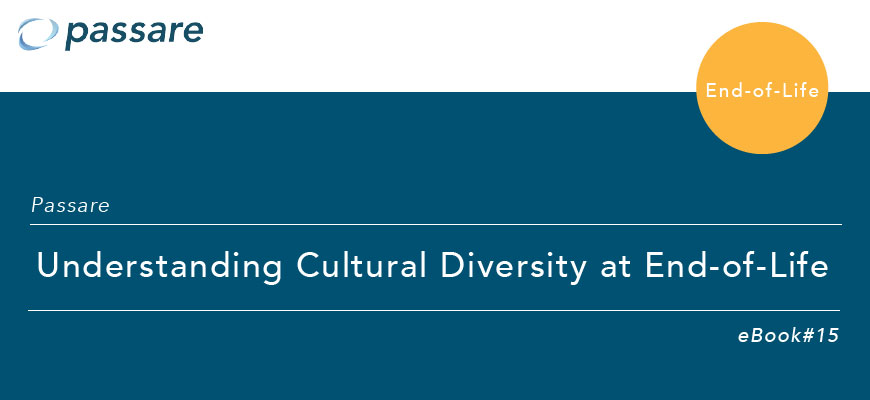 eBook Enables People of all Cultures to Understand Different End-of-Life Perspectives
San Francisco, CA (PRWEB) July 09, 2014
Passare, Inc. today ananounced the release of its latest How-to Guide: "Understanding Cultural Diversity at End-of-Life," the newest addition to the Passare eBook series. As the 15tth eBook launched in Passare's series to help people better understand End-of Life planning, this eBook explains how various cultures view and observe End-of-Life situations. The end of life is something everyone – regardless of culture, religion or ethnicity – experiences and this book helps all people to better relate to each other.
Why "Understanding Cultural Diversity at End-of-Life" is Important

There is a universally acknowledged truth that appreciating differences in others helps us better understand ourselves. According to Noble Peace Prize winner Kofi Annan, "We may have different religions, different languages and different colored skin, but we all belong to the same human race." The same is true for End-of-Life experiences: it is something we will all experience. It is what makes us human.
Passare's Book Serves as a Resource for Human Connection
Passare's book explains the importance of understanding how different cultures approach End-of-Life events and this allows people to properly comfort and pay respect to friends and family who embrace different belief systems. For instance, a Buddhist who gains insight into Catholic rituals will be able bridge the cultural differences to better comfort a grieving Catholic friend.
"Understanding Cultural Diversity at End-of-Life" not only explains what cultural diversity is and why it is important, but it also reviews specific ethnic and religious approaches to End-of-Life events. It provides a broad perspective of how African, Asian, North American and South American cultures as well as Buddhist, Hindu, Hispanic, Jewish, Mormon, Muslim, Protestant, Catholic faiths may consider End-of-Life events. This can help people understand specific belief systems of the grieving friends and family.
The book also examines how particular cultural groups manage End-of-Life services including: attitudes on Advance Healthcare Directives, approaches to pain management, different perspectives on hospital care and home care; as well as distinct funeral practices and ceremonies.
Cultural Awareness Provides the Path to Respecting and Honoring the Deceased
Passare's book educates readers on cultural diversity regarding End-of-Life events. This helps to ensure a loved one's End-of-Life experience is respected and honored. It provides a comprehensive breakdown of different cultures and religions in 12 pages, with two helpful resource guides including an FAQ and a Cultural End-of-Life resource. It also includes questions about cultural diversity to prepare and guide readers through one of life's most important passages.
Passare, Inc. delivers monthly digital newsletters as well as maintains a library of expert resources on many related topics such as cultural diversity in relation to End-of-Life events, wills, life insurance, grief support, veteran benefits, and more. For more information, visit http://www.passare.com.
About Passare
Passare, Inc. is the industry's first and most comprehensive End-of-Life Management Platform. Headquartered in San Francisco, CA, the privately held company is leveraging technology to transform both the way funeral homes will operate in the 21st century and the service experience for families. Passare eases the emotional, financial, and logistical burden on families by guiding them through one of life's most important passages with greater simplicity and peace of mind. For more information, please visit http://www.passare.com.
Follow @PassareInc on Twitter
Become a fan of Passare on Facebook.com/passareinc
ConnectingDirectors.com is the leading online daily publication for funeral professionals with a reader base of over 45,000 of the most elite and forward-thinking professionals in the profession. With ConnectingDirectors.com we have created a global community through an online platform allowing funeral professionals to Stay Current. Stay Informed and Stay Elite.
Latest posts by CDFuneralNews (see all)
You may be interested
Jobs
2 views
Preneed Funeral Sales Advisor
CDFuneralNews
-
August 11, 2017
Premier Funeral Solutions is currently seeking a Preneed Funeral Sales Advisor . Premier Funeral Solutions offers tools and methodologies developed to help…
Marketing
3 views
12 Benefits of Social Media Every Funeral Home Needs to Know
Ryan Thogmartin
-
August 10, 2017
Social media is 'marketing.' It's not the new marketing, it's the current state of marketing, and funeral homes and death care companies can no longer afford to ignore it. There are so many reasons why death care companies need to get their heads out of the sand and start engaging on the platforms used by over 68% of all Americans.
Humor
57 views
Six Times Twitter Reminded Us Funerals Don't Have to be Boring
Madison Ashby
-
August 9, 2017
These six people had funerals on their mind for one reason or another and decided to share with the Twitter world what they were thinking, and I'm pretty glad they did. People can come up with some pretty crazy things if you let them ramble.
Comments