Should This Cemetery Back Down?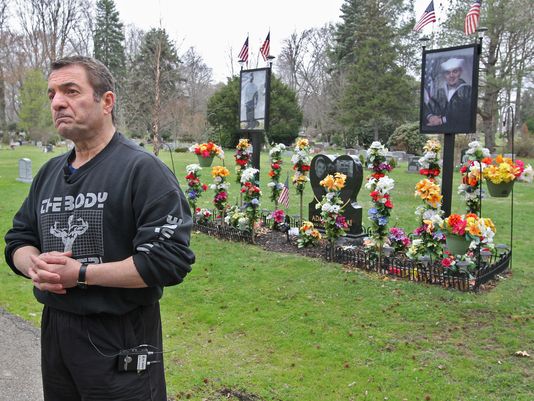 For one father, a simple headstone isn't enough to honor his fallen son, a Navy veteran.
Standing Rock Cemetery contends Fred Molai is breaking the rules with 8-foot high poles bearing large photographs, which are part of an elaborate shrine at the grave of his adult son.
"I come here visit him every morning," Fred Molai said of his ritual that he has repeated nearly every day since losing his son, Navy petty officer Adam Molai, who died in a rafting accident in June 2011 at age 23. "I've been here 971 days in a row, and Adam has been gone 1,045 days," Fred Molai says. "I keep tab of it everyday because every day goes by I'm closer to him."
Molai views his cemetery shrine as a loving tribute. But to others, it's too much — prompting complaints.
Molai sued the cemetery and Portage County to try to keep the photos up, the Akron Beacon Journal reported. A judge ruled earlier this month that the case should be decided by the Ohio Cemetery Dispute Resolution Committee, part of the Ohio Department of Commerce. Molai said he plans to file a complaint with that agency.
"I have received a letter from them that they want me to lower the picture down," Molai says.
He and Adam's mother, Bridget Sanders, created the memorial that includes numerous silk-flower arrangements, 10 American flags, a granite marker inscribed with Adam's picture, an image of a Navy F-18 Super Hornet, like the one he worked on as a technician, and his drum kit. The two tall poles hold photos of Adam in uniform. The memorial is 16-feet wide and 4-feet deep.
The cemetery trustees, in an effort to compromise with Molai, asked that he remove the taller poles and have the pictures reinstalled on smaller posts so that they would not "tower over the headstone." But Molai did not agree to the compromise.
"There is no height limit in Standing Rock, and I don't believe that I violated any rules," Molai explains. "I don't believe that I've done enough. There is no limit what you should do for your child. And the love that I got for Adam, it's so deep. And I really don't believe I've done enough for him."
While many empathize with Adam's father, some say there has to be limits on what people can do in shared spaces like this.
"My heart goes out to him it really does," says neighbor Richard Rericha. "If everybody did these huge displays like this you would not have any visibility for anything."
A state board is expected to determine a resolution to the shrine issue as early as next month.
"This is the way that I would like to keep it," Molai said.
Source: USAToday.com

ConnectingDirectors.com is the leading online daily publication for funeral professionals with a reader base of over 45,000 of the most elite and forward-thinking professionals in the profession. With ConnectingDirectors.com we have created a global community through an online platform allowing funeral professionals to Stay Current. Stay Informed and Stay Elite.

Latest posts by CDFuneralNews (see all)
You may be interested
Funeral Industry Press Releases
79 views
News
189 views
We are Building Something Exciting for You… and We Need Your Help!
Justin Crowe
-
January 31, 2018
We want to make your deathcare job easier. Tell us what you want in this 2-minute survey and get entered to win $100! The Connecting Directors and Disrupt Media teams are excited to be planning some new free funeral home marketing content and products for you in 2018 and we want to know what you need most! We want to know your biggest business wins of 2017, the tasks in your day that you hate, and what you feel is holding you back!
Comments