Another Day in the Life of a Young Female Funeral Director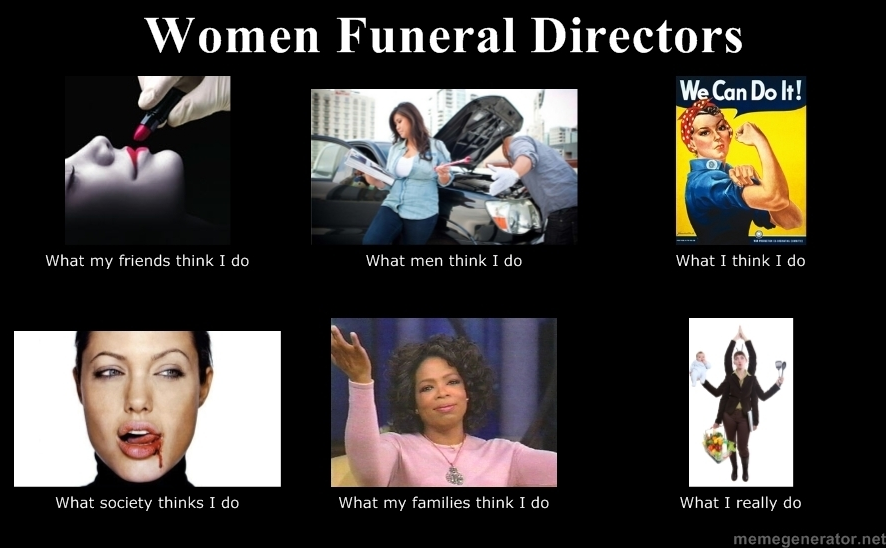 Article by: Little Miss Funeral
Something kind of funny happened the other day.
I was working calling hours and had just finished talking to the gentleman who was 'in charge' of the funeral arrangements for the deceased. As I turned to walk away a family member (or friend, I really don't know) came up to him and asked him who I was. His reply, "Oh, I think she's the secretary or something."
At this point I was already too far away to casually turn around and say, "Oh, no, I'm the funeral director!" without it being just a tad awkward. And honestly, I'm used to it. I'm used to the weird stares that I get as I shake a hand and say, "Hi, I'm Lauren, the funeral director." I mean, yes, I am a girl. Yes, I am young. But I mean guys, is it really that odd?
Don't answer that.
Because I know it's odd. My fiancé changed careers in the last year. I met his new coworkers at a Christmas party this past December. One of them asked me what I did. I told her. They replied with the expected "Oh….." as I shrugged it off with a joke to make light of my 'morbid' career. Guys, death is weird, okay? Therefore I'm weird by association. It's okay.
But I'm not a secretary. At least, I'm not just a secretary. My job is more than that. I'm also a make-up artist. I'm an event planner. I'm an organizer. I'm a public speaker. A listener. A shoulder to cry on. I'm someone who is expected to fix things. I do fix things. I can remove a pacemaker. I can tell you what color would go best with that dress. I can tell you the best restaurants to have a funeral breakfast and what florist do the best arrangements. I'm a writer that can help you memorialize your loved one in an obituary. If you call me at ten at night I will answer your call. My hours are always open.
I'm a funeral director. And I'm proud of it.
Read More from Little Miss Funeral
ConnectingDirectors.com is the leading online daily publication for funeral professionals with a reader base of over 45,000 of the most elite and forward-thinking professionals in the profession. With ConnectingDirectors.com we have created a global community through an online platform allowing funeral professionals to Stay Current. Stay Informed and Stay Elite.
Latest posts by CDFuneralNews (see all)
You may be interested
Marketing
137 views
4 Social Media Mistakes Death Care Companies Are Making (and How to Fix Them)
Ryan Thogmartin
-
August 22, 2017
On one hand, there's always something new to learn and try. However, not everything makes sense when it comes to marketing death care companies. We've watched many funeral organizations lose focus on strategy due to the bright and shiny nature of the new tactics that pop up. Tactics come in all shapes, sizes and value levels. Some are new features that are useful and others can be 'shortcuts' that ultimately lead us in the wrong direction. Recent conversations got us thinking, so we wanted to talk about some social media marketing mistakes we see death care companies make, and how they can fix them.
Death Discussions
21 views
Death Discussions
21 views
August 31 is International Overdose Awareness Day (IOAD)
Ryan Thogmartin
-
August 21, 2017
Unfortunately, the opioid epidemic isn't much of a headline anymore. With over 100 overdose-related deaths everyday, we, as a country, have become desensitized to death and drugs. Funeral homes are charged with taking care of the final arrangements for those who have been taken from this earth too soon.
Jobs
7 views
Director of Support – Western US
CDFuneralNews
-
August 21, 2017
At Carriage Services, we believe in the concept of "First Who, Then What." We have learned that leaders, who attract and surround…
Comments