47 Percent of Facebook Users Are Over The Age of 35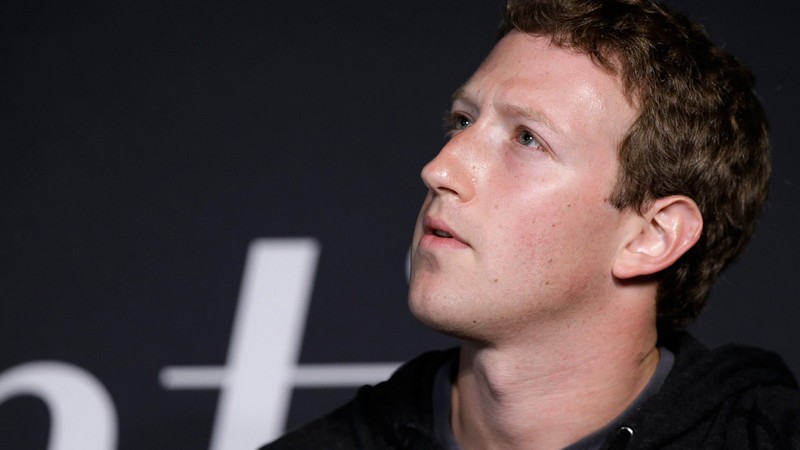 We know teens aren't that into Facebook anymore. Now we have some fairly stunning data from iStrategyLabs to back that up.
There are 3 million fewer teens on Facebook now than in 2011, according to a study from iStrategyLabs released Wednesday. That marks a 25 percent drop from 2011 when the digital consulting agency last looked at the numbers.
Meanwhile the number of Facebook users in the 55+ age demographic exploded, seeing 80.4 percent growth from 2011 to 2013. Clearly for teens Facebook has become less and less of a getaway from family members.
Check out the chart from iStrategyLabs below.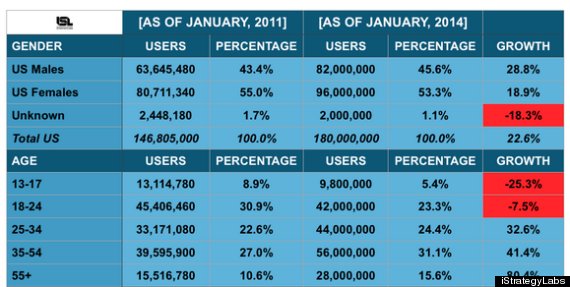 The numbers for the study were pulled from Facebook Advertising, the page where the company pitches campaigns to advertisers. Some have questioned the validity of these figures considering they are not official Facebook numbers. Study author DJ Saul told the Huffington Post in an email that "it's certainly valid criticism and should be taken into consideration." Facebook did not respond to a request for comment from The Huffington Post on Thursday morning.
The data doesn't look at who's leaving Facebook just at who's on Facebook and these numbers indicate that adoption rates among teens are dropping. (iStrategyLabs caught some flack for the misleading headline of its study, "3 Million Teens Leave Facebook In 3 Years.")
Founder and CEO Mark Zuckerbergbrushed off the question of the social network's popularity with teens during a July 2013 earnings call. Last October the issue exploded when Facebook chief financial officer David Ebersman admitted that the site had seen a "decrease in daily users among younger teens."
Where are all those teens going? Probably Instagram. A larger percentage of teens called the photo-sharing site important to them in arecent survey from Piper Jaffray. At the same time fewer teens said Facebook was very important to them. The two networks are now tied for "most popular" among teens.
Fortunately for Facebook, it owns Instagram.
Photo Cred: Getty Images
CEO at DISRUPT Media and ConnectingDirector.com
Ryan Thogmartin is the Owner and CEO of DISRUPT Media. DISRUPT Media is a full service social media agency specializing in social media strategy, management and reporting for funeral companies. DISRUPT Media is the creator of the FUNERAL Social Design Process which is the only full service social media strategy program crafted specifically for the funeral profession.

Go to http://funeralsocial.com to find out more about the services we offer. Our clients who are apart of our FUNERAL Social Design Process are seeing an increase in post reach and engagement of over 300%.

Ryan is also the founder of ConnectingDirectors.com. ConnectingDirectors.com is the leading online daily publication for funeral professionals with a reader base of over 45,000 of the most elite and forward-thinking professionals in the profession. With ConnectingDirectors.com Ryan has created a global community through an online platform allowing funeral professionals to Stay Current. Stay Informed and Stay Elite.
Latest posts by Ryan Thogmartin (see all)
You may be interested
Marketing
2 views
This is How Facebook Protects Your Privacy After You Die
Ryan Thogmartin
-
August 22, 2017
Facebook offers the option of a Legacy Contact. Every user has the option of choosing a trusted friend or family member to be in charge of their Facebook profile when they pass away.
Marketing
182 views
4 Social Media Mistakes Death Care Companies Are Making (and How to Fix Them)
Ryan Thogmartin
-
August 22, 2017
On one hand, there's always something new to learn and try. However, not everything makes sense when it comes to marketing death care companies. We've watched many funeral organizations lose focus on strategy due to the bright and shiny nature of the new tactics that pop up. Tactics come in all shapes, sizes and value levels. Some are new features that are useful and others can be 'shortcuts' that ultimately lead us in the wrong direction. Recent conversations got us thinking, so we wanted to talk about some social media marketing mistakes we see death care companies make, and how they can fix them.
Death Discussions
28 views
Death Discussions
28 views
August 31 is International Overdose Awareness Day (IOAD)
Ryan Thogmartin
-
August 21, 2017
Unfortunately, the opioid epidemic isn't much of a headline anymore. With over 100 overdose-related deaths everyday, we, as a country, have become desensitized to death and drugs. Funeral homes are charged with taking care of the final arrangements for those who have been taken from this earth too soon.
Comments