Students Awarded Joseph E. Hagan Memorial Scholarships to Pursue Careers in Funeral Service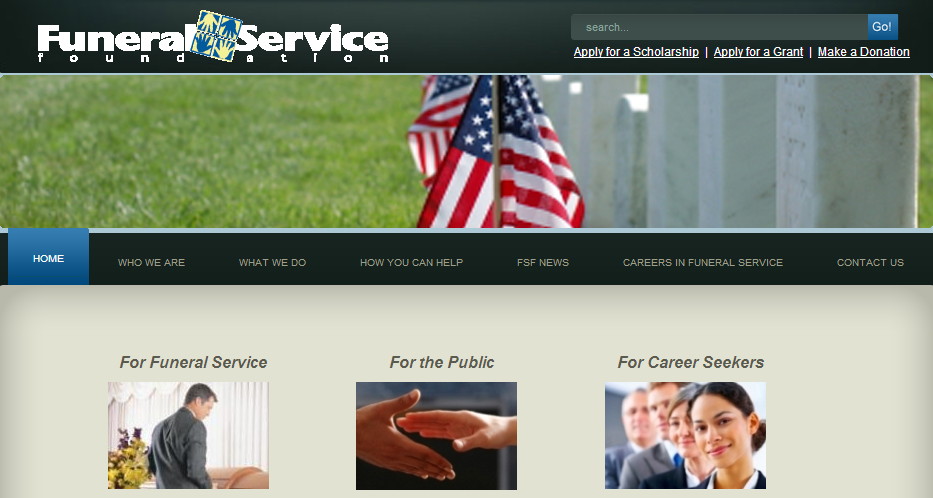 The Funeral Service Foundation (FSF) has awarded Joseph E. Hagan Memorial Scholarships worth a total of $5,000 to James Lorenz and Richard Gausselin to help with educational resources as they pursue mortuary science degrees at Worsham College of Mortuary Science in Wheeling, Illinois.
James Lorenz, of Madison, Wisconsin, is first-year student currently transitioning into a second a career as a funeral director after serving in the military. He believes the traits he learned as a solider in service to our country will transfer well to a career in service within the funeral service profession. "For me, service calls to mind traits such as loyalty, value, confidence and satisfaction," said Lorenz. "And, most importantly, this career path will allow me to 'pay it forward' to families in need, and follow in the footsteps of funeral service visionaries like Joseph E. Hagan."
Richard Gausselin of Arlington Heights, IL is a third-year student, and is slated to graduate from Worsham College in 2014. He became interested in joining the funeral service profession as a second career after 26 years in law enforcement. "During my police career, I have learned that I can genuinely improve the quality of life to the people in my community by consistently demonstrating compassion, empathy and active listening," said Gausselin. "Becoming a funeral director is a natural step. I want to use my experience to make a sincere difference in people's lives."
Both Lorenz and Gausselin were chosen from a field of several dozen applicants because of their commitment to the funeral service profession and deep interest in pioneering new ways to assist families with the memorialization of a loved one.
"We're looking for applicants to demonstrate a passion that sets them apart from other candidates" said Ed Mazur, FSF programs committee chairperson. "It was apparent that both of these students care deeply about making a positive impact in their careers and communities."
"Scholarships are an important recruiting tool to attract and support the best and brightest talent in our field," said Kathy Wisnefski, executive director of the Funeral Service Foundation. "The Foundation seeks to engage first-time students as well as those, like James and Richard, who are looking to start a new career."
FSF currently supports five scholarship programs; four available to current students pursuing careers in funeral service, and one geared at providing professional development opportunities for women in the profession.
Along with providing scholarships, the Foundation proactively explores relevant and innovative funding opportunities that will enhance the deathcare profession, benefit funeral directors and allied professionals, thus making a timely impact on local communities.
About the Scholarship:
The Joseph E. Hagan Memorial Scholarship, established in 2000 by the FSF Board of Trustees, honors funeral service's finest students through one or more scholarships of a minimum of $1,000.  Students must be enrolled in a program accredited by the American Board of Funeral Service Education and submit an essay to be considered for the award.About Joseph E. Hagan:
With a funeral service career spanning 52 years at Joseph Gawler's Sons Funeral Home in Washington, D.C., Joseph E. Hagan was known for arranging and directing the funerals of some of the highest government officials in the country, including presidents, Supreme Court justices, senators and other diplomats. Assisting in the funerals of notables such as President Dwight Eisenhower, FBI Director J. Edgar Hoover and U.S. Supreme Court Justice Thurgood Marshall, he was most noted for directing the highly profiled funeral of President John F. Kennedy in November 1963.
About the Foundation:
The Funeral Service Foundation is the leading public foundation dedicated in perpetuity to serve the deathcare profession. The Foundation funds innovative research, programs and professional development, administers scholarships and assists communities in crisis. For more information, visit www.funeralservicefoundation.org.
ConnectingDirectors.com is the leading online daily publication for funeral professionals with a reader base of over 45,000 of the most elite and forward-thinking professionals in the profession. With ConnectingDirectors.com we have created a global community through an online platform allowing funeral professionals to Stay Current. Stay Informed and Stay Elite.
Latest posts by CDFuneralNews (see all)
You may be interested
Marketing
171 views
4 Social Media Mistakes Death Care Companies Are Making (and How to Fix Them)
Ryan Thogmartin
-
August 22, 2017
On one hand, there's always something new to learn and try. However, not everything makes sense when it comes to marketing death care companies. We've watched many funeral organizations lose focus on strategy due to the bright and shiny nature of the new tactics that pop up. Tactics come in all shapes, sizes and value levels. Some are new features that are useful and others can be 'shortcuts' that ultimately lead us in the wrong direction. Recent conversations got us thinking, so we wanted to talk about some social media marketing mistakes we see death care companies make, and how they can fix them.
Death Discussions
28 views
Death Discussions
28 views
August 31 is International Overdose Awareness Day (IOAD)
Ryan Thogmartin
-
August 21, 2017
Unfortunately, the opioid epidemic isn't much of a headline anymore. With over 100 overdose-related deaths everyday, we, as a country, have become desensitized to death and drugs. Funeral homes are charged with taking care of the final arrangements for those who have been taken from this earth too soon.
Jobs
9 views
Director of Support – Western US
CDFuneralNews
-
August 21, 2017
At Carriage Services, we believe in the concept of "First Who, Then What." We have learned that leaders, who attract and surround…
Comments