Humor – Funeral Director Pushing a New Death PR Campaign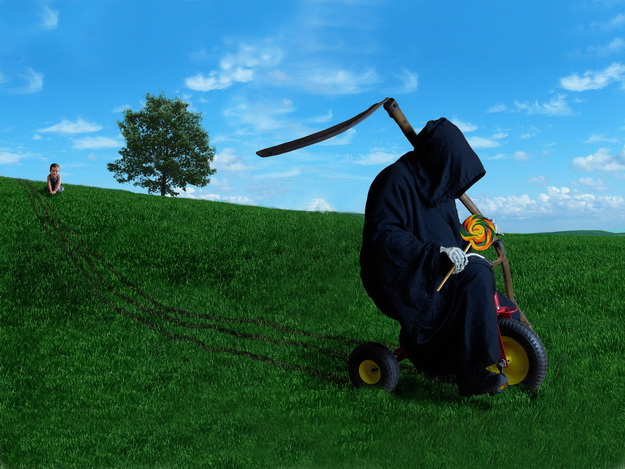 Funeral Director Caleb Wilde runs a blog titled "Confessions of a Funeral Director". I follow Caleb's blog and really enjoy a lot of his writing and his perspective on death and the after life. He has written a book "Confessions of a Funeral Director, Reflections about God While in the Shadow of Death", that he is currently shopping to publishers, so in the mean time he creates great content online.
A section on Caleb's blog is titled "Dark Humor" and this is where he posts humorous content related to death. One of the posts he did a few weeks ago was titled "15 Slogans for Death's New PR Campaign". The slogan's are part of a campaign to change the public perception of death. Caleb says, "death isn't really that bad of a guy; he's just a normal dude with a difficult job".
Below are the 15 slogans, and they are pretty good. Please chime in!
Death has been Mark Driscolled of late. It's taken some heat … some heat that maybe it's due. But, Death isn't really that bad of a guy. He's just a normal dude with a difficult job.
As an effort to vault Death's public perception, Death has hired us to create a slogan that the world's public will buy into. A slogan that will help change the world's perceptions.
Here are 15 slogans. You're the first test group, so feel free to criticize or change any of the slogan's you see; or add any slogans you can create.
"10 out of 10 human's are doing it!"
"It's natural. It's good for the environment. It's green. It's death."
"I felt great when it happened to me.*" — Elvis Presley.
"Taking care of business since the beginning of time!"
"Death: It eases all your pain."
"만나서 반갑습니다.*" – Kim Jong Il (right before he ordered Death to take him to his next kingdom.)
"Come on over to the light."
"Death: I'm Your Heavenly chauffeur.*"
"If it wasn't for Me, you'd never have bacon."
"Be apart of something larger. Donate yourself back to the universe. Die."
"10 out of 10 people who die lose weight."
"Death: It will leave you breathless."
"It really helped my political campaign." — William Wallace.
"Without me, you'd still have Hitler, Stalin and bin Laden."
"Death: Here for you in your darkest hour."
I'm a sixth generation funeral director. I have a grad degree in Missional Theology. And I like to read and write. Connect with my writing and book plans by "liking" me on facebook. And keep tabs with my blog via subscription or twitter.
Latest posts by Caleb Wilde (see all)
You may be interested
Funeral Industry News
793 views
Funeral Industry News
272 views
Funeral Industry News
272 views
RELEASE THE FN CRAKN! | FUNERAL nation 114
CDFuneralNews
-
June 18, 2018
It's a barn burner... The Commander is moving his Command Post!!! Besides the Commander on the move, the boys speak…
Frontrunner Professional
3 views
Comments