The 22 Saddest Deaths in TV History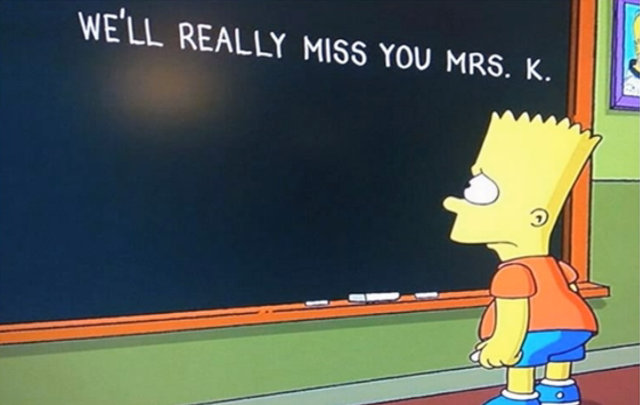 Article from Frazer Consultants
Did the recent Simpson's tribute episode to actress Marcia Wallace (better known as Mrs. Krabappel) tug at your heartstrings?  If so, we've got another 22 of the saddest deaths in TV history that are sure to get your emotions flowing.
Tell us which ones had you breaking out the tissues in the comments section below!
Rita Morgan – "Dexter"
While deaths weren't uncommon on this serial killer-based show, Rita's death shocked viewers due to its circumstances.  After an entire season playing largely-unnecessary "cat-and-mouse" games with the Trinity Killer, Dexter arrives home to find his wife's murdered body in the bathtub – the final victim of Trinity.  Finding the couple's child crying in the corner of the bathroom only added to the heartbreak of this poignant scene.
Joyce Summers – "Buffy the Vampire Slayer"
Widely hailed as one of the best depictions of death in modern TV, the death of Buffy Summers' mother – Joyce Summers – is heartbreaking due to its mundane nature.  Compared to the supernatural "baddies" dispatched on every other episode of the show, Joyce's death comes as the result of the very-human cancer.  The resulting hour of TV is a quiet, contemplative reflection on the human grief response that's masterfully written by nerd hero Joss Whedon.
George O'Malley – "Grey's Anatomy"
Grey's Anatomy had more than its fair share of sad deaths, but the passing of the injured and disfigured George O'Malley tugged the most on the heartstrings.  While the staff at Seattle Grace is prepping for the character's departure to military service, they're presented with a John Doe who's been rushed in from a bus accident.  Only at the end of the episode does show creator Shonda Rhimes reveal them to be the same person – after the remaining gang missed their chance to say their last goodbyes.
Ben Sullivan – "Scrubs"
Although Brendan Frazer's "Ben Sullivan" character had only a short arc on medical comedy Scrubs, his death made a major impact on TV audiences.  Not only did the episode lead viewers to believe that Ben was alive following the return of his leukemia, it allowed audiences to see a more emotional side of sardonic Dr. Cox than ever before.  It's a stunningly normal depiction of death and its consequences, which is seen all too rarely on TV these days.
Mr. Hooper – "Sesame Street"
The death of actor Will Lee gave the popular children's show the opportunity to teach children about death in the memorable episode, "Farewell, Mr. Hooper."  In the show, the remaining adult actors explain to Big Bird that Mr. Hooper has died and won't be coming back – shedding real tears over the loss of their friend and the gravity of the situation.
Fry's Dog – "Futurama"
Anyone who's ever experienced the loss of a beloved pet could relate to the devastating episode, "Jurassic Bark."  In the show, it's revealed that Seymour – the former pet of time-traveling main character Fry – waited outside the same pizza joint where they first met for years until his death.  It's a profound episode for what's usually a light-hearted cartoon.  Be sure to grab the tissues!
Dan Conner – "Roseanne"
Plenty of fans cried foul at Roseanne's seemingly rose-colored end, which found the family winning millions in the lottery, Jackie finally meeting her match and Dan recovering from his earlier heart attack.  But in a shocking twist, the family's happy ending is revealed to be a dream and that America's favorite father actually passed away at Darlene's wedding.  Though it's a more fitting end for the sarcastic series, it's an undeniably gut-wrenching finale episode.
Sun and Jin Kwon – "Lost"
"Lost" had its fair share of tragic deaths, but the visual image of Jin-Soo and Sun-Hwa dying hand-in-hand on their submarine is one of the most memorable and most affecting scenes of all.  After all the struggles the couple faced reconciling their marriage during earlier seasons of the show, their final deaths are incredibly poignant – made even more so by the thought of the young daughter they've left orphaned back on the mainland.  Don't watch this one before any major events that require clear, un-puffy eyes!
Adriana La Cerva – "The Sopranos"
Turning informant for the FBI isn't exactly a recipe for a long and healthy life, but mob wife Adriana gets viewers hopes up with the suggestion that she and fiance Chris might leave "the family" behind for a life in the Witness Protection Program.  It isn't until her final moments – when she realizes Silvio is driving her into the woods, instead of towards the hospital – that she realizes there's no way out.  The end of the episode is mercilessly cruel, but it's undeniably one of the saddest deaths in recent TV history.
Read the full article from Frazer Consultants here: http://www.frazerconsultants.com/blog/index.php/2013/11/22-saddest-deaths-tv-history/

ConnectingDirectors.com is the leading online daily publication for funeral professionals with a reader base of over 45,000 of the most elite and forward-thinking professionals in the profession. With ConnectingDirectors.com we have created a global community through an online platform allowing funeral professionals to Stay Current. Stay Informed and Stay Elite.

Latest posts by CDFuneralNews (see all)
You may be interested
Funeral Industry Press Releases
66 views
News
186 views
We are Building Something Exciting for You… and We Need Your Help!
Justin Crowe
-
January 31, 2018
We want to make your deathcare job easier. Tell us what you want in this 2-minute survey and get entered to win $100! The Connecting Directors and Disrupt Media teams are excited to be planning some new free funeral home marketing content and products for you in 2018 and we want to know what you need most! We want to know your biggest business wins of 2017, the tasks in your day that you hate, and what you feel is holding you back!
Comments