Sharks and People – From Alan Creedy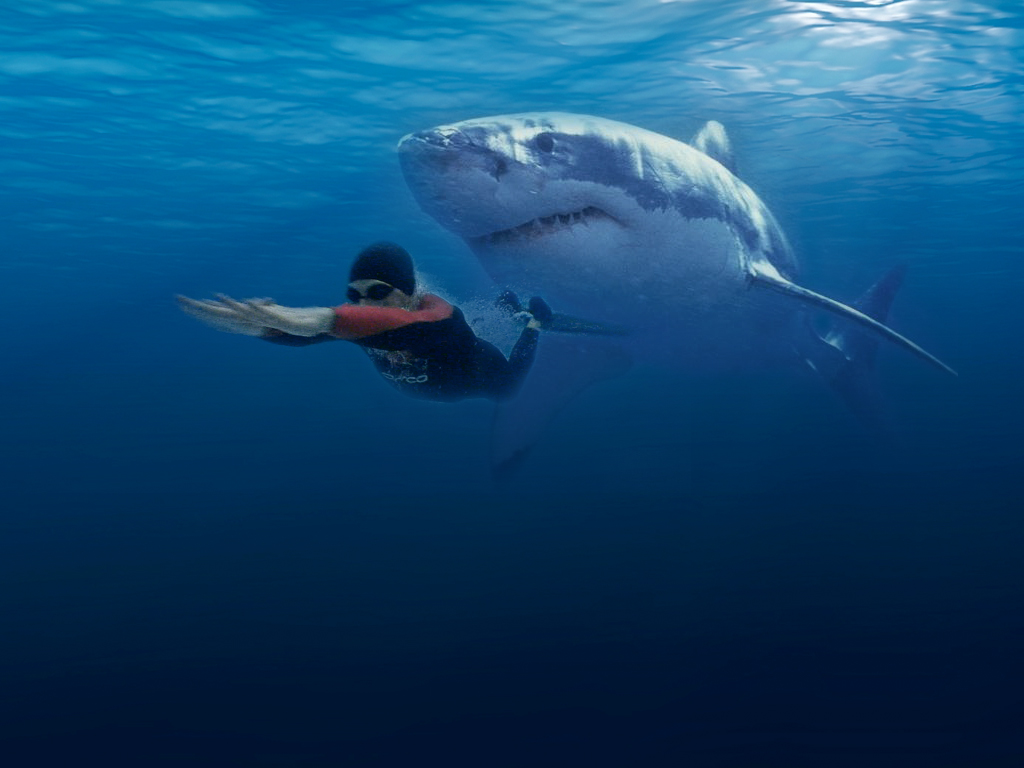 Article from Alan Creedy, Creedy Commentary 
One man sat at a stop light. The woman in front of him was going through papers on the seat of her car, and when the light changed to green she didn't go. A green light is not a suggestion, you know, it is more of a commandment. But she didn't notice.
When the light turned red again, she still had not moved. The man in the car behind her now started screaming epithets and beating on his steering wheel.
A policeman tapped on his windshield. "You can't arrest me for hollering in my car," the man said. The cop asked for his license and registration, returned to his car, talked on the radio for a while and finally handed the papers back. The driver protested, "I knew you couldn't cite me for yelling in my own car!"
The officer replied, "I didn't want to cite you for shouting in your car. But I was behind you at the light and saw you screaming and beating your steering wheel. I said to myself, 'That guy is out of control. He's going to hurt someone.' Then I noticed your 'Love Is a Choice' and 'Give Peace a Chance' bumper stickers and I was sure you stole the car."
What the signs on his vehicle said about him and the way he actually behaved looked like, well, two different people. But let's not be too critical. Are we always the people we want to be? I believe in love and justice, forgiveness and second chances and generosity – but I don't always live up to the ideals I profess.
It helps me to think of sharks. We're told that some kinds of sharks can't breathe unless they swim. They get oxygen from the movement of the sea over their gills and they can only make this happen by constantly moving through the water. In other words, they must keep moving forward to live.
Likewise, humans who want to live well must also keep moving forward. Forward toward the people we want to be. Forward toward our goals and ideals. Change is almost always incremental – a little bit each day. But we must keep moving forward.
Read the full article on The Creedy Commentary 
In addition to the weekly Creedy Commentary, I frequently contribute to industry trade journals and speak at trade conventions.Among my affiliations outside the DeathCare industry are The Center For Creative Leadership, The Performance Institute and Human Synergistics.
I believe in giving back and so was recently honored to serve as Chairman of the Funeral Service Foundation.
Latest posts by Alan Creedy (see all)
You may be interested
Funeral Industry Press Releases
80 views
News
191 views
We are Building Something Exciting for You… and We Need Your Help!
Justin Crowe
-
January 31, 2018
We want to make your deathcare job easier. Tell us what you want in this 2-minute survey and get entered to win $100! The Connecting Directors and Disrupt Media teams are excited to be planning some new free funeral home marketing content and products for you in 2018 and we want to know what you need most! We want to know your biggest business wins of 2017, the tasks in your day that you hate, and what you feel is holding you back!
Comments