ASD Has The Coolest Office Workstations Ever!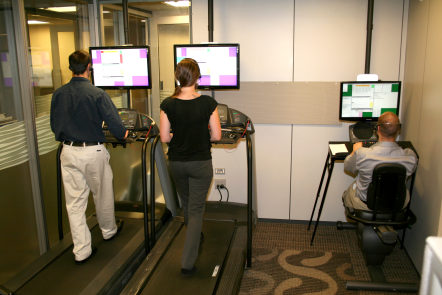 On Tuesday, October 1st, Fox29 News ran a segment called "Company Brings Gym To The Office" featuring ASD's Exercise Workstations.
Fox29 News Anchor, Joyce Evans, interviewed two of ASD's owners, Marty Czachor and Kathy Kelley, and our Call Specialists about how these stations improve our employees' overall mental and physical health while providing an energy boost to the office.
Watch the video now to see our treadmill and recumbent bike stations in action and get a glimpse of what life is like during a typical day at ASD.
ASD designed this unique workplace perk to help our employees stay active at work. The treadmill and recumbent bike stations allow Call Specialists to move at a controlled rate while simultaneously answering calls. Many doctors have found that sitting for hours during the day can lead to stiff and dehydrated muscles, making injuries and fractures more common. By staying active and moving around during their scheduled shifts, employees are less likely to hurt themselves due to idleness.
The Treadmill and Recumbent Bike Stations provide our staff with opportunities to stay active at work while providing the highest level of service to funeral homes. They were were created in-house at ASD and tested thoroughly to ensure our Call Specialists could type with ease while moving their feet. The maximum speed is capped at a slow rate of motion and was designed so that employees can walk or bike 2.5 miles per hour. During an average week, more than 120 exercise sessions take place at ASD.
In addition to providing healthful benefits, ASD employees that take advantage of the exercise machines are actually paid more through incremental bonuses and other rewards. This helps motivate the staff to work in a less sedentary environment. Additionally, every mile walked or biked on ASD's exercise station contributes towards an important cause. When a total of 500 hours have been worked on ASD's recumbent bike or treadmill, ASD will donate $500 to a charitable organization. This extra incentive allows employees to work together toward a common, greater good.
"Since installing the Treadmill and Recumbent bike stations at ASD, we have seen a spike in employee moral. Many of our employees have commented that the stations help keep them refreshed and alert throughout the day," says ASD Vice President of Technology, Martin Czachor Jr. "Employees who use these stations benefit from both exercise and the knowledge that they are contributing to an important cause."
[via: MyASD]

ConnectingDirectors.com is the leading online daily publication for funeral professionals with a reader base of over 45,000 of the most elite and forward-thinking professionals in the profession. With ConnectingDirectors.com we have created a global community through an online platform allowing funeral professionals to Stay Current. Stay Informed and Stay Elite.

Latest posts by CDFuneralNews (see all)
You may be interested
Funeral Industry Press Releases
82 views
News
191 views
We are Building Something Exciting for You… and We Need Your Help!
Justin Crowe
-
January 31, 2018
We want to make your deathcare job easier. Tell us what you want in this 2-minute survey and get entered to win $100! The Connecting Directors and Disrupt Media teams are excited to be planning some new free funeral home marketing content and products for you in 2018 and we want to know what you need most! We want to know your biggest business wins of 2017, the tasks in your day that you hate, and what you feel is holding you back!
Comments