53 Wilbert Licensees named Ultimate Service Providers for 2013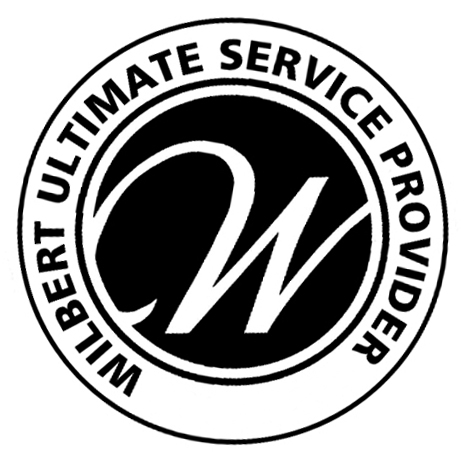 Broadview, IL, October 1, 2013 – Wilbert Funeral Services, Inc has named fifty-three Wilbert licensees as Ultimate Service Providers for the year 2013.  The Ultimate Service Provider is the highest service honor possible for Wilbert licensees, earned by passing rigorous on-site inspections in manufacturing and service.
All Wilbert licensees are subject to regular inspections by WFSI field service engineers who evaluate numerous factors including compliance with vault manufacturing specifications and procedures, graveside service components such as well-maintained tents, chairs and polished lowering devices, clean service vehicles, and knowledgeable, professional service personnel.
"Wilbert has by far the most stringent inspection procedures in the industry," said Bobby Morgan, WFSI's Director of Field Services. "In order to earn Ultimate Service Provider, a licensee must receive at least 8 points out of 10 in each and every category that is scored.  Because we look at everything from manufacturing to graveside setup and service, every person in a licensee organization has to be dedicated to make this happen.  Ultimate Service Provider is truly a significant achievement."
Wilbert licensees receiving the 2013 Ultimate Service Provider designation are:
Gulf Coast Wilbert, Inc, Crestview, FL
Florida Wilbert, Inc, Jacksonville, FL
Master Grave Service, Inc, Bogart, GA
Northern Illinois Vault Co, Inc, Belvidere, IL
Knauer Industries, LLC, Joliet, IL
Peoria Wilbert Vault Co, Inc, Metamora, IL
Quincy Wilbert Vault Co, Quincy, IL
Sterling Vault Co, Sterling, IL
Schultz Wilbert Vault Co, Streator, IL
Akron Concrete Products, Inc, Akron, IN
Minnick Services Corp, Fort Wayne, IN
Terre Haute Wilbert Burial Vault Co, Terre Haute, IN
Clinton Wilbert Vaults, Inc, Clinton, IA
Wilbert Burial Vault Co, Fort Dodge, IA
Roland-Wilbert Vault Co, Inc, Marion, IA
Mason City Wilbert Vault Co, Mason City, IA
SI Funeral Services, Parsons, KS
SI Funeral Services, Wamego, KS
SI Funeral Services, Wichita, KS
Brutsche Concrete Products, Battle Creek, MI
Detroit Wilbert Vault Corp, Detroit, MI
May Wilbert Vault Corp, Port Huron, MI
Saginaw Wilbert Vault Corp, Saginaw, MI
Brown-Wilbert, Inc, Lakeville, MN
Brown-Wilbert, Inc, Mankato, MN
Brown-Wilbert, Inc, Morris, MN
Brown-Wilbert, Inc, St. Cloud, MN
Brown-Wilbert, Inc, St. Paul, MN
SI Funeral Services, Grandview, MO
SI Funeral Services, Jackson, MO
SI Funeral Services, Moberly, MO
SI Funeral Services, Mountain Grove, MO
SI Funeral Services, Springfield, MO
St. Louis Wilbert Vault Co, St. Louis, MO
Nebraska Wilbert Vault Co, Norfolk, NE
Yates Wilbert Vault Co., Inc, Charlotte, NC
Arnold Wilbert Corp, Goldsboro, NC
Oldcastle-Adams Products, Inc, Greensboro, NC
Hairfield-Wilbert Burial Vault Co, Valdese, NC
Ohio Vault Works, Inc, Valley View, OH
SI Funeral Services, Lawton, OK
SI Funeral Services, Oklahoma City, OK
SI Funeral Services, Tulsa, OK
Columbia Wilbert Vault Co, Cayce, SC
Wilbert Burial Vault Co, Inc, Greenville, SC
Charleston Wilbert Vault Co, Summerville, SC
Lawrenceburg Burial Vault Co, Lawrenceburg, TN
Memphis Burial Vault Co, Memphis, TN
Wilbert Vaults of Houston, LLP, Houston, TX
Roland Vaults, Ltd, Norfolk, VA
Brown-Wilbert, Inc, DePere, WI
Brown-Wilbert, Inc, LaCrosse, WI
Brown-Wilbert, Inc, Milwaukee, WI
To learn more about Wilbert Funeral Services, Inc, visit www.wilbert.com.
ConnectingDirectors.com is the leading online daily publication for funeral professionals with a reader base of over 45,000 of the most elite and forward-thinking professionals in the profession. With ConnectingDirectors.com we have created a global community through an online platform allowing funeral professionals to Stay Current. Stay Informed and Stay Elite.
Latest posts by CDFuneralNews (see all)
You may be interested
Marketing
3 views
12 Benefits of Social Media Every Funeral Home Needs to Know
Ryan Thogmartin
-
August 10, 2017
Social media is 'marketing.' It's not the new marketing, it's the current state of marketing, and funeral homes and death care companies can no longer afford to ignore it. There are so many reasons why death care companies need to get their heads out of the sand and start engaging on the platforms used by over 68% of all Americans.
Humor
36 views
Six Times Twitter Reminded Us Funerals Don't Have to be Boring
Madison Ashby
-
August 9, 2017
These six people had funerals on their mind for one reason or another and decided to share with the Twitter world what they were thinking, and I'm pretty glad they did. People can come up with some pretty crazy things if you let them ramble.
Funeral Industry Press Releases
1 views
Comments